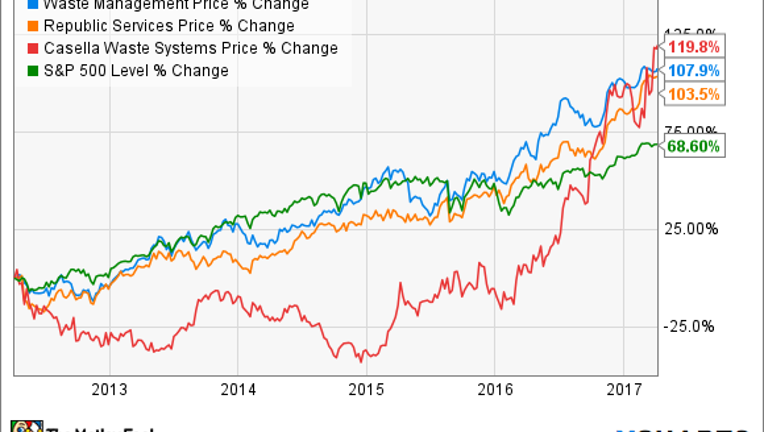 What happened
Shares of Casella Waste Systems(NASDAQ: CWST) rose 16.5% in March after the regional trash hauler announced earnings on March 1 that beat its guidance and analysts' expectations.
The stock also popped on March 22 on no apparent news. In the wake of a mid-month price decline, investors may have been using the opportunity to scoop up shares.
2016 was a good year for the solid waste industry, with major players like Casella Waste Systems posting significant gains. Image source: Getty Images.
So what
Casella's strong earnings were what propelled its share price higher. The company reported fourth-quarter revenue that was up 2.7% from the year-ago quarter, and annual revenue was up 3.4% over fiscal year 2015.
Adjusted EBITDA was also up 5.9% year over year for the quarter and up 13.7% for the year.
The company also provided positive guidance for 2017, projecting revenue of between$577 millionand$587 million, compared to$565 million in FY 2016. It also predicted adjusted EBITDA of between$124 millionand$128 million, compared to$120.6 millionin FY 2016, and normalized free cash flow between$32 millionand$36 million, compared to$27.1 millionin FY 2016.
In a press release, CEO John Casella provided some additional details on what drove the company's growth:
Now what
Casella has been a solid outperformer for the last year, but it's making up for lost ground. As this five-year chart shows, the stock languished from 2012 to 2014 while larger waste haulersWaste ManagementandRepublic Serviceswere experiencing slow and steady growth. All three companies had a stellar 2016:
Casella clearly intends to keep doing what it's doing, and it seems to be paying off for the company and its investors. Last month's jump is just another sign of that.
10 stocks we like better than Casella Waste SystemsWhen investing geniuses David and Tom Gardner have a stock tip, it can pay to listen. After all, the newsletter they have run for over a decade, Motley Fool Stock Advisor, has tripled the market.*
David and Tom just revealed what they believe are the 10 best stocks for investors to buy right now and Casella Waste Systems wasn't one of them! That's right -- they think these 10 stocks are even better buys.
Click here to learn about these picks!
*Stock Advisor returns as of April 3, 2017
John Bromels owns shares of Waste Management. The Motley Fool owns shares of Waste Management. The Motley Fool recommends Republic Services. The Motley Fool has a disclosure policy.