Why Cara Therapeutics Stock Gained 57% in January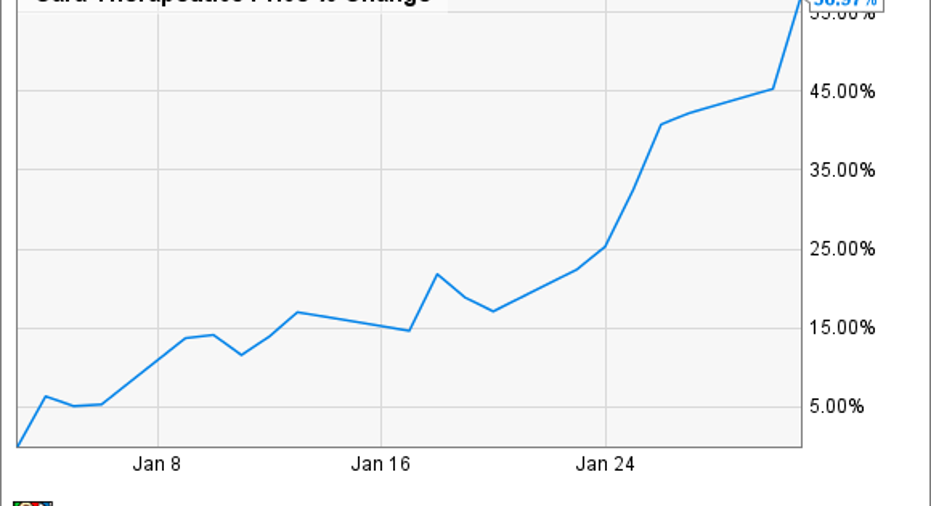 What happened
According to data fromS&P Global Market Intelligence, shares of the clinical-stage biotech Cara Therapeutics (NASDAQ: CARA) gained a whopping 57% last month following its investor presentation at the 35th annual J.P. Morgan Healthcare Conference.
Although the company didn't reveal any major news at the conference, it may have helped to spread the word about its experimental pain med,CR845, being close to a pivotal-stage readout in the acute post-operative pain setting. Specifically, the company is reportedly on track to release top-line results from CR845's late-stage abdominal surgery study in the first half of 2017.
So what
Long story short, the acute pain market is in dire need of new drugs that aren't as addictive and are less prone to inducing serious bouts of nausea and respiratory depression than the traditional mu opioid receptor-based drugs like morphine.AsCR845 is akappa opioid receptor agonist designed to provide deep pain relief without the unwantedCNS-mediated side effects, Cara is hoping that its experimental pain med can fill this unmet medical need.
Now what
While Cara appears to be on the cusp of a positive late-stage readout based on the drug's impressive clinical track record to date, its commercial prospects aren't altogether clear cut.
Image Source: Getty Images.
After all, Pacira Pharmaceuticals has already grabbed a significant chunk of the post-op pain market with its non-opioid analgesic Exparel, and Trevena is close to reporting data from two late-stage studies for its rival acute pain medoliceridine, which could lead to a regulatory filing later this year.
That's not to say that Cara isn't worth a deeper dive or that CR845 won't be a commercial success. But investors should realize that the acute pain market has attracted the attention of multiple would-be competitors, making it difficult to assess the real world commercial opportunity moving forward. That's why it might be best to take a wait-and-see approach with this small-cap biotech after this sizable move northwards.
10 stocks we like better than Cara TherapeuticsWhen investing geniuses David and Tom Gardner have a stock tip, it can pay to listen. After all, the newsletter they have run for over a decade, Motley Fool Stock Advisor, has tripled the market.*
David and Tom just revealed what they believe are the 10 best stocks for investors to buy right now and Cara Therapeutics wasn't one of them! That's right -- they think these 10 stocks are even better buys.
Click here to learn about these picks!
*Stock Advisor returns as of February 6, 2017
George Budwell has no position in any stocks mentioned. The Motley Fool has no position in any of the stocks mentioned. The Motley Fool has a disclosure policy.