Why Bojangles Inc. Stock Soared 18% Last Month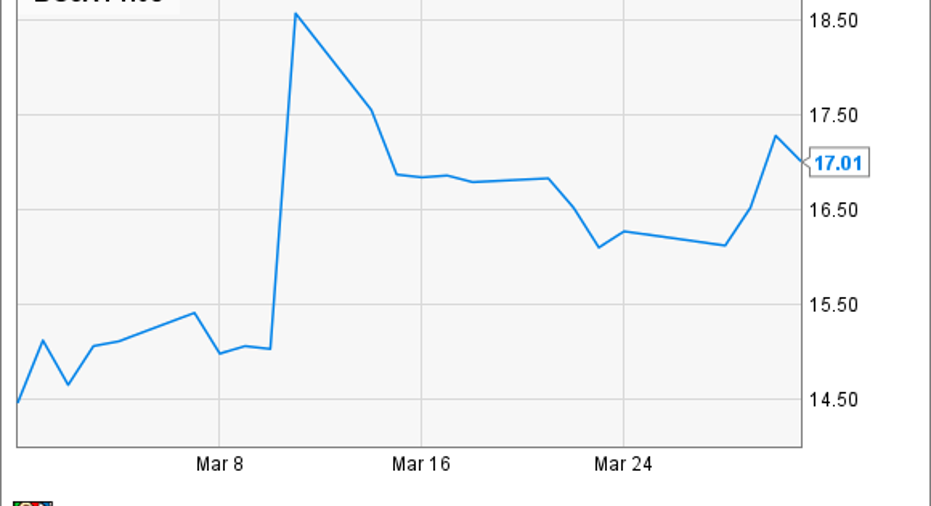 Source: Bojangles
What:Shares ofBojangles' were looking hot last month, shooting up 18% according to data from S&P Global Market Intelligence. The chicken-and-biscuits chain got a boost from a strong fourth-quarter earnings report in the middle of the month.
So what:Bojangles stock jumped 24% the day after its earnings report came out, revealing that the fast food chain had beaten estimates on both the top and bottom lines. The company posted earnings per share of $0.22, against expectations of $0.19, while revenue increased 9.6% to $128.8 million, ahead of the consensus figure of $127.7 million.
What particularly impressed the market was that this strong performance came despite the McDonald's launch of its all-day breakfast program, which had noticeably took sales away from other competing chains. Comparable sales at Bojangles increased just 0.6% in the quarter, but analysts had been expecting a decline considering the impact of McDonald's new menu and heavy discounting at other burger chains.
CEO Clifton Rutledge noted that the quarter was the company's 23rd of comparable-store sales growth, and that it came not only despite increased competitive threats but also despite catastrophic flooding in the Carolinas, the company's home base.
Now what: The jump in Bojangles' shares has eased off since the earnings report, falling almost 10% since then. Considering that the company posted only modest growth in the quarter and actually saw a decline in comparable-store traffic, the stock still seems richly valued at a P/E of 24.Still, the company has a solid record of beating earnings estimates, and with a plan to increase its store count 8% this year, it seems well positioned for long-term growth.
The article Why Bojangles Inc. Stock Soared 18% Last Month originally appeared on Fool.com.
Jeremy Bowman has no position in any stocks mentioned. The Motley Fool has no position in any of the stocks mentioned. Try any of our Foolish newsletter services free for 30 days. We Fools may not all hold the same opinions, but we all believe that considering a diverse range of insights makes us better investors. The Motley Fool has a disclosure policy.
Copyright 1995 - 2016 The Motley Fool, LLC. All rights reserved. The Motley Fool has a disclosure policy.