Why Bob Evans Farms, Inc. Stock Slipped 15% Last Month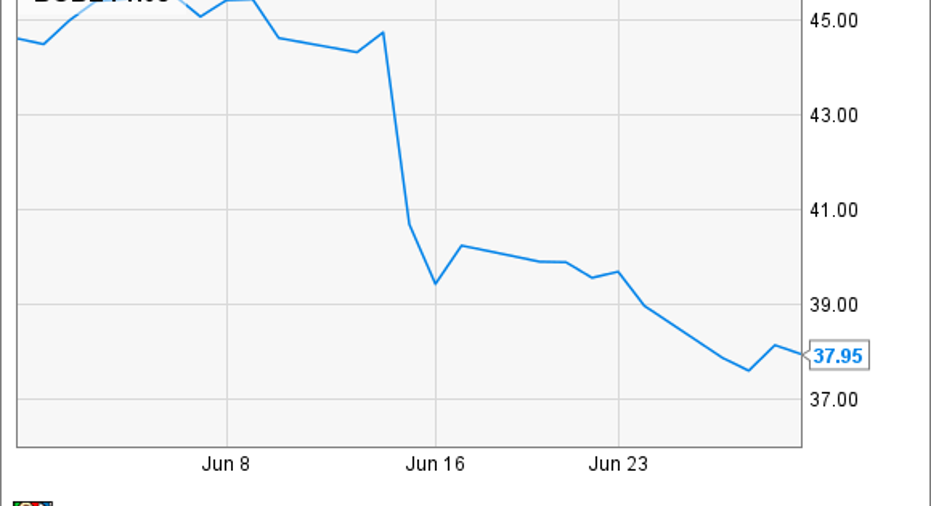 Image Source: Motley Fool.
What:Shares ofBob Evans Farms, Inc. lost 15% in June as the casual dining chain delivered an underwhelming fourth-quarter earnings report and outlook for fiscal 2017. Looking at the chart below, you can see that the stock dropped 9% on June 15, the day of the report, and continued to fall after that.
So what:The company said comparable sales slipped 3% in the past quarter, the fourth consecutive quarterly decline in that key metric, and adjusted per-share profit fell from $0.56 a year ago to $0.48. That still beat expectations at $0.43, however.
Despite the sell-off and sliding comparable sales, CEO Saed Mohseni noted that the company's packaged foods division, which sells meat products like sausage and bacon, had "an excellent year," and said the restaurant business made important strides toward enhancing the guest experience, such as a new menu rollout expected in August.
Now what:The primary reason the stock got hammered seemed to be a disappointing outlook for fiscal 2017. Management projected same-store sales from negative low-single digits to flat, and an adjusted EPS of $2.00-$2.15, below analyst expectations of $2.20 at the time.
While the restaurant side of the business continues to struggle, the packaged food division has been a much needed bright spot. Operating income from Foods nearly doubled to $71 million, contributing more than twice the operating income from Restaurants despite much lower sales.
Investor Thomas Sandell, who owns a third of the board, has been pushing for a separation of the two segments. Though management shows no signs of entertaining such an idea, if the two segments' results continue to move in opposite directions, a spinoff is more likely to happen.
The article Why Bob Evans Farms, Inc. Stock Slipped 15% Last Month originally appeared on Fool.com.
Jeremy Bowman has no position in any stocks mentioned. The Motley Fool owns shares of Bob Evans Farms. Try any of our Foolish newsletter services free for 30 days. We Fools may not all hold the same opinions, but we all believe that considering a diverse range of insights makes us better investors. The Motley Fool has a disclosure policy.
Copyright 1995 - 2016 The Motley Fool, LLC. All rights reserved. The Motley Fool has a disclosure policy.