Why Biogen Inc. Is Down 22.5% In 2016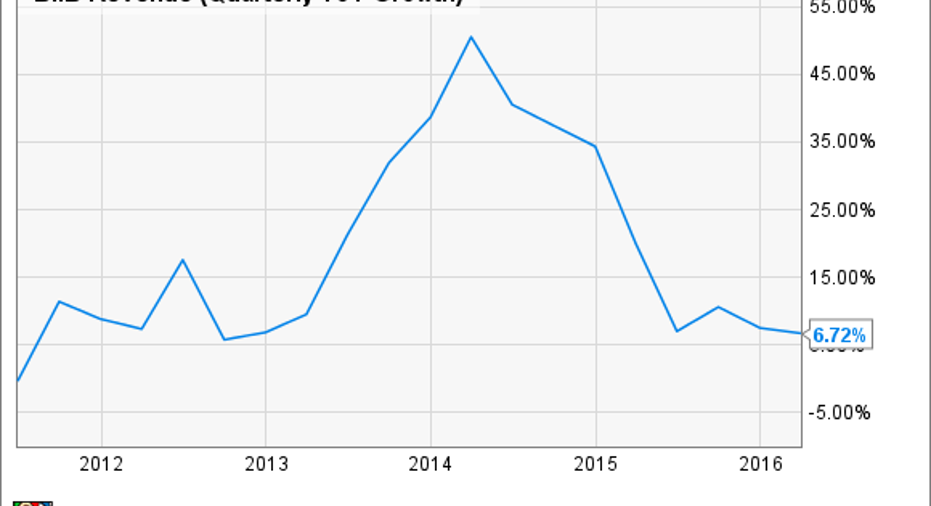 Image source: Getty Images.
What:With year-over-year growth for its best-selling multiple sclerosis drugs slowing and the recent discovery that its next-generation MS drug has failed a key clinical trial, it's not shocking that Biogen Inc. shares have tumbled 22.5% this year,according toS&P Global Market Intelligence.
So What:In Q1, Biogen reported that sales of its MS drugs, including Tecfidera and Avonex, improved by 2.4% year over year and that its total sales, which includes sales from its hemophilia drugs, grew 6.7% versus last year.
Although mid-single digit growth is respectable, it marks adramatic slowing from the year-over-year growth the company delivered in 2013 and 2014 after the FDA approved Tecfidera, the company's oral MS therapy.
BIIB Revenue (Quarterly YoY Growth) data by YCharts
In Q1, Tecfidera sales did grow 15% to$946 million versus thesame quarter in 2015, however, some of that growth came at the expense of Biogen's Avonex, a common, prior generation MS therapy. Avonex sales fell to $564 million in Q1from $637 million a year ago.
Biogen's MS sales were also dragged down by increasing competition from oral MS therapies sold by Novartis and Sanofi . Sales of Novartis' Gilenya increased 12% year over year to $698 million in Q1 and sales of Sanofi's Aubagio grew 64% year over year to $312 million last quarter, at current exchange rates.
Slowing sales growth already had investors nervous about Biogen's future, but earlier this monthmanagement reported thatits once-promising next-generation MS drug, opicinumab, failed in a mid-stage study and that led to even more investors selling their shares.
Opicinumab was being studied as a first-to-market therapy to stop and potentially reverse MS disease progression, but unfortunately, opicinumab didn't significantly improve physical function, cognitive function, and disability in MS patients, nor did it slow MS' disease progression, in phase 2 trials.
Now What:The MS market is worth $19 billion and Biogen remains the dominant player in the indication with a 38% market share. However, Biogen's market share could slideif doctors continue to switch patients to competing therapies like Gilenya and Aubagio.
In an attempt to limit that risk,Biogenhas won FDA approval for MS therapies that work similarly to Avonex, but require fewer monthly doses. That effort may sure up the company's market share, but it's unlikely to return the company to double-digit top line growth.
Opicinumab could have done that, but now that its failed in phase 2, it's future development is uncertain at best. Another drug inBiogen's pipeline, aducanumab, could be a needle-mover, but it targets Alzheimer's disease, a notoriously tough-to-treat disease with a 99% clinical trial failure rate.
Biogen's slowing sales and pipeline uncertainty suggests that investors are right to approach Biogen cautiously, however, investors may not want to give up on Biogen altogether. Biogen remainshandsomely profitable and it's balance sheet is one of the best in biotech. If management leverages the company's financial flexibility to bulk-up its drug pipeline, perhaps through mergers and acquisitions, then this year may only be a pause in the company's long-term growth, rather than an indication of things to come.
The article Why Biogen Inc. Is Down 22.5% In 2016 originally appeared on Fool.com.
Todd Campbell has no position in any stocks mentioned.Todd owns E.B. Capital Markets, LLC. E.B. Capital's clients may have positions in the companies mentioned. Like this article? Follow him onTwitter where he goes by the handle@ebcapital to see more articles like this.The Motley Fool recommends Biogen. Try any of our Foolish newsletter services free for 30 days. We Fools may not all hold the same opinions, but we all believe that considering a diverse range of insights makes us better investors. The Motley Fool has a disclosure policy.
Copyright 1995 - 2016 The Motley Fool, LLC. All rights reserved. The Motley Fool has a disclosure policy.