Why Big Acquisitions Often Fail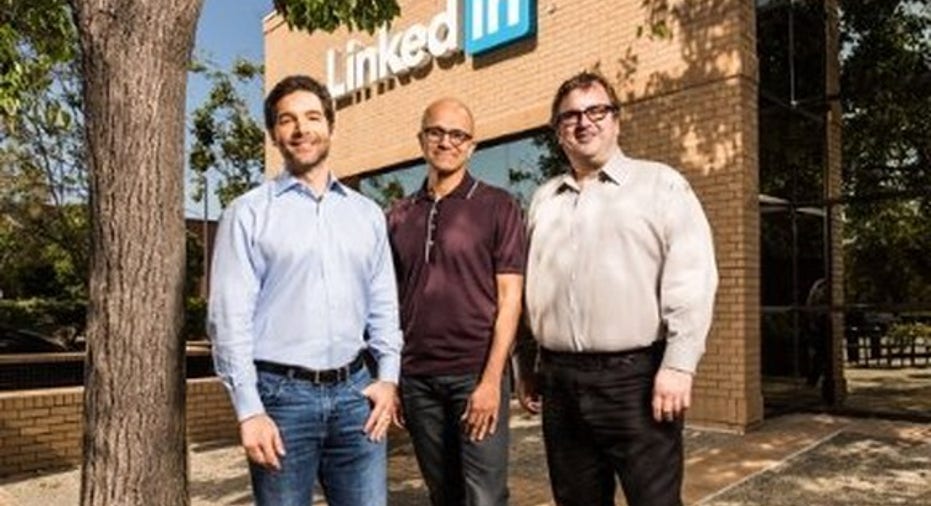 Microsoft CEO Satya Nadella (center) with Linkedin CEO Jeff Weiner (left) and co-Founder Reid Hoffman (right). Image source: Microsoft.
The financial world woke up to some surprising news on Monday morning. Microsoft , the software giant, had closed a deal to buyLinkedin, the world's largest professional network, for $26.2 billion, or nearly a 50% premium of Linkedin's previous-day closing price.
To call the deal a head-scratcher may be an understatement as much of the financial and tech media was quick to register its confusion at the acquisition, especially with such a rich price tag.
Microsoft CEO Satya Nadella's explanation also left something to be desired. Among his list of synergies between the two companies were that Linkedin's newsfeed can "serve up articles based on the project you're working on; and Office suggesting an expert to connect with via Linkedin to help with a task you're trying to complete." But doing either of those now is essentially just a mouse click away. Spending $26.2 billion for such benefits seems a waste, especially when a strategic partnership could have accomplished the same thing.
The biggest lesson in the deal, though, may be that big acquisitions often don't work, and Microsoft's track record is a reminder. The company has written down multibillion-dollar purchases of the aQuantive advertising business and the Nokia handset business, and its $8.5 billion purchase of Skype is largely seen as a bust, having been surpassed by products like FaceTime and WhatsApp.
Let's take a look at a few of the problems plaguing Microsoft and others who have made big-ticket acquisitions.
Combining cultures is challenging
Lost in the talk about synergies and financial gains when mergers take place is often the challenge of molding one corporate culture into another. According to Deloitte Consulting, culture is one of the "dominant barriers to effective integration," and cultural conflicts are responsible for as many as 30% of failed mergers. Among the high-profile merger busts that have been blamed on a culture clash are Daimler/Chrysler, AOL/Time Warner,Sprint/Nextel, and HP/Compaq.
Microsoft, the legacy tech giant, and Linkedin, the Silicon Valley social network, are very different companies. Though both CEOs mentioned the alignment of the two cultures several times in their respective letters to their employees, the hard work has yet to be done.
To integrate or not to integrate
Berkshire Hathaway'sWarren Buffett has made a career out of acquiring subsidiaries and allowing them to operate independently within the conglomerate. Such an acquisition strategy merely seeks to extract value from target companies as opposed to aiming for the "synergies" CEOs often note during mergers.
Microsoft's intentions with Linkedin are less clear. In his memo to employees, Nadella said Jeff Weiner would remain as CEO of Linkedin but will report to Nadella and his senior leadership team instead of Linkedin's board.Weiner, meanwhile, said independence was the key in his agreement to the acquisition, but the more independence Linkedin has, the harder it will be for Microsoft to extract synergies from it. And as a value play, paying $26.2 billion for a company without GAAP profits is a highly questionable move.
Watch out for the price tag
Author Mark Sirower has spent his career studying mergers and acquisitions and has found that the blame in bad mergers can often be placed on the price. The higher the premium, the more likely the deal was to go bad. Sirower went as far as to say that acquiring companies destroys shareholder value.
Paying a premium means the acquirer will have to earn that much back in future profits in order to justify the purchase. The case of Linkedin is unique in some ways. While Microsoft paid $196 a share, or a nearly 50% premium at the time of the deal, the social network was trading above $250 as recently as last November before a terrible earnings report caused the stock to crash more than 40%. Based on those figures, you could argue that Microsoft pulled off the deal at a bargain price, but Linkedin's willingness to sell indicates that management may have doubted the company's ability to return to such heights.
Regardless, the acquisition will ultimately be judged by Microsoft's ability to generate profits from it. Considering the company's current P/E of about 20, that means investors should expect the acquisition to bring in at least $1.3 billion in profits in today's dollars. If not, Microsoft would have been better off spending the money on share buybacks.
In his memo to employees, Nadella said, "a big part of the deal is accelerating Linkedin's growth." With no GAAP profits at Linkedin to speak of, accelerating its growth may only be the first step in making this a successful acquisition.
The article Why Big Acquisitions Often Fail originally appeared on Fool.com.
Jeremy Bowman has no position in any stocks mentioned. The Motley Fool owns shares of and recommends LinkedIn and Time Warner. The Motley Fool owns shares of Microsoft. Try any of our Foolish newsletter services free for 30 days. We Fools may not all hold the same opinions, but we all believe that considering a diverse range of insights makes us better investors. The Motley Fool has a disclosure policy.
Copyright 1995 - 2016 The Motley Fool, LLC. All rights reserved. The Motley Fool has a disclosure policy.