Why B&G Foods Inc. Gained 12% Last Month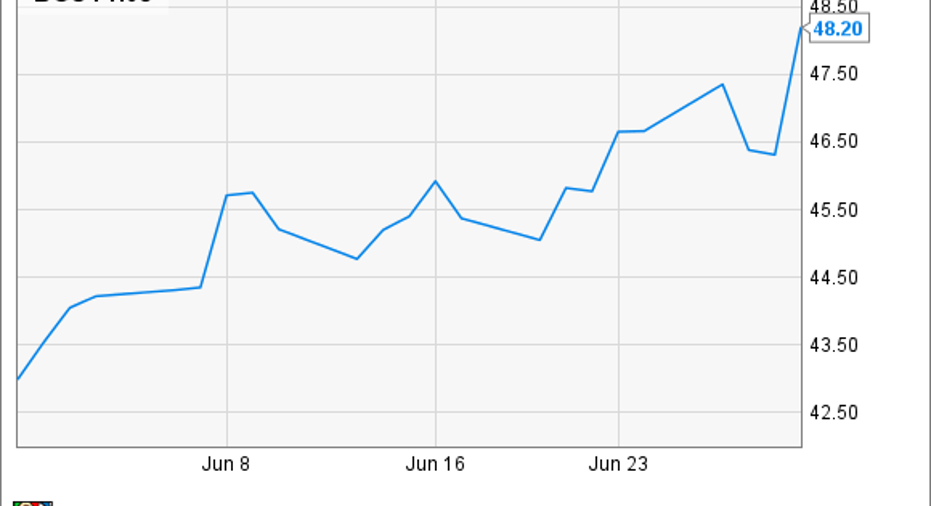 Image Source: B&G Foods.
What:B&G Foods continued its breakout year last month, climbing 12% on momentum from its late April earnings report as investors continue to favor seemingly safe dividend stocks. BGS stock yields 3.5% at current prices. As the chart below shows, the stock gained steadily over the course of the month.
So what:Though there was no particular news item pushingB&G stock higher, the food-maker has been a big winner this year thanks to better-than-expected results, a smart acquisition strategy, and a strong dividend. In a volatile market with concerns about Brexit and other issues, investors have flocked to safe dividend plays like B&G, which owns a diverse range of brands including Ortega, Polaner, and Cream of Wheat.
Late last year it acquired Green Giant, a move that helped it deliver a blowout first-quarter earnings report and is expected to drive EPS up 40% this year. In June, the stock's growth tracked alongside that ofGeneral Mills, which jumped 7% on June 30 on a strong earnings report, pushing up B&G's stock 4% in the same session, its best day of the month.
Now what:B&G is now trading at an all-time high as investor optimism concerning the Green Giant integration increases. The stock is up 36% this year. But this is ultimately a slow growth company, and a repeat performance in the second half of the year would not be justified without dramatically improved results. As the stock has moved higher, its P/E ratio has become inflated, and the dividend yield has fallen to 3.5%. With more volatility in the market expected, however, B&G is likely to remain a popular choice for investors looking for safety.
We'll learn more when the company reports second-quarter earnings later this month. Analysts are expecting earnings of $0.46 a share on $316.6 million in sales.
The article Why B&G Foods Inc. Gained 12% Last Month originally appeared on Fool.com.
Jeremy Bowman has no position in any stocks mentioned. The Motley Fool has no position in any of the stocks mentioned. Try any of our Foolish newsletter services free for 30 days. We Fools may not all hold the same opinions, but we all believe that considering a diverse range of insights makes us better investors. The Motley Fool has a disclosure policy.
Copyright 1995 - 2016 The Motley Fool, LLC. All rights reserved. The Motley Fool has a disclosure policy.