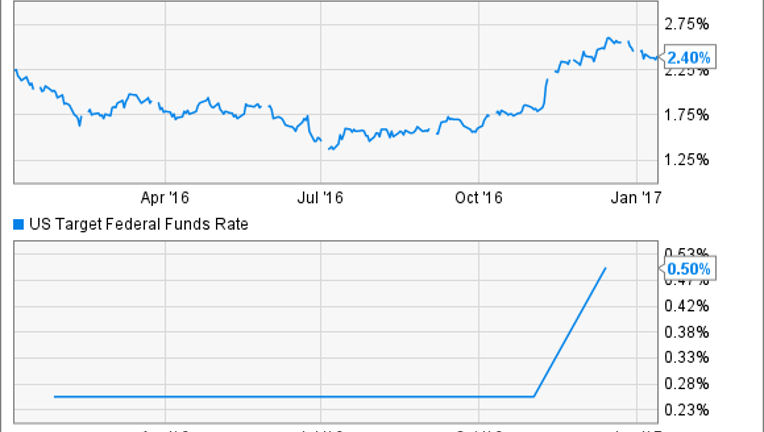 Image source: The Motley Fool.
When Bank of America (NYSE: BAC) reported fourth-quarter earnings last Friday, it became clearer than ever that the North Carolina-based bank is all but fully recovered from the financial crisis. It earned $4.3 billion, nearly 50% more than it has averaged in the fourth quarters of the preceding three years.
For anyone who thought Bank of America's performance last quarter was impressive, however, they're in for a pleasant surprise. According to chairman and CEO Brian Moynihan, the bank will earn $600 million more each quarter in 2017 than it did in 2016.
Bank of America is especially asset sensitive, meaning that its earnings closely track changes in interest rates. When rates go up, Bank of America's revenue and earnings follow.
It's easy to understand why this is the case when you consider that a bank's principal job is to sell money -- i.e., make loans -- not unlike how a bookstore sells books. And because interest rates reflect the price of money, as rates climb, banks generate more revenue from the money they sell.
This is why it was such good news last year when both short- and long-term rates climbed. Long-term rates surged approximately 90 basis points (0.90%) in the wake of the presidential election in November. Short-term rates followed suit one month later, rising 25 basis points.
10 Year Treasury Rate data by YCharts.
It's tempting to think that the increase in rates was why Bank of America had such a good fourth quarter. As of Sept. 30, the bank estimated that a 100-basis-point increase in short- and long-term rates would translate into $5.3 billion worth of additional net interest income over 12 months.
However, because rates didn't climb until so late in the quarter, most of the benefit from higher rates will come this year. That's where the additional $600 million that Moynihan referred to on the bank's fourth-quarter conference call will come from:
There are a lot of moving pieces in Bank of America that could offset these gains before they hit its bottom line. But assuming they do, it will move the bank appreciably closer to its goals of earning at least 1% on its assets and 12% on its tangible common equity.
10 stocks we like better than Bank of America When investing geniuses David and Tom Gardner have a stock tip, it can pay to listen. After all, the newsletter they have run for over a decade, Motley Fool Stock Advisor, has tripled the market.*
David and Tom just revealed what they believe are the 10 best stocks for investors to buy right now... and Bank of America wasn't one of them! That's right -- they think these 10 stocks are even better buys.
Click here to learn about these picks!
*Stock Advisor returns as of January 4, 2017
John Maxfield owns shares of Bank of America. The Motley Fool has no position in any of the stocks mentioned. The Motley Fool has a disclosure policy.