Why Baidu Inc. Stock Jumped 16% in November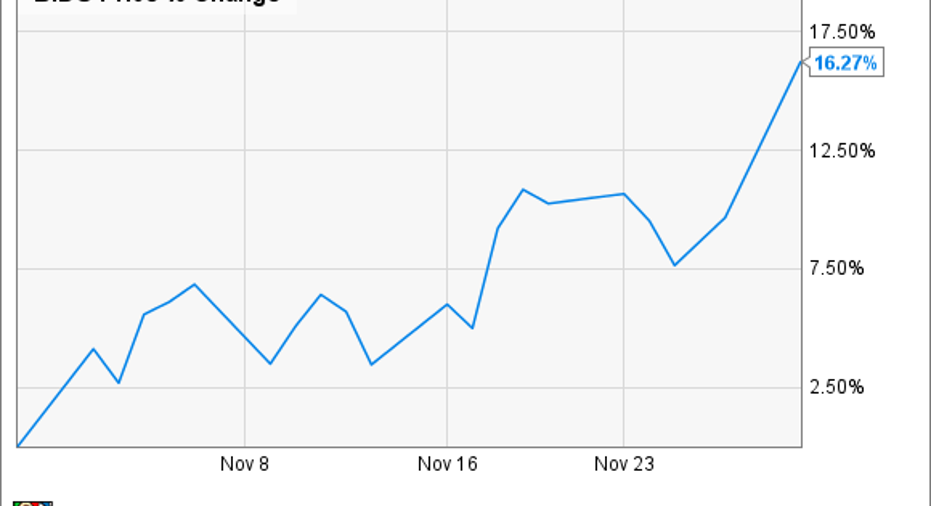 What:Shares ofBaiducontinued their ascent last month, rising 16% in November following a 36% surge in October, according toS&P Capital IQ data. The Chinese Internet titan saw the positive momentum from its Oct. 29 third-quarter earnings report persist into November, and the company also announced two potentially lucrative partnerships.
So what: Baidu's shares received a boost on Nov. 18 when it announced a partnership with Chinese bank CITIC to form an online banking platform. Investors appear excited about the potential for Baidu to leverage the 45 million accounts on its existing Baidu Wallet online payment platform -- and 643 million monthly active mobile search users -- to help it gain a beachhead in the fast-growing Chinese online banking sector.
Later in the month, Baidu said that it would be partnering withGerman insurerAllianz and Asia'sHillhouse Capital Group to create an online insurance company. If the venture proves successful, it could be an exciting new growth driver for Baidu in a market the China Insurance Regulatory Commission pegs at $320 billion.
And Baidu's stock closed out November with a 6% pop as traders bid shares up a day before Baidu was added to MSCI's emerging markets index.
Now what: CEO Robin Li and his team continue to invest in areas outside of Baidu's core Internet search business, primarily in what the company refers to as its online-to-offline (O2O) initiatives. These investments have weighed heavily on Baidu's margins in recent years and will likely continue to do so for some time. Yet the long-term opportunity for Baidu is enormous; analysts say the O2O services sector could become a more than $400 billion market.
With its position as the dominant Internet search engine in the world's most populous country and an aggressive strategy that can now claim the massive Chinese banking and insurance markets as potential profit drivers, Baidu is an attractive emerging market growth story for investors to consider.
The article Why Baidu Inc. Stock Jumped 16% in November originally appeared on Fool.com.
Joe Tenebruso has no position in any stocks mentioned. The Motley Fool owns shares of and recommends Baidu. Try any of our Foolish newsletter services free for 30 days. We Fools may not all hold the same opinions, but we all believe that considering a diverse range of insights makes us better investors. The Motley Fool has a disclosure policy.
Copyright 1995 - 2015 The Motley Fool, LLC. All rights reserved. The Motley Fool has a disclosure policy.