Why Avid Technology, Inc. Stock Gained 20% in April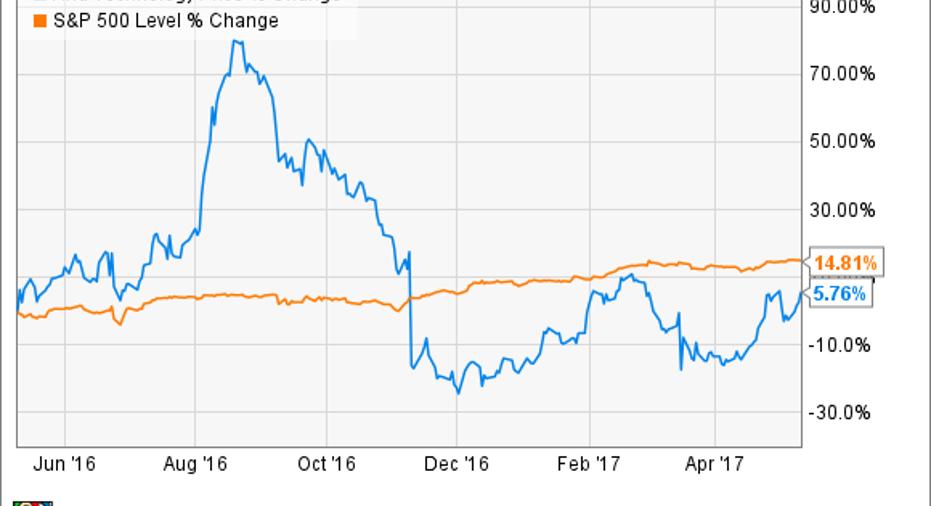 What happened
Shares of Avid Technology(NASDAQ: AVID) rose 20.3% in April 2017, according to data from S&P Global Market Intelligence.
So what
Last month's share price surge rested on Avid's release of a coherent cloud-based media production suite. The new version of Avid's MediaCentral platform takes advantage of the cloud, central storage, and back-end data processing in a way older versions never attempted, modernizing the media production tool in a big way.
"With staggering increases in content consumption and exponential growth in distribution platforms, technology budgets have not kept pace, creating relentless pressure for operational efficiency," said Avid CEO Louis Hernandez. "To help media organizations meet these challenges head on, we're extending the Avid MediaCentral Platform and many of our industry-leading tools into the cloud."
Image source: Getty Images.
Now what
Avid Technology's stock chart has been an absolute roller coaster over the last year. Share prices nearly doubled between June and August of 2016, crashed down from $9.78 to $4 per share in the next three months, and then started to rebuild again -- with the occasional hiccup. Don't buy Avid shares unless you're comfortable with extreme volatility:
The cloud-enabled MediaCentral platform is a necessary move, but it could also turn out to be a day late and a dollar short. We won't really know until the company can show the suite delivering significant improvements to Avid's top and bottom lines. Avid recently reported first-quarter results, but that period ended just a couple of weeks after the MediaCentral cloud upgrade.
Early excitement over new products is one thing; sustainable growth is another. It's still much too soon to reach any meaningful conclusions about Avid Technology's cloud strategy at this point.
And so, the roller-coaster ride looks likely to continue.
10 stocks we like better than Avid TechnologyWhen investing geniuses David and Tom Gardner have a stock tip, it can pay to listen. After all, the newsletter they have run for over a decade, Motley Fool Stock Advisor, has tripled the market.*
David and Tom just revealed what they believe are the 10 best stocks for investors to buy right now... and Avid Technology wasn't one of them! That's right -- they think these 10 stocks are even better buys.
Click here to learn about these picks!
*Stock Advisor returns as of May 1, 2017
Anders Bylund has no position in any stocks mentioned. The Motley Fool has no position in any of the stocks mentioned. The Motley Fool has a disclosure policy.