Why Aurinia Pharmaceuticals Shares Are on a Wild Ride Lately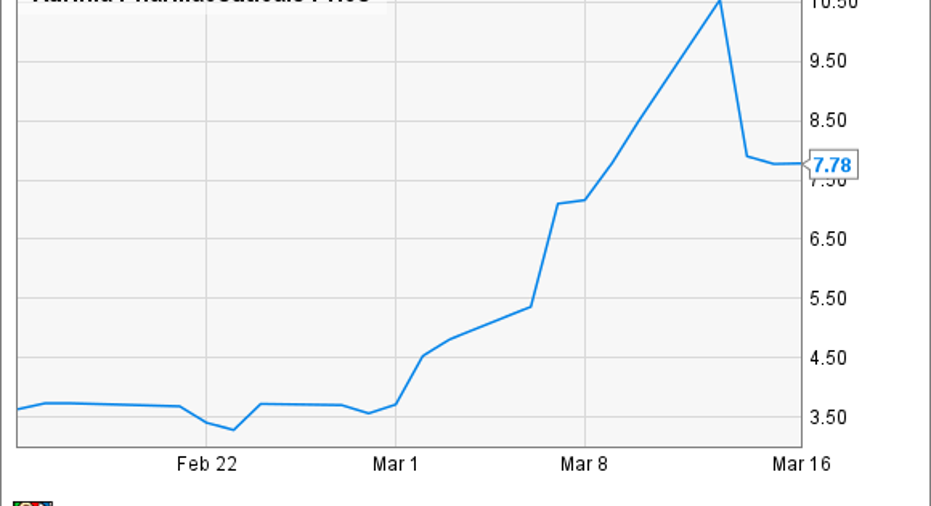 Aurinia Pharmaceuticals(NASDAQ: AUPH)is on a mission to transform how doctors treat lupus patients at risk of kidney failure. The company is developing a new drug that can be used alongside the current standard of care, and mid-stage-trial results suggest it may have a winner on its hands.
Optimism that management will be able to tap into a market opportunity worth more than $1 billion has sent shares soaring. However,a big stock offering has caused the company's share price to retreat. Is Aurinia Pharmaceuticals' wild ride over?
Image source: Getty Images.
What you need to know
Systemic lupus erythematosus (SLE) affects more than 500,000 people in the U.S., and up to 60% of SLE patients develop lupus nephritis, a life-threatening inflammation of the kidneys that can lead to end-stage kidney disease.
Currently, patients are treated with steroids and mycophenolate mofetil (MMF), but steroids come with unfavorable side effects, and response rates to MMF, which is sold under the brand name CellCept, are inadequate.
Aurinia Pharmaceuticalsthinks its voclosporin might offer a better option. Recently, it released phase 2b data showing that dosing voclosporin alongside MMF boosted response rates and allowed patients to reduce their reliance on steroids.
Specifically, in a 48-week global study involving 265 patients, the complete remission rates were 49% and 40%, respectively, for a low-dose and high-dose cohort of voclosporin-treated patients. For perspective, the complete remission rate in the control group was only 24%.Partial response rates also bested the control arm of the study, with the low dose and high dose delivering 68% and 72% partial responses, respectively, versus 48% for the control arm.
The remission rates were the highest in any lupus nephritis study every completed, so it's not surprising that management is eager to advance voclosporin into late-stage studies that could lead to an approval by the U.S. Food and Drug Administration. Management hopes to begin phase 3 trials sometime in the second quarter.
Raising money
Aurinia Pharmaceuticals' shares soared on the voclosporin data; however, they dropped after management announced a big stock offering to finance its late-stage research efforts.
The company's offering was for 22.3 million shares priced at $6.75 per share, which translates into $150.5 million in proceeds, before fees and commissions.
Although the offering would result in a 41.7% dilution to current investors, the company's balance sheet has been a bit shaky -- especially with an expensive late-stage trial on deck -- and the money raised by selling those shares provides financing at a lower cost than issuing debt.
Last year, Aurinia Pharmaceuticals spent $14.5 million on drug research and development, plus another $7 million on corporate expenses. With no commercial revenue coming in, the company recorded a consolidated net loss of $23.3 million in 2016, including a loss of $8.3 million in the fourth quarter.
As a result, management finished the year with only $39.6 million in cash at its disposal, and that was after raising $40.6 million from previous stock offerings last year. Clearly, that's not enough to get voclosporin across the finish line.
High-risk future
The stock offering gives Aurinia Pharmaceuticals the financial firepower necessary to continue researching voclosporin, but there's no guarantee that larger, late-stage studies will confirm the results from the mid-stage trials, or that if they do, this drug will get a nod from regulators. Even if it does make it to market, there's still the risk of its sales potential falling shy of industry watchers' projections.
Because a lot can go wrong in clinical trials, Aurinia Pharmaceuticals is a high-risk small-cap biotech stock that's probably best avoided by all but the most risk-tolerant of investors. Having said that, a potential approval of voclosporin could transform treatment of SLE, and significantly reward investors. Undeniably, there's a big need for new treatment options, and since twice as many patients who were given low-dose voclosporin achieved a complete response as those given placebo, this could eventually become standard care that generates hundreds of millions in sales, or more.
10 stocks we like better than Aurinia PharmaceuticalsWhen investing geniuses David and Tom Gardner have a stock tip, it can pay to listen. After all, the newsletter they have run for over a decade, Motley Fool Stock Advisor, has tripled the market.*
David and Tom just revealed what they believe are the 10 best stocks for investors to buy right now... and Aurinia Pharmaceuticals wasn't one of them! That's right -- they think these 10 stocks are even better buys.
Click here to learn about these picks!
*Stock Advisor returns as of February 6, 2017
Todd Campbell has no position in any stocks mentioned.His clients may have positions in the companies mentioned.The Motley Fool has no position in any of the stocks mentioned. The Motley Fool has a disclosure policy.