Why Ascena Retail Group, Arcos Dorados, and James Hardie Industries Slumped Today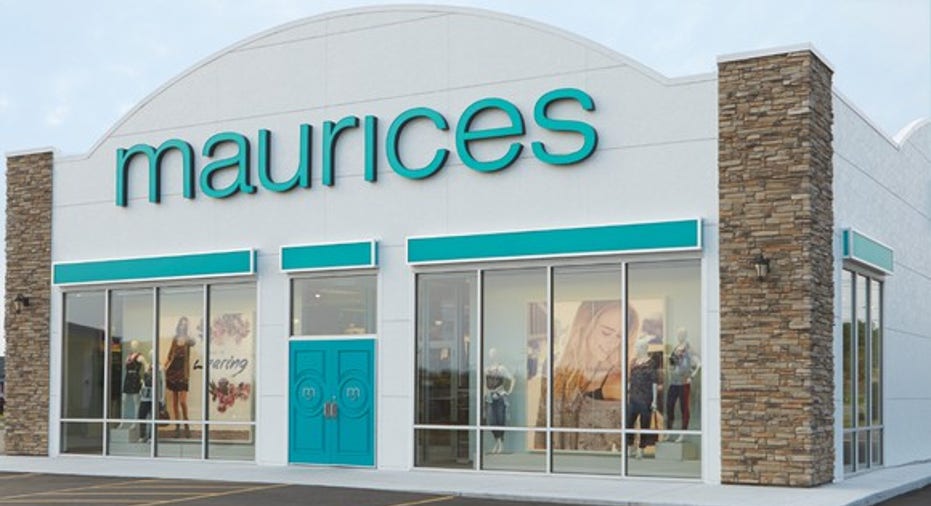 Following their worst single-day drop so far in 2017 yesterday, U.S. stocks enjoyed a modest rebound on Thursday, with theDow Jones Industrial Averageclimbing around 56 points, or 0.3%. TheS&P 500andNasdaqfared better, increasing 0.4% and 0.7%, respectively.Helped by the news that unemployment claims fell 4,000 to a seasonally adjusted 232,000 for the week ended May 13, investors were cautiously weighing the Justice Department's appointment of former F.B.I. director Robert Mueller as special counsel to oversee the investigation of ties between President Trump's campaign and Russia.
Whether political turmoil will have extended negative effects on the economy remains unclear. But in the meantime, several individual stocks bucked the market's overall positive trend today, including clothing retailerAscena Retail Group (NASDAQ: ASNA), McDonald's franchiseeArcos Dorados (NYSE: ARCO), and building materials specialistJames Hardie Industries (NYSE: JHX). Read on to learn what drove these unusual declines.
IMAGE SOURCE: ASCENA RETAIL.
Ascena Retail's disappointing new normal
Shares of Ascena Retail Group plummeted 27% today after the parent company of brands including Ann Taylor, Lane Bryant, Maurices, and dressbarn significantly reduced its financial guidance.
More specifically, Ascena expects third-quarter comparable sales to be down 8% year over year, which should translate to adjusted earnings per share in the range of $0.04 to $0.06 -- a reduction from previous EPS guidance of $0.07 to $0.12. For the full-year 2017, Ascena sees comparable sales declining in the range of 7% to 6%, and adjusted earnings per share of $0.10 to $0.15 -- down from $0.37 to $0.42 previously.
Ascena Retail CEO David Jaffe elaborated: "Industrywide traffic headwinds and a highly elevated promotional environment have persisted at levels significantly above our expectations, resulting in a miss to our third quarter sales and earnings outlook. We have adjusted our second-half outlook to reflect this environment and limited near term visibility, and no longer believe it appropriate to expect a stabilization of traffic and resulting normalization of comp sales against softer demand in the year-ago period."
To be fair, Ascena also accelerated its "Change for Growth" transformation program, which includes fleet optimization initiatives and the rollout of new technology platforms to maximize sales and boost margins. Together with a newly expanded cost reduction plan, Ascena expects to achieve $250 million to $300 million in cost savings, up from its prior $150 million goal.
But Ascena also said it expects the sector to "remain challenging for the next 12 to 24 months." And this announcement effectively confirmedconcerns that surfaced last weekfollowing multiple disappointing earnings reports from Ascena's peers. Combined with the gravity of its guidance reduction, it's no surprise to see investors taking a big step back from Ascena Retail stock today.
Arcos Dorados feels the heat of Brazil
Arcos Dorados stock fell 10% today despite no company-specific news regarding the Latin American McDonald's franchise giant. Rather, the decline came amid concerns over the fallout of a corruption scandal involving Brazil's president, Michel Temer.
For perspective, Brazil's Bovespa stock market index plunged 10% early today, then was briefly halted after reports that Temer was taped agreeing to pay a potential witness to remain silent in the country's largest-ever graft probe. Multiple Brazilian MPs have filed requests to begin impeachment proceedings, leaving the future of Temer's pro-business economic reform plans in doubt.
Meanwhile, recall shares of Arcos Dorados only recently popped more than 8% in a single day earlier this month after the company announced strong first-quarter results. Within those results, Arcos Dorados listed profitability improvements in Brazil -- where it had 904 restaurants at the end of last quarter -- as "the key contributor" to its 30% growth in adjusted earnings before interest, taxes, depreciation and amortization (EBITDA). It's clear that if economic turmoil extends to Brazil's fast-food market, Arcos Dorados will feel the pressure.
James Hardie crumbles after a strong quarter
Finally, shares of James Hardie Industries declined 6.2% today after the fiber cement building products specialist announced fourth-quarter 2017 results.
That's not to say James Hardie's results were bad. Revenue climbed 13% year over year this quarter, to $494.3 million, including a 12% increase in North America fiber cement segment sales to $387.7 million. That brought full-year revenue to roughly $1.92 billion -- slightly ahead of analysts' expectations for $1.90 billion. On the bottom line, full-year net income increased 13.1% year over year to $276.5 million, or $0.62 per share, also ahead of investors' expectations for earnings of $0.57 per share.
Keeping in mind James Hardie previously reduced its guidance for adjusted net income in February, CEO Lou Gries admitted that supply disruptions throughout the year have resulted in lost market share and ongoing supply constraints in the United States.
Gries added:
This was a solid performance, all things considered. And it's worth keeping in mind that James Hardie stock was already up nearly 20% in the full year leading up to this report. As we wait for the company to provide more tangible evidence of improvement in its core North American business, however, it's hard to blame some investors for taking profits off the table.
Offer from The Motley Fool: The 10 best stocks to buy nowMotley Fool co-founders Tom and David Gardner have spent more than a decade beating the market. In fact, the newsletter they run, Motley Fool Stock Advisor, has tripled the S&P 500!*
Tom and David just revealed their ten top stock picks for investors to buy right now.
Click here to get access to the full list!
*Stock Advisor returns as of 5/1/2017.
Steve Symington has no position in any stocks mentioned. The Motley Fool owns shares of Arcos Dorados. The Motley Fool has a disclosure policy.