Why Array BioPharma Rose 32.5% in November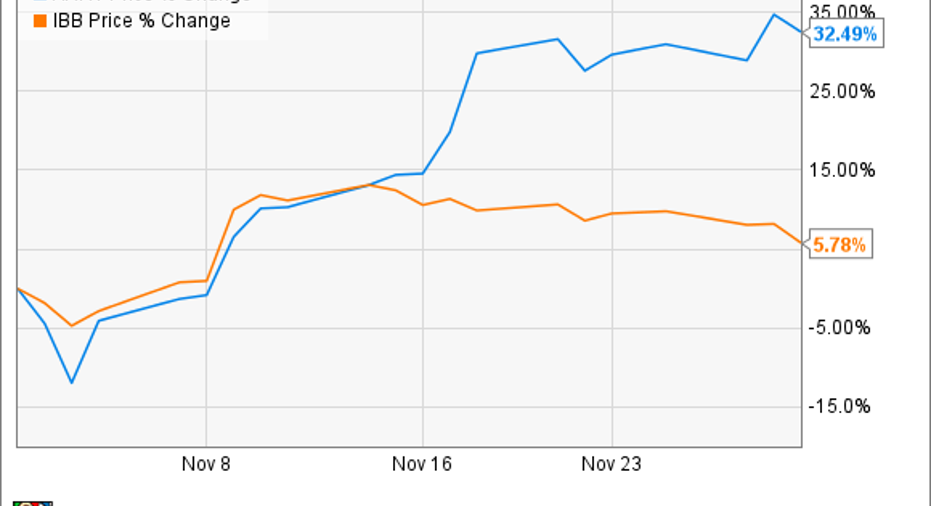 Image source: Getty
What happened
November was yet another profitable month to be an investor in Array BioPharma (NASDAQ: ARRY). Shares of the cancer-focused clinical-stage biopharma gained more than 32% during the period, according to data fromS&P Global Market Intelligence. The company vastly outperformed the biotech sector in general, as measured by the iShares Nasdaq Biotechnology ETF (NASDAQ: IBB).
So what
While Array did report results from its fiscal first quarter during November, the release did not appear to be related to the stock's bullish move. In fact, Array's shares actually declined slightly in the days following the report. That makes sense, given that the company's quarterly net loss came to $0.20 per share, which was a bit worse than the $0.16 loss that Wall Street had expected. On the plus side, Array continues to receive a substantial amount of funding for its clinical trials from its former partnerNovartis. That total came in at more than $31 million, which was greatly helpful in offsetting the company's rising costs.
Instead, Array's huge jump looks to be attributable to the company's attendance at two different healthcare conferences in November. Management clearly did a great job of laying out the bull case for owning the company's stock at the meetings, as shares took off soon after.
That bullishness makes sense in light of the company's recent clinical updates. As a reminder, Array and its partnerPierre Fabre announced very strong results from part 1 of their two-part phase 3 COLUMBUS trial in September. The COLUMBUS trial was evaluating two of Array's most advanced product candidates -- encorafeniband binimetinib -- as a combination therapy in treating patients with BRAF-mutant melanoma,a deadly form of skin cancer. Data from the trial showed that thecombination therapy caused progression-free survival rates to more than double when compared with using Roche's Zelborafalone.
Beyond the great clinical results, Array also recently succeeded at having its first product accepted for regulatory review. The FDA is currently evaluating the potential approval of binimetinib as a monotherapy in treating patients with advanced NRAS-mutant melanoma.In addition,binimetinib was also submitted for regulatory review in Europe by Array's partner Pierre Fabre. That gives the company two chances at regulatory success in 2017.
Given the string of positive developments, it's no surprise that investors are feeling bullish about this company's prospects.
Now what
Overall, 2017 is shaping up to be a transformative year for Array. In addition to the potential approval of binimetinib as a monotherapy, Array has announced its intentions to submitbinimetinib and encorafenib for review if data from part 2 of the COLUMBUS trial looks good. That's a big deal, as Roche's Zelboraf is currently pulling in more than $200 million in annualized sales. That could be a big enough market potential to finally swing Array into the black.
Of course, regulatory success is never a guarantee, so I still see plenty of reasons to remain cautious.
10 stocks we like better than Array BioPharma When investing geniuses David and Tom Gardner have a stock tip, it can pay to listen. After all, the newsletter they have run for over a decade, Motley Fool Stock Advisor, has tripled the market.*
David and Tom just revealed what they believe are the 10 best stocks for investors to buy right now... and Array BioPharma wasn't one of them! That's right -- they think these 10 stocks are even better buys.
Click here to learn about these picks!
*Stock Advisor returns as of November 7, 2016
Brian Feroldihas no position in any stocks mentioned. Like this article? Follow him on Twitter, where he goes by the handle@Longtermmindset, or connect with him onLinkedInto see more articles like this.
The Motley Fool has no position in any of the stocks mentioned. Try any of our Foolish newsletter servicesfree for 30 days. We Fools may not all hold the same opinions, but we all believe thatconsidering a diverse range of insightsmakes us better investors. The Motley Fool has adisclosure policy.