Why Array BioPharma Inc Stock Surged 108.3% in 2016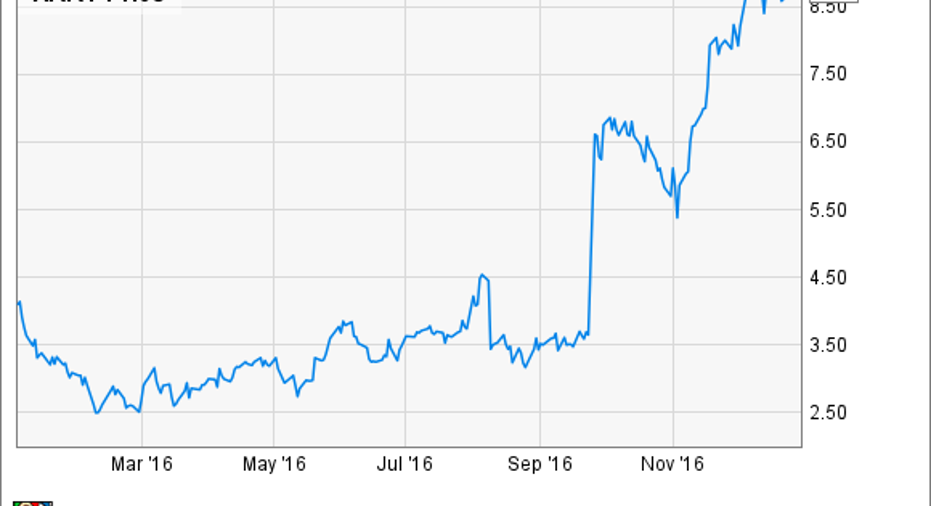 Image source: Getty Images.
What happened
Cancer-focusedArray Biopharma Inc(NASDAQ: ARRY) delighted investors with a stellar 108.3% gain last year, according to data from S&P Global Market Intelligence. Positive developments for its late-stage drug development pipeline pushed the stock higher, and more potential catalysts lie ahead.
So what
In early 2015, Array regained rights fromNovartis for two oral cancer therapies, binimetinib and encorafenib, along with $85 million upfront. Last September, it started looking like one of the best biotech deals of the century when the Food and Drug Administration accepted an application for binimetinib as a treatment for a genetically defined group of skin cancer patients. In a clinical trial supporting the application, patients taking binimetinib showed a significant progression-free survival benefit over a standard chemotherapy.
Perhaps more encouraging were head-to-head results from a combination study with both candidates that beat the pants offRoche's Zelboraf as a treatment for patients in advanced stages of BRAF-mutant melanoma. Progression-free survival in the group receiving Array BioPharma's combo was 14.9 months compared to 7.3 months in the Zelboraf group. The Roche drug earned approval in 2011, and has already reached annualized sales of around $217 million as a BRAF-mutant melanoma therapy.
Now what
If one (or both) melanoma candidates earn widely expected approval, Array BioPharma will let a new partner, Pierre Fabre, focus on potential launch throughout the complicated eurozone, while Array retains commercial rights in the U.S. and other major territories. An estimated 20% of the 76,000 Americans diagnosed with melanoma have the NRAS mutation that binimetinib is aimed at, and a much larger group could benefit from its combination with encorafenib.
Further ahead, an ongoing late-stage study could allow one or both candidates to expand into the larger colorectal cancer indication. This suggests binimetinib and encorafenib justify Array's recent $1.5 billion market cap on their own.
Array also sports two more candidates in late-stage development that are partnered with AstraZeneca and Roche, plus another 13 in early to mid-stageclinical trials. With so many irons in the fire, you'll want to keep your eye on this biotech stock.
10 stocks we like better than Array BioPharma When investing geniuses David and Tom Gardner have a stock tip, it can pay to listen. After all, the newsletter they have run for over a decade, Motley Fool Stock Advisor, has tripled the market.*
David and Tom just revealed what they believe are the 10 best stocks for investors to buy right now... and Array BioPharma wasn't one of them! That's right -- they think these 10 stocks are even better buys.
Click here to learn about these picks!
*Stock Advisor returns as of January 4, 2017
Cory Renauer has no position in any stocks mentioned. You can follow Cory on Twitter @coryrenauer or LinkedIn for more biotech investing insight. The Motley Fool has no position in any of the stocks mentioned. The Motley Fool has a disclosure policy.