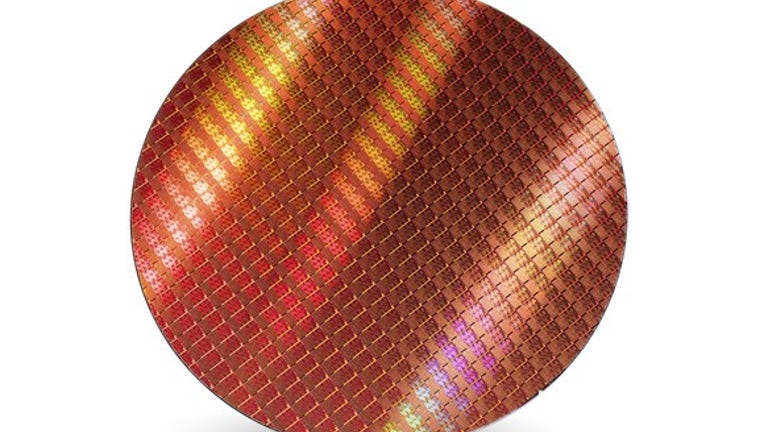 Over on Twitter, semiconductor industry veteran Dick James with Siliconics recently posted the following thought-provoking Tweet, in which he comments onTaiwan Semiconductor Manufacturing Company's (NYSE: TSM) 10nm chip manufacturing technology ramp-up plans:
Although the fact that TSMC expects a "very fast" production ramp of its 10nm technology in the second half of 2017 (i.e. beginning in the third quarter) might make it seem, as James notes, that this might be too late to hitApple's (NASDAQ: AAPL) iPhone 7s/7s+/8 production schedule, I don't think it is. Here's why.
Image source: Intel.
Squaring the timing
If TSMC onlystartedmass production of chips using its 10nm technology in the third quarter, then there would be absolutely no chance that Apple's A11 chip would be built using TSMC's 10nm technology. It usually takes three months (possibly longer) to fully process a silicon wafer, with additional time required to package and test those chips, ship those chips to customers (in this case, Apple's contract manufacturers), and then integrate those chips into devices, like Apple's iPhone.
However, I believe that TSMC is talking about arevenueramp up in this case. To dig deeper into this, we need to understand how TSMC recognizes revenue -- a fact that we can find in the chip-maker's most recent form 20-F filing.
TSMC says that it recognizes revenue "when the goods are delivered and titles have passed." It goes on to list a set of conditions that it needs to meet to recognize revenue, which I've reproduced below for the sake of convenience:
In other words, TSMC likely doesn't report revenue from a wafer sale until Apple (or, more likely, its contract manufacturer(s)) have at least gotten ahold of the finished wafer, if not processed, packaged, and tested chips from said wafer.
So, if TSMC begins production on the A11 this month, then finished chips bound for this fall's iPhone models should be ready to go in July or August, which is around when mass production of the next iPhone is expected to begin.
From a timing perspective, 10nm should be good to go for the next generation iPhones.
Beyond just timing
The timing appears to work, but that's not the only reason that I'm confident that the next iPhone models will have 10nm-based processors.
TSMC says that it expects that 10% of its entire 2017 revenues will come from sales of 10nm wafers. The only customers that could contribute this kind of volume and revenue in such a short amount of time areApple and potentiallyQualcomm(NASDAQ: QCOM), and we already know that Qualcomm isn't using TSMC to build 10nm chips.
Beyond that, though, there are good technical reasons for Apple to move to the 10nm technology. Simply put, Apple is already shipping large chips (the A10 is about 125 square millimeters in size in TSMC's 16nm tech).
If Apple wants to dramatically increase the features and functionality that it integrates into its A11 chip, it needs to throw in more transistors, which balloons chip size (the A10 is already quite large for a mobile chip). The move to 10nm technology should allow Apple to cram in much more functionality while keeping chip size in check.
All told, I'm very confident that this year's Apple A11 chip will be manufactured on TSMC's 10nm technology, not its older 16nm technology.
10 stocks we like better than AppleWhen investing geniuses David and Tom Gardner have a stock tip, it can pay to listen. After all, the newsletter they have run for over a decade, Motley Fool Stock Advisor, has tripled the market.*
David and Tom just revealed what they believe are the 10 best stocks for investors to buy right now... and Apple wasn't one of them! That's right -- they think these 10 stocks are even better buys.
Click here to learn about these picks!
*Stock Advisor returns as of April 3, 2017
Ashraf Eassa owns shares of Intel and Qualcomm. The Motley Fool owns shares of and recommends Apple, Qualcomm, and Twitter. The Motley Fool recommends Intel. The Motley Fool has a disclosure policy.