Why Apollo Investment Corporation Plunged Today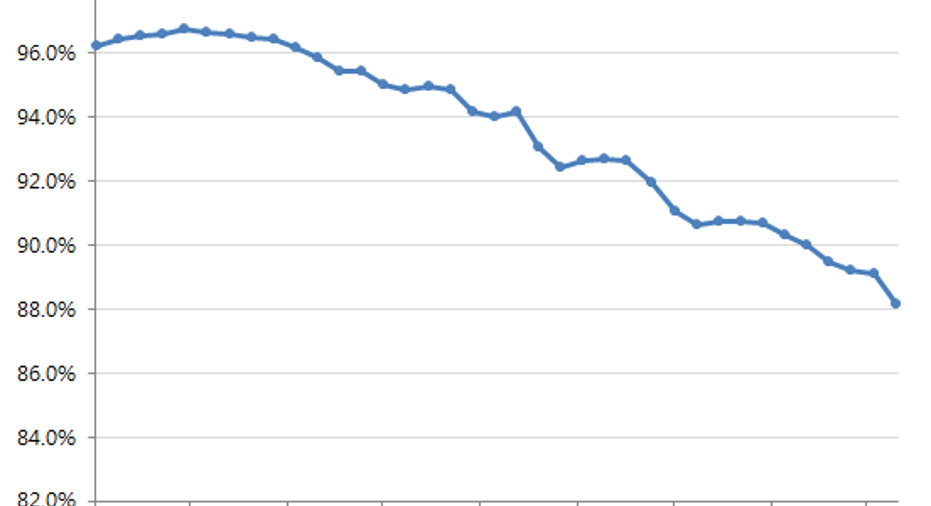 What: Shares of Apollo Investment Corporation were down 10.5% at 3:10 p.m. EST. The business development company leads a broad decline in the sector, likely due to its outsize oil and gas exposure.
So what: As of its latest report, 15% of Apollo Investment's holdings were classified as "Oil & Gas" investments.
Another 11.9% was invested in the equity of collateralized loan obligations, which are essentially pools of loans leveraged at 10 times to 14 times equity.As junk bonds and bank loans trade down, the losses pile up in Apollo Investment's structured products in its portfolio.
Structured products like collateralized loan obligations often invest a portion of their capital into oil & gas loans, which have proven dismal performers as oil prices fell through 2015.
Bank loans have been on an almost continuous decline, with the average bid for the 100 largest loans declining since May 2015. This is a good proxy for the performance of the illiquid loans Apollo Investment Corporation invests in, and the loans that underlie its structured products holdings.
Now what: Apollo Investment now trades at a 38% discount to its last-reported net asset value (book value) of $7.83 per share, implying that Wall Street expects additional write downs and credit losses in its portfolio in quarterly reports to come.
The article Why Apollo Investment Corporation Plunged Today originally appeared on Fool.com.
Jordan Wathen has no position in any stocks mentioned. The Motley Fool recommends Apollo Investment. Try any of our Foolish newsletter services free for 30 days. We Fools may not all hold the same opinions, but we all believe that considering a diverse range of insights makes us better investors. The Motley Fool has a disclosure policy.
Copyright 1995 - 2015 The Motley Fool, LLC. All rights reserved. The Motley Fool has a disclosure policy.