Why Analysts Don't Know What to Do With Solar Stocks Today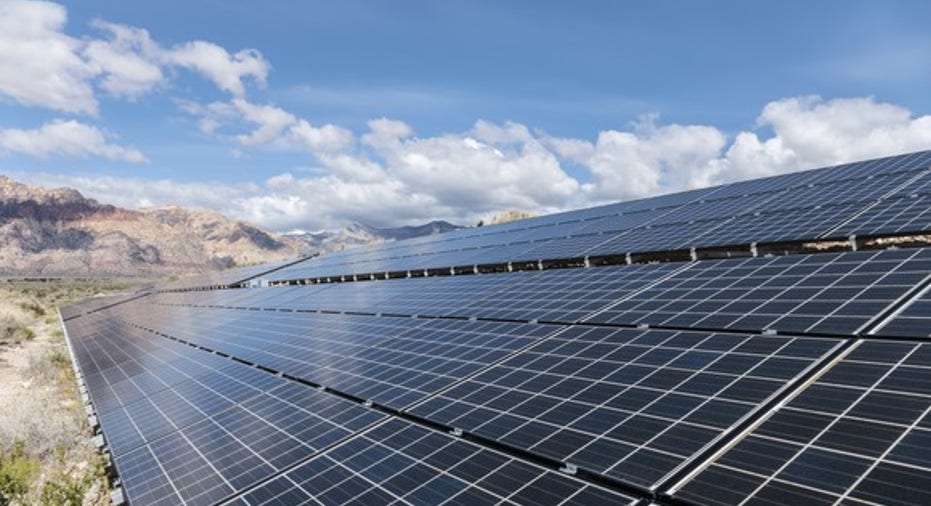 Image source: Getty Images.
Analysts on Wall Street don't quite know what to make of solar giants First Solar and SunPower these days. SunPower was upgraded to a buy rating by UBS on Wednesday with a $22-per-share price target and on Thursday First Solar was downgraded to hold by Deutsche Bank and had its price target cut from $80 to $44.
With solar rapidly disrupting the multitrillion-dollar energy market, how can opinions about these stocks differ so wildly? A big part of the answer comes down to the next few quarters for the solar industry.
2017 is a big question mark for solar
One of the biggest challenges investors and analysts are having in the solar industry today is figuring out what happens after 2016. This year is expected to be a highly profitable year, driven by projects signed in anticipation of the solar investment tax credit expiration at the end of the year, which was subsequently extended. Here is a look at the financial guidance for First Solar and SunPower.
| Metric | First Solar | SunPower |
| --- | --- | --- |
| Revenue | $3.8 billion-$4.0 billion | $3.2 billion-$3.4 billion |
| Gross margin | 18%-19% | 14%-16% |
| Operating cash flow/EBITDA | OCF: $500 million-$700 million | EBITDA: $450 million-$500 million |
Data source: Company earnings releases.
Based on these numbers, 2016 will be a very good year, and indications are that 2018-2020 will be very strong as well. SunPower has signed multiple projects internationally, the Clean Power Plan's implementation, international solar growth as a result of the Paris agreement, as well as cost competitiveness for solar worldwide. Wind is at the back of the solar industry, especially for leaders like First Solar and SunPower, but that doesn't mean 2017 will be great.
Next year, there will be an absence of big solar projects domestically due to the flood of projects coming on line in 2016. Utilities that signed contracts to buy energy from projects completed in 2016 don't need more in 2017 to meet their regulatory or energy demands. In many international markets like Latin America, South Africa, India, and the Middle East, they aren't yet ready to ramp up demand. They'll be coming on line over the next five years, but next year may not pick up the slack left in the U.S. That makes investors uneasy because they simply don't know what to expect next year. Will sales fall? Will margins and earnings drop? Will the industry go into a panel price war like we saw in 2012?
All of these things could happen. And if they do, First Solar is most vulnerable.
Why SunPower is somewhat protected
What separates First Solar and SunPower today is that the latter is an industry leader in efficiency, which gives it inroads in smaller installations in residential and commercial markets. First Solar thrives onsmall projects with shorter lead times (months), rather than utility projects (years). This is because utilities make energy capacity decisions years ahead of time, while smaller customers are much more nimble. SunPower will be hurt by less utility demand, but it gets 30% to 50% of its demand from residential and commercial projects while First Solar relies almost 100% on the utility market. That's why SunPower is seen as the safer play in the short term.
If the utility market were growing, as I think it will long term, First Solar would likely be the bigger beneficiary. But, for now, it appears that SunPower is in a better position. That could change, but that's what analysts and investors see on the horizon. And since few analysts or investors look beyond a quarter or two on the horizon, they don't see the likely increase in demand for all solar companies in 2018 to 2020.
I acknowledge that there's uncertainty ahead, but I think shortsightedness today underestimates how quickly SunPower and First Solar will be able to adapt to the market in 2017 and beyond. They've been through market challenges before and this time will be nothing they haven't seen before.
This isn't a reason to sell
One of the great things about being a long-term investor is that we can look past the uncertainty of 2017 and toward a potentially bright future for the solar industry. It's increasingly cost competitive around the world, with trillions of dollars in market opportunity. First Solar and SunPower are the twocompanies with the best balance sheets and technology, which should help them become major winners in the industry long term.
Whether you're an experienced solar investor or new to the industry, prepare for a wild ride because solar stocks can rise and fall quickly. But in the long term, the opportunity is massive and First Solar and SunPower are well positioned to be winners for those who hold on for the ride.
The article Why Analysts Don't Know What to Do With Solar Stocks Today originally appeared on Fool.com.
Travis Hoium owns shares of First Solar and SunPower. The Motley Fool has no position in any of the stocks mentioned. Try any of our Foolish newsletter services free for 30 days. We Fools may not all hold the same opinions, but we all believe that considering a diverse range of insights makes us better investors. The Motley Fool has a disclosure policy.
Copyright 1995 - 2016 The Motley Fool, LLC. All rights reserved. The Motley Fool has a disclosure policy.