Why Amicus Therapeutics, Inc. Stock Slumped 14.0% in April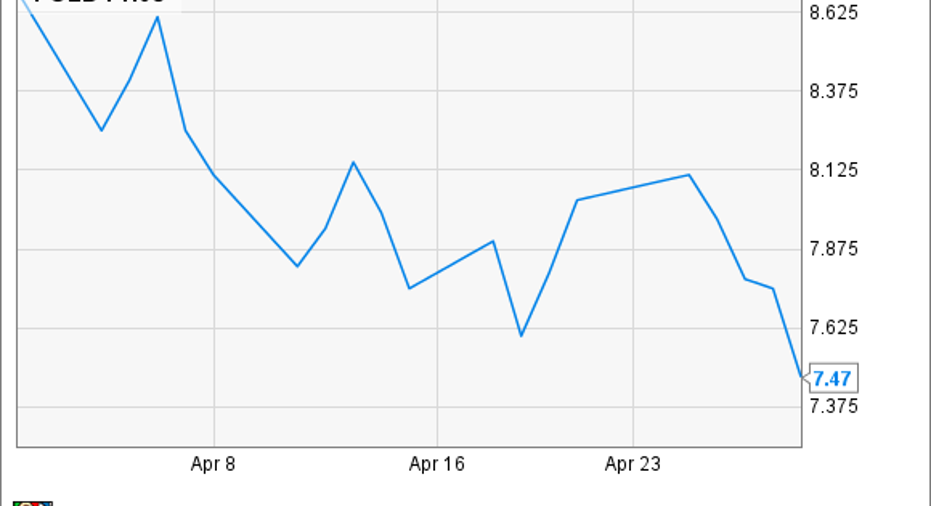 Image source: Amicus Therapeutics.
What: Shares of Amicus Therapeutics , a biotechnology company at the forefront of rare and orphan diseases, slumped 14% last monthaccording to data from S&P Global Market Intelligence. Despite beginning the month with with a positive opinion from European regulators, the stock gave back much of the previous month's gains.
So what:In March, Amicus stock skyrocketed23% after the company reported some positive late-stage data for its lead candidate,migalastat, for the treatment ofsome patients with Fabry disease. This disease is caused by a number of possible genetic mutations in the gene that produces alpha-galactosidase A, an enzyme vital to transport and storage of certain glycolipidswithin cells. A lack of the enzyme leads to widespread tissue damage, and left untreated it typically leads to an early and painful death at around 40 to 50 years of age.
In the U.S., the current standard of treatment is Sanofi's Fabrazyme, which is basically an enzyme replacement therapy that requires intravenous infusions every other week.As you can imagine, the infusions are horribly inconvenient.
Amicus' migalastatis apill, designed to basically restore function to certain Fabry patients' existing enzyme, alpha-gal A,and get it to work, rather than replacing it. Last month, the shares climbed when the company reported a significant reduction of one of the glycolipids alpha-gal A is supposed to remove from certain cells in an 11-patient trial, among other studies.
Without any other news to drag the stock down, I imagine investors spent April digesting the data and realized it's difficult to draw conclusions from such small studies.
Now what: Another reason this stock bounces around so much is that the addressable global patient population is poorly understood.In the U.S., there are an estimated 3,000 men with the disease,but the company has been somewhat cagey about when it intends to file an application with the FDA.
While the European Committee for Medicinal Products for Human Use gave it a positive opinion, the European Commission doesn't necessarily need to follow it -- although it usually does.
News of the positive opinion probably failed to lift the stock because in addition to Sanofi's Fabrazyme, if approved it will also contend with Shire's Replagal -- another enzyme-replacement therapy the FDA refused to approve without additional data, but available in the EU.
Amicus estimates the market potential of each of its three clinical-stage candidates at between $500 million to over $1 billion.Even at the low end that's awfully generous, given that nobody's sure what percentage of Fabry patients are amenable to migalastat therapy in the first place. Amicus' own estimates range between 30% and 50%of the overall Fabry population.
Although there's no particular reason for Amicus stock's slump in April, you can certainly expect more volatility ahead.
The article Why Amicus Therapeutics, Inc. Stock Slumped 14.0% in April originally appeared on Fool.com.
Cory Renauer has no position in any stocks mentioned. You can follow Cory on Twitter @coryrenauer or connect with him on LinkedIn for more healthcare industry insight. The Motley Fool has no position in any of the stocks mentioned. Try any of our Foolish newsletter services free for 30 days. We Fools may not all hold the same opinions, but we all believe that considering a diverse range of insights makes us better investors. The Motley Fool has a disclosure policy.
Copyright 1995 - 2016 The Motley Fool, LLC. All rights reserved. The Motley Fool has a disclosure policy.