Why AMC Networks, Inc. Rose on Thursday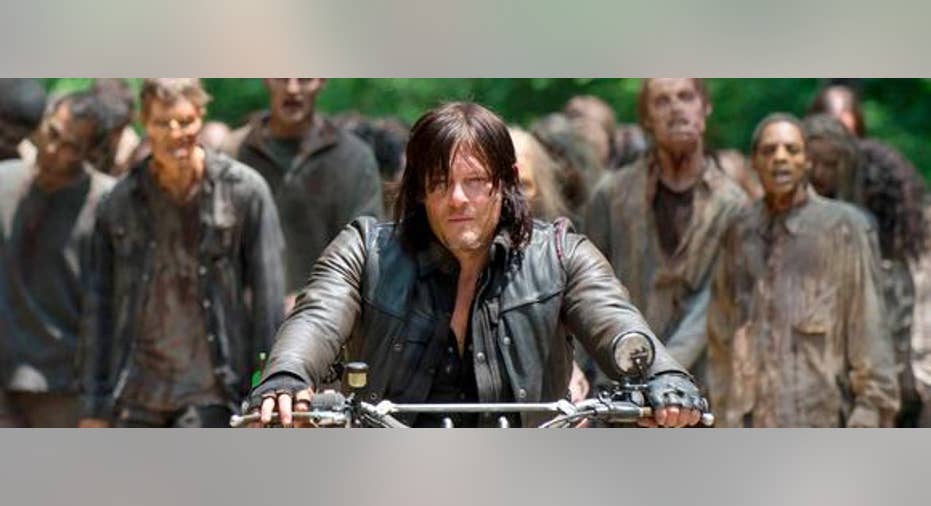 Darryl always seems one step ahead of the walkers, and audiences love it. Image source: AMC.
Shares of TV content production powerhouse AMC Networks surged as much as 7.5% higher in the first few minutes of Thursday trading, lifted by a strong first-quarter report. Let's have a look.
AMC Networks' Q1 results: The raw numbers
| | Q1 2016 Actuals | Q1 2015 Actuals | Growth (YOY) |
| --- | --- | --- | --- |
| Net Revenue | $706.6 million | $668.7 million | 5.7% |
| Adjusted Operating Cash Flows (AOCF) | $286.6 million | $259.2 million | 10.6% |
| Net Income Attributable to Shareholders | $113.4 million | $120.9 million | (6.2%) |
| GAAP Earnings per Share (diluted) | $1.55 | $1.66 | (6.6%) |
Data source: AMC Networks.
What happened with AMC Networks this quarter? In the limited guidance offered three months ago, AMC's management aimed for "modest year-over-year growth" in domestic revenue and a generally low-key quarter. Domestic sales did indeed increase by 6.4%, meeting management's expectations.
Net income was held back by a $48 million charge for debt refinancing. The company paid off a $700 million balance on senior notes with a 7.75% coupon rate, replacing it with $1 billion of new senior notes at a 5% interest rate. Removing this one-time refinancing charge from earnings calculations, adjusted earnings would have been $146 million, or $1.99 per diluted share, a 20% increase over the year-ago period.
Domestic distribution revenue rose 10.7% to $335 million, mainly due to increased digital distribution and higher affiliate fees. One year ago, AMC signed a long-term distribution agreement with Hulu, giving the digital service access to all of AMC's future series as they come along. Having just passed that anniversary, this first-quarter report will be the last time AMC figures its year-over-year growth against a Hulu-less quarter.
AMC's board of directors recently approved a $500 million share repurchase program. The company did not buy back any stock during the first quarter, saving the entire authorization for another day.
The earnings release did not contain any new guidance for the second quarter or updated targets for the full fiscal year.
What management had to say In a press statement, AMC Networks CEO Josh Sapan underscored the business momentum his company built in 2015, and how he plans to keep that train rolling in 2016.
"Our performance continues to be driven by the strength of our brands and the popularity of our original programming, particularly The Walking Dead, Better Call Saul and Fear the Walking Dead, with viewers and advertisers," Sapan said. "With the refinancing of our debt on favorable terms and the authorization of a $500 million share repurchase program, our Company remains focused on creating and delivering value for shareholders."
Looking ahead AMC has retired many of its biggest hits in recent years, from Breaking Bad to Mad Men. The fact that revenue keeps rising in the face of these headwinds is a testament to AMC's high-quality production values.
The company appears to have taken a step back from new productions at the moment, relying on a portfolio of established hit shows while planning its next moves. Free cash flows more than doubled in the first quarter, from $62 million to $146 million, indicating a less hectic content production schedule. That will change when AMC comes up with its next high-budget show idea, ready to fill the void that's left when Hell on Wheels completes its current, final season.
The article Why AMC Networks, Inc. Rose on Thursday originally appeared on Fool.com.
Anders Bylund has no position in any stocks mentioned. The Motley Fool owns shares of and recommends AMC Networks. Try any of our Foolish newsletter services free for 30 days. We Fools may not all hold the same opinions, but we all believe that considering a diverse range of insights makes us better investors. The Motley Fool has a disclosure policy.
Copyright 1995 - 2016 The Motley Fool, LLC. All rights reserved. The Motley Fool has a disclosure policy.