Why Ambarella, Inc. Stock Plunged Today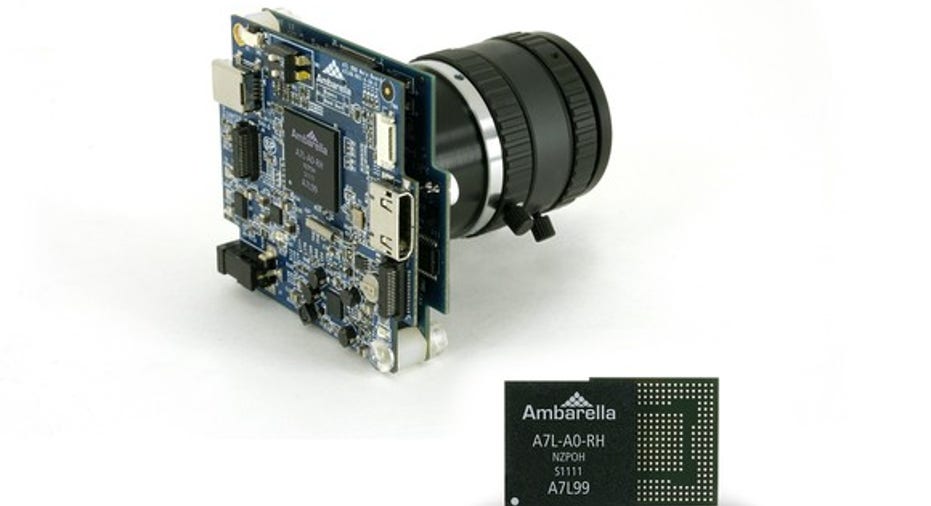 Image source: Ambarella Inc.
What happened
Shares of Ambarella Inc. (NASDAQ: AMBA) fell after the video processing chip specialist beat expectations with its fiscal third-quarter 2017 results but followed with underwhelming guidance.
So what
Quarterly revenue rose 7.8% year over year, to $100.5 million, and translated to 4.9% growth in adjusted net income, to $38.4 million. Adjusted net income per share rose 2.8% year over year, to $1.11. Adjusted gross margin also increased 40 basis points year over year, to 66.3%.
By comparison, Ambarella's guidance provided last quarter called for lower revenue between $95 million and $99 million and lower adjusted gross margin between 63.5% and 65%. Gross margin also benefited from a $1.1 million recovery and sale of inventory previously written down due to yield loss during manufacturing.
CEO Fermi Wang noted this was the first time Ambarella has exceeded $100 million in quarterly revenue, adding, "We saw continued revenue growth in IP security, home monitoring and the automotive camera markets, as well as a ramp in revenue from action sports cameras for the holiday season."
Now what
During the subsequent conference call, however, Ambarella revealed that it expects current-quarter revenue between $84 million and $87 million -- below analysts' consensus estimates for revenue of $90.3 million -- with adjusted gross margin between 64% and 65.5%.
Zooming further out, while Ambarella anticipates returning to growth for its full fiscal-year 2018, CFO George Laplante warned inventory levels held at key consumer products company GoPro"indicates there is a potential for a negative impact to revenue in the early part" of the fiscal year. For perspective -- and though we don't generally pay close attention to Wall Street's short-term demands -- analysts, on average, were expecting Ambarella to achieve 20.3% year-over-year revenue growth in fiscal 2018.
To be fair, these concerns could turn out to be unfounded as Ambarella gains more clarity on the situation in the coming months. And it's always possible Ambarella is underpromising with the intention of again overdelivering. But given the uncertainty in the meantime, it's unsurprising to see the market taking a step back today.
10 stocks we like better than Ambarella When investing geniuses David and Tom Gardner have a stock tip, it can pay to listen. After all, the newsletter they have run for over a decade, Motley Fool Stock Advisor, has tripled the market.*
David and Tom just revealed what they believe are the 10 best stocks for investors to buy right now... and Ambarella wasn't one of them! That's right -- they think these 10 stocks are even better buys.
Click here to learn about these picks!
*Stock Advisor returns as of November 7, 2016
Steve Symington has no position in any stocks mentioned. The Motley Fool owns shares of and recommends Ambarella and GoPro. The Motley Fool has the following options: short January 2019 $12 calls on GoPro and long January 2019 $12 puts on GoPro. Try any of our Foolish newsletter services free for 30 days. We Fools may not all hold the same opinions, but we all believe that considering a diverse range of insights makes us better investors. The Motley Fool has a disclosure policy.