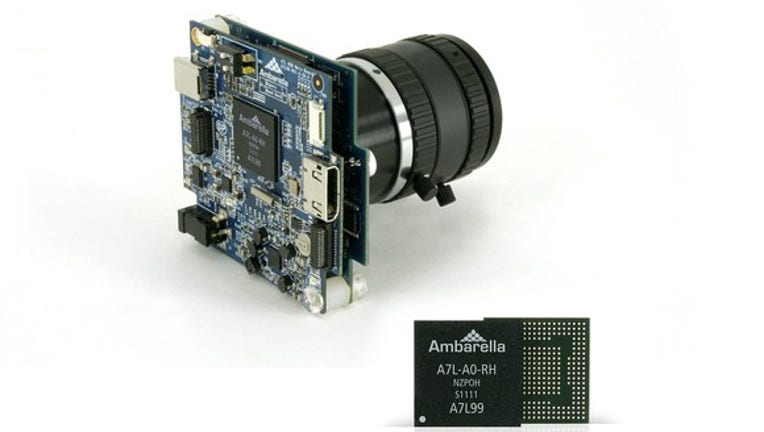 Image source: Ambarella Inc.
What:Shares of Ambarella, Inc. climbed 22.9%in the month of June, according to data provided byS&PGlobal Market Intelligence, driven by the video-processing chip specialist's strong fiscal first-quarter 2017 report.
So what:Ambarella stock rose nearly 10% on June 3, 2016 alone, after Ambarella told investors quarterly revenue declined 19.5% year over year, to $71 million. Net income was also more than cut in half over the same period, to $11.4 million, or $0.34 per share. But while that might not sound encouraging, both figures were significantly above Ambarella's own guidance, which called for revenue of $55 million to $57 million, and net income between $8 million and $10 million.
Ambarella CEO Fermi Wang stated the company was "pleased with [its] execution" during the quarter. Ambarella also continued to launch new products during the quarter, including its first 14nm IP camera System-on-a-Chip, and its new 4K and HEVC SoC families enjoyed strong design win momentum across all key markets including IP security, automotive, and flying cameras.
Now what:Looking forward, however, Ambarella anticipates weakness in the wearable camera space to continue to represent a headwind for the business. Further, it expects to see some additional pressure in the coming quarter stemming from image sensor supply disruptions at Sony following the large Japanese earthquake in April, which will negatively impact Ambarella's customers' abilities to build cameras that use its chips. As such, Ambarella expects fiscal second-quarter revenue to decline between 29% and 22% year over year, or to a range of $60 million to $66 million.
That said, Ambarella noted demand was healthy across its remaining market segments excluding that shortage. And investors should anticipate that troublesome wearable camera industry will begin to rebound here in the second half of calendar 2016, namely as key Ambarella customer GoPro is expected to launch a new HERO5 line of cameras in time for the holidays -- that is, assuming I'm correct in rebuking recent rumors that GoPro is seriously considering whether to switch from Ambarella's solutions to those made by chip giant Qualcomm .
Nonetheless, we'll see what Ambarella has to say when it releases fiscal second-quarter 2017 results in either late August or early September. If it can overcome its near-term headwinds and prove to investors it has what it takes to resume sustained, profitable growth over the long term, Ambarella stock should continue to drive market-beating returns going forward.
The article Why Ambarella, Inc. Stock Jumped 22.9% in June originally appeared on Fool.com.
Steve Symington has no position in any stocks mentioned. The Motley Fool owns shares of and recommends Ambarella, GoPro, and Qualcomm. Try any of our Foolish newsletter services free for 30 days. We Fools may not all hold the same opinions, but we all believe that considering a diverse range of insights makes us better investors. The Motley Fool has a disclosure policy.
Copyright 1995 - 2016 The Motley Fool, LLC. All rights reserved. The Motley Fool has a disclosure policy.