Why Ambarella, Guess?, and Smith & Wesson Holding Slumped Today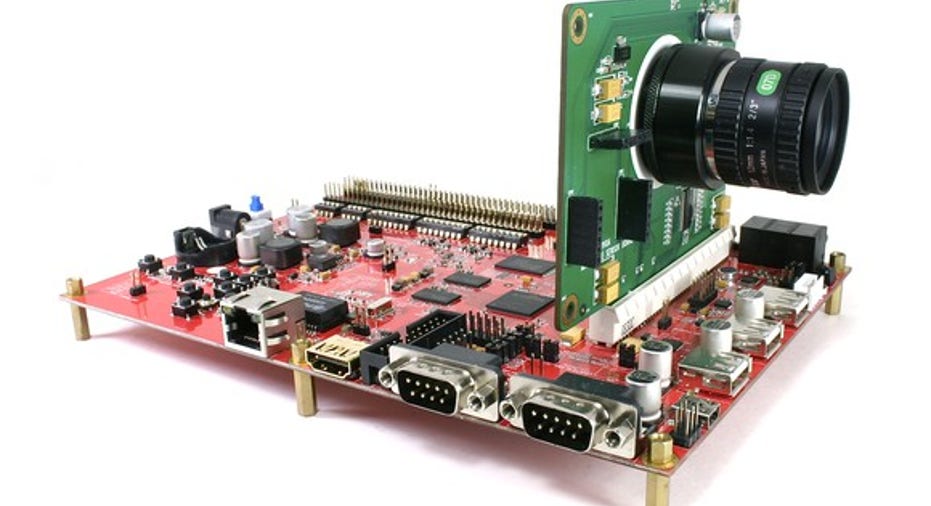 The stock market finished the week Friday on a quiet note, with none of the major market benchmarks straying very far from where they started the trading session. Gains early in the morning were linked to reasonably solid macroeconomic data on U.S. employment, but traders appeared content with the gains that the market posted in November following the election.
Yet some stocks didn't hold up well at all, and Ambarella (NASDAQ: AMBA), Guess? (NYSE: GES), and Smith & Wesson Holding (NASDAQ: SWHC) were among the worst performers on Friday. Below, we'll look more closely at these stocks to tell you why they did so poorly.
Image source: Ambarella.
Ambarella has some holiday worries
Ambarella finished down 11% after reporting its third-quarter financial results. The company said that revenue grew by nearly 8% during the quarter to climb above the $100 million mark, and net income climbed by nearly 5%, to $38.4 million, producing adjusted earnings of $1.11 per share.
Yet although that was nearly 20% higher than what most of those following the stock had expected to see on the bottom line, Ambarella said that it expects revenue to come in between $84 million and $87 million for the fourth quarter, falling short of the consensus forecast of $90 million. In addition, some longer-term concerns about how fiscal 2018 might include some challenging conditions seemed to be enough to spur investors toward selling the stock despite its future prospects in wearable sports, IP security, and automotive uses.
Guess? sinks for a second day
Guess? fell 6%, adding to the jeans retailer's 10% slide on Thursday following its own earnings release for the third quarter. The company reported a drop of nearly 5% in comparable sales including e-commerce in the key Americas retail segment, which worsened from what it had posted in the previous quarter. Performance in Europe was strong, and Asia had some positive points, as well, but both the Americas retail and Asia saw negative operating margin figures.
Declines in guidance for the fiscal fourth quarter and the full fiscal year also weighed on sentiment among investors. Unless the company can defy expectations in the holiday quarter and rebound from what has been a tough retail environment, Guess? might have further to fall.
Smith & Wesson stock misfires
Finally, Smith & Wesson Holding dropped 12%. The gun maker released its fiscal second-quarter results late Thursday, which included huge gains of 63% in revenue and adjusted net income that nearly tripled from year-ago levels, to $39.1 million, or $0.68 per share. Smith & Wesson said that both market-share gains and industrywide consumer demand helped its firearms segment, while key acquisitions helped bolster the outdoor products and accessories business.
Yet even though Smith & Wesson has worked hard to diversify its offerings with a broader range of accessories for hunters and other outdoors enthusiasts, some investors are still nervous about how far the shares have fallen following the victory of President-elect Donald Trump. It could take time for investors to reassure themselves that demand might not fall as much as they expect.
10 stocks we like better than Smith and Wesson Holding When investing geniuses David and Tom Gardner have a stock tip, it can pay to listen. After all, the newsletter they have run for over a decade, Motley Fool Stock Advisor, has tripled the market.*
David and Tom just revealed what they believe are the 10 best stocks for investors to buy right now... and Smith and Wesson Holding wasn't one of them! That's right -- they think these 10 stocks are even better buys.
Click here to learn about these picks!
*Stock Advisor returns as of November 7, 2016
Dan Caplinger has no position in any stocks mentioned. The Motley Fool owns shares of and recommends Ambarella. The Motley Fool recommends Guess?. Try any of our Foolish newsletter services free for 30 days. We Fools may not all hold the same opinions, but we all believe that considering a diverse range of insights makes us better investors. The Motley Fool has a disclosure policy.