Why Allergan, Horizon Pharma plc, and Pfizer All Spiked Wednesday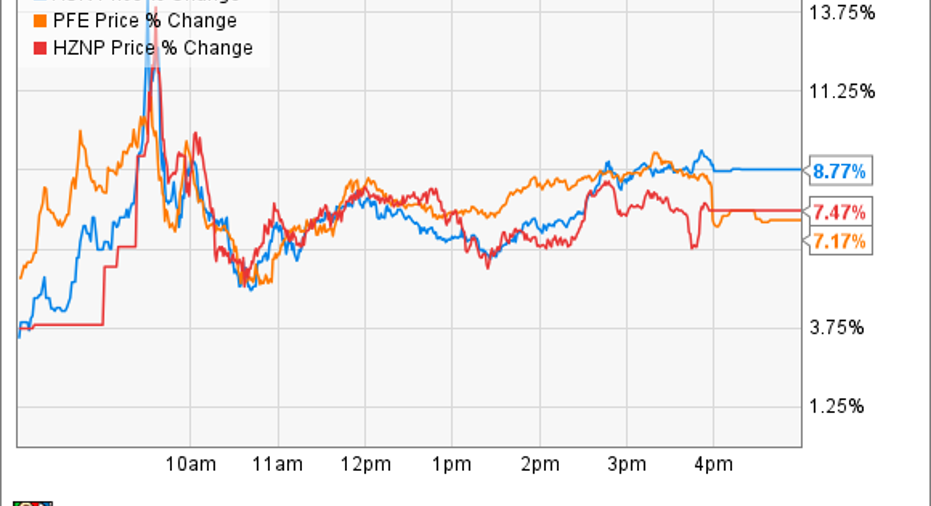 What happened
Shares of Allergan (NYSE: AGN), Horizon Pharma plc (NASDAQ: HZNP), and Pfizer (NYSE: PFE) all surged higher yesterday on the news that Donald Trump would become the next president of the United States of America.
So what
Far from being the doomsday event many predicted previously, these top pharma stocks seem to be telegraphing that a Trump presidency would actually be a boon for the industry. Digging deeper, the specific catalysts that sparked this intense rally appear to be the potential for lower corporate taxes, looser regulations from the U.S. Food and Drug Administration, and an end to the rampant criticismfrom lawmakerssurrounding drug pricing schemes.
Now what
Pfizer has made it all too clear that it views U.S. corporate tax rates as unfavorable compared to those in tax havens such as Ireland. As a result, the drugmaker has been attempting to move abroad in order to lower its tax bill, most recently through its failed merger with Allergan. As Trump repeatedly said on the campaign trail that his administration would address this issue and make corporate tax rates more competitive with other Western nations, Pfizer may finally decide to shelve this idea.
Image source: Flickr via user Disney.
Allergan and Horizon, for their part, have performed extremely poorly this year due to the drug-pricing controversy that was spearheaded by Democrats like Hillary Clinton and Bernie Sanders. Although Trump has also spoken out against sky-high drug prices in the last few months, he didn't make this topic a cornerstone issue of his campaign. Moreover, Republicans in general simply haven't railed against the pharma industry's pricing practices to the same degree as their counterparts during this election cycle, which could turn out to be a major win for the industry as Republicans now control both houses of Congress.
As an aside, Pfizer's stock has also felt the wrath of the drug-pricing controversy of late -- sparked by the drugmaker's decision to raise prices for many of its older medications by an average of 9% earlier this year. However, without these hefty price increases, Pfizer's vast portfolio of legacy products would be crushing its top line right now, given that many of these drugs have lost patent protection and are seeing their sales plummet as a result.
All in all, there's good reason for these three drugmakers to feel good about a Trump presidency moving forward. Having said that, campaign rhetoric and actual policy positions can diverge dramatically from one another in practice. So, investors will definitely want to keep a close eye on the actions -- and not just the words -- of this new administration going forward.
10 stocks we like better than Pfizer When investing geniuses David and Tom Gardner have a stock tip, it can pay to listen. After all, the newsletter they have run for over a decade, Motley Fool Stock Advisor, has tripled the market.*
David and Tom just revealed what they believe are the ten best stocks for investors to buy right now and Pfizer wasn't one of them! That's right -- they think these 10 stocks are even better buys.
Click here to learn about these picks!
*Stock Advisor returns as of November 7, 2016
George Budwell owns shares of Allergan and Pfizer. The Motley Fool has no position in any of the stocks mentioned. Try any of our Foolish newsletter services free for 30 days. We Fools may not all hold the same opinions, but we all believe that considering a diverse range of insights makes us better investors. The Motley Fool has a disclosure policy.