Why Aerojet Rocketdyne Stock Soared 16% in November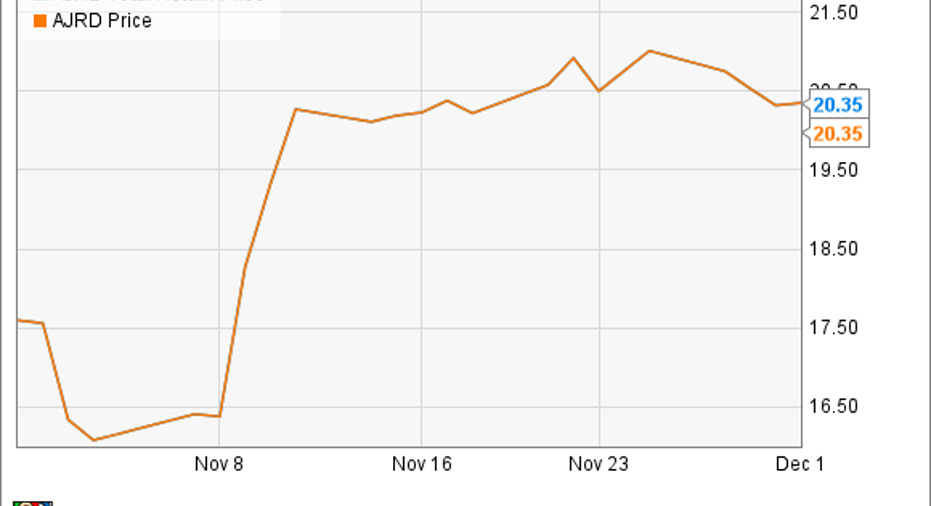 Aerojet Rocketdyne stock took off like a rocket in Q3. Image source: Getty Images.
What happened?
Shares of rocket motor maker Aerojet Rocketdyne (NYSE: AJRD)shot up 15.7% in November, according to data from S&P Global Market Intelligence -- not because of the company's earnings report that month but in spite of it.
So what?
Aerojet Rocketdyne reported its fiscal Q3 earnings on Nov. 1, and the news wasn't great. Revenue at the rocket tech company rose a modest 5% to $464 million. Despite this growth in sales, Aerojet not only didn't grow its profits but rather reported a $0.17 loss, canceling out all profits earned in the two previous quarters and returning Aerojet to net earnings (so far) for 2016 of precisely zero dollars and zero cents for the year.
AJRD total return price data by YCharts.
Now what?
It was lucky for Aerojet, therefore, that 2016 was an election year -- and that Donald Trump won the election in November. That news sparked a rally among industrials stocks in the U.S., reversing the slide in Aerojet's shares and sending them shooting skyward, along with the rest of the market.
Whether Aerojet can sustain these gains after the Trump rally wears off, though, will depend largely on how the company performs in the current quarter. So what should we be looking for?
According to S&P Global Market Intelligence, analysts who follow Aerojet Rocketdyne stock expect the company to report GAAP earnings of $0.86 per share this year (and pro forma profits of $0.60). That's a tall order for Aerojet to fill, however. Thanks to the Q3 loss, Aerojet has now earned precisely nothing in the first three quarters of this year. Thus, to hit Wall Street's targets, Aerojet must now earn all of the profits it's supposed to earn this yearin just the fourth quarter of the year.
Given that Aerojet has only earned anything approaching this level of quarterly profit twice in the last 15 years (i.e., just about 3.3% of the time), I fear the chances of Aerojet "missing earnings" in Q4 are pretty good -- and the chances of the stock being punished for a "miss" are equally good.
10 stocks we like better than Aerojet Rocketdyne When investing geniuses David and Tom Gardner have a stock tip, it can pay to listen. After all, the newsletter they have run for over a decade, Motley Fool Stock Advisor, has tripled the market.*
David and Tom just revealed what they believe are the 10 best stocks for investors to buy right now... and Aerojet Rocketdyne wasn't one of them! That's right -- they think these 10 stocks are even better buys.
Click here to learn about these picks!
*Stock Advisor returns as of November 7, 2016
Fool contributorRich Smithdoes not own shares of, nor is he short, any company named above. You can find him onMotley Fool CAPS, publicly pontificating under the handleTMFDitty, where he currently ranks No. 336 out of more than 75,000 rated members.
The Motley Fool has no position in any of the stocks mentioned. Try any of our Foolish newsletter services free for 30 days. We Fools may not all hold the same opinions, but we all believe that considering a diverse range of insights makes us better investors. The Motley Fool has a disclosure policy.