Why Advaxis, Inc. Shares Are Soaring 16% Today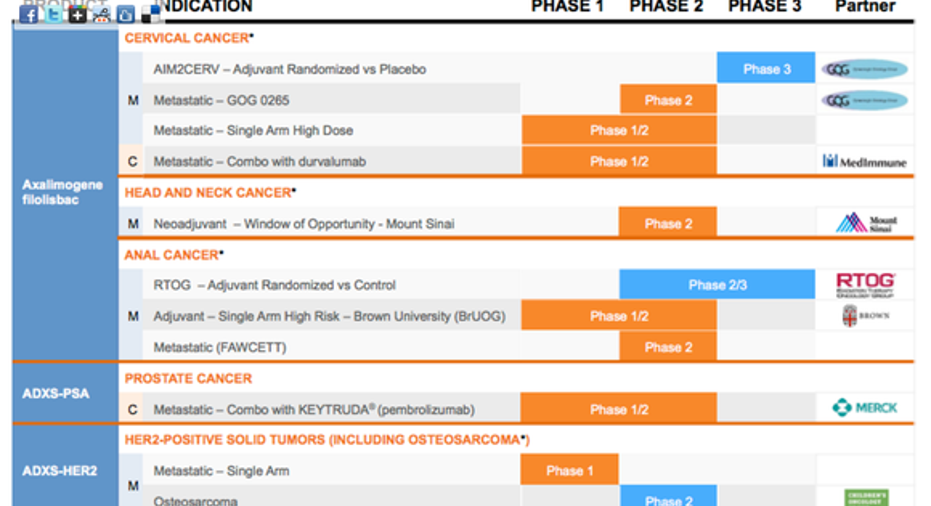 SOURCE: ADVAXIS, INC.
What: After reporting intriguing data for its cancer therapy in dogs that could have implications for human cancer patients, shares in Advaxis, are rallying 15% at 2:00 p.m. EST Monday.
So what: The clinical stage biotech's ADXS-HER2 is being evaluated as a cancer treatment for osteosarcoma, the most common primary bone tumor found in dogs and the most common bone cancer in children and teens.
In the canine study, 18 dogs with surgically treated osteosarcoma were given the immunotherapy and 15 of those dogs showed an antigen-specific response within six months of receiving ADXS-HER2. Importantly, ADXS-HER2 administration resulted in a median survival time of 956 days, which is far superior to the 423 median days historically associated with this cancer.
Now what: ADXS-HER2 is one of Advaxis listeria-based immunotherapies. These therapies are designed to deliver an engineered variation of listeria directly to tumors so that the immune system can identify the tumor and destroy it.
The news could support a conditional launch by Artana Therapeutics , which has licensed the drug for use in animal health, later this year.
However, we're still a ways away from this drug being proven effective in humans. Advaxis is evaluating three listeria bioengineered therapies in trials, the most advanced of which in human trials is axalimogene filolisbac, a treatment for cervical cancer, head and neck cancer, and anal cancer. It's also working on ADXS-PSA, a drug that's being studied for use alongside Merck & Co's PD-1 drug, Keytruda, in prostate cancer patients.
SOURCE: ADVAXIS, INC.
Overall, the concept of using immunotherapies to battle back against cancer is immensely intriguing and that makes this company one worth adding to a watch list to keep tabs on.
The article Why Advaxis, Inc. Shares Are Soaring 16% Today originally appeared on Fool.com.
Todd Campbell has no position in any stocks mentioned. Todd owns E.B. Capital Markets, LLC. E.B. Capital's clients may have positions in the companies mentioned. The Motley Fool has no position in any of the stocks mentioned. Try any of our Foolish newsletter services free for 30 days. We Fools may not all hold the same opinions, but we all believe that considering a diverse range of insights makes us better investors. The Motley Fool has a disclosure policy.
Copyright 1995 - 2016 The Motley Fool, LLC. All rights reserved. The Motley Fool has a disclosure policy.