Why Advanced Micro Devices, Francesca's Holdings, and Zillow Group Jumped Today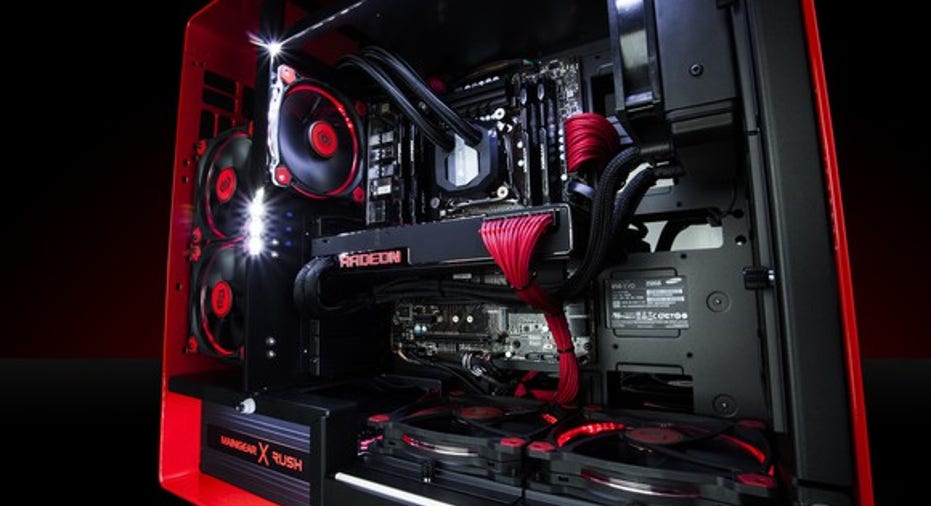 Tuesday was another solid day for the stock market, with the Dow once again reaching unprecedented levels, and the S&P 500 and Nasdaq Composite both posting gains of between a third and a half of a percentage point. Holiday enthusiasm has kicked into full gear, and in the absence of negative news to the contrary, market participants seem happy to bid shares higher.
Some stocks had particularly good news today, and Advanced Micro Devices (NASDAQ: AMD), Francesca's Holdings (NASDAQ: FRAN), and Zillow Group (NASDAQ: Z) (NASDAQ: ZG) were among the best performers. Below, we'll look more closely at these stocks to tell you why they did so well.
Image source: Advanced Micro Devices.
AMD climbs on partnership, deal speculation
Advanced Micro Devices climbed 9% after announcing an extension to its strategic partnership with Mentor Graphics (NASDAQ: MENT). AMD has worked with Mentor for years, including their development of an embedded software ecosystem for developers two years ago to provide open-source resources. Last night's announcement highlighted further Linux-based embedded solutions, utilizing Mentor's expertise in hardware and software design solutions.
Yet as Motley Fool tech analyst Timothy Green noted earlier this afternoon, rumors are flying that AMD might have made a deal with rival Intel (NASDAQ: INTC) concerning AMD graphics technology. Those rumors have yet to pan out, and if they prove to be false, it will become clearer how much of today's gains were attributable to that potential news.
Francesca's gives a good report
Francesca's Holdings jumped 29% in the wake of its third-quarter earnings report. The retailer said that it saw double-digit percentage growth in its revenue, thanks in large part to a 7% rise in comparable sales. Strong gross profit margin and operating margin figures also contributed to the solid quarter, and Francesca's said that the back-to-school season went well for the company.
Looking forward, Francesca's now sees a more favorable future, including a $0.04 to $0.07 per-share increase in earnings estimates to $1.03 to $1.07 per share. Despite expectations for negative comps for the holiday quarter, Francesca's is optimistic about its prospects, with plans to keep expanding its boutique network while continuing the rapid growth of its e-commerce business.
Zillow raises cash to move forward
Finally, Zillow Group gained ground, with its two classes of shares picking up 8% and 11%, respectively. The real-estate website specialist said late Monday that it would offer $400 million in convertible five-year senior notes in a private placement. Zillow intends to use proceeds to refinancing outstanding Trulia convertible senior notes due in 2020.
In addition, the company said it could use the money it raises for a variety of other general corporate purposes, including acquisitions, investments, capital expenditures, or other expenses to build up its business. Ordinarily, a capital raise involving equity through a convertible offering would sink a stock, but Zillow has performed so well so far in 2016 that investors appear to be unfazed by the financing move.
10 stocks we like better than Zillow Group (C shares) When investing geniuses David and Tom Gardner have a stock tip, it can pay to listen. After all, the newsletter they have run for over a decade, Motley Fool Stock Advisor, has tripled the market.*
David and Tom just revealed what they believe are the 10 best stocks for investors to buy right now... and Zillow Group (C shares) wasn't one of them! That's right -- they think these 10 stocks are even better buys.
Click here to learn about these picks!
*Stock Advisor returns as of Nov. 7, 2016
Dan Caplinger has no position in any stocks mentioned. The Motley Fool owns shares of and recommends Zillow Group (A shares) and Zillow Group (C shares). The Motley Fool recommends Intel. Try any of our Foolish newsletter services free for 30 days. We Fools may not all hold the same opinions, but we all believe that considering a diverse range of insights makes us better investors. The Motley Fool has a disclosure policy.