Why Advance Auto Parts Inc. Stock Fell 18% in November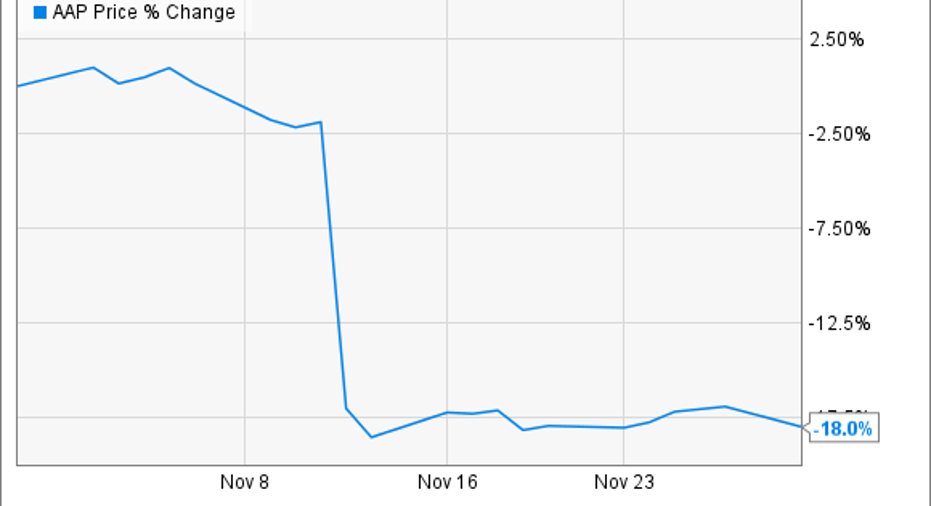 What: Shares of Advance Auto Parts fell 16% during the month of November, according to S&P Capital IQ data.
The drop helped extinguish what had been a hefty 2015 gain. The auto parts retailer's stock was beating the market by as many as 20 percentage points, but is now underperforming, down 5% year-to-date compared to a 1% gain for the S&P 500.
So what: November's dive was triggered by surprisingly weak third-quarter earnings results and a major leadership change at the top. Comparable-store sales growth slowed to 0.5% from 1% in the prior quarter. And profitability ticked down, falling to 45% of sales from 45.2% in the year ago period. By comparision, rival Auto Zone posted solid 3.5% third-quarter comps growth as gross profit rose to 52.5% from 52.1%.
Compounding Advance Auto Part's weak business momentum was increasing growing pains from the company's integration of its recently acquired General Parts business. That merger ate into profitability in the third quarter as it's proving costlier than originally expected.
The retailer at the same time announced that Darren Jackson, who has served as CEO for the past 8 years, was retiring. The board of directors' president, George Sherman, will take over as an interim chief executive.
Now what: Executives noted a "soft start" to the current quarter that suggests comps could slip into negative territory, marking the third straight period of decelerating growth. And management expects integration costs to continue to hurt earnings in the fourth quarter.
As a result, the company lowered its 2015 earnings guidance to $7.82 per share at the midpoint, down significantly from the $8.10 per share it had targeted just three months prior. Nevertheless, the company believes it will work through these issues, in part by closing underperforming store locations. "We remain focused on structurally improving our business and progressing through our integration milestones to position the company for long term growth," outgoing CEO Darren Jackson said in a press release.
The article Why Advance Auto Parts Inc. Stock Fell 18% in November originally appeared on Fool.com.
Demitrios Kalogeropoulos has no position in any stocks mentioned. The Motley Fool has no position in any of the stocks mentioned. Try any of our Foolish newsletter services free for 30 days. We Fools may not all hold the same opinions, but we all believe that considering a diverse range of insights makes us better investors. The Motley Fool has a disclosure policy.
Copyright 1995 - 2015 The Motley Fool, LLC. All rights reserved. The Motley Fool has a disclosure policy.