Why Achillion Pharmaceuticals Jumped 10% in May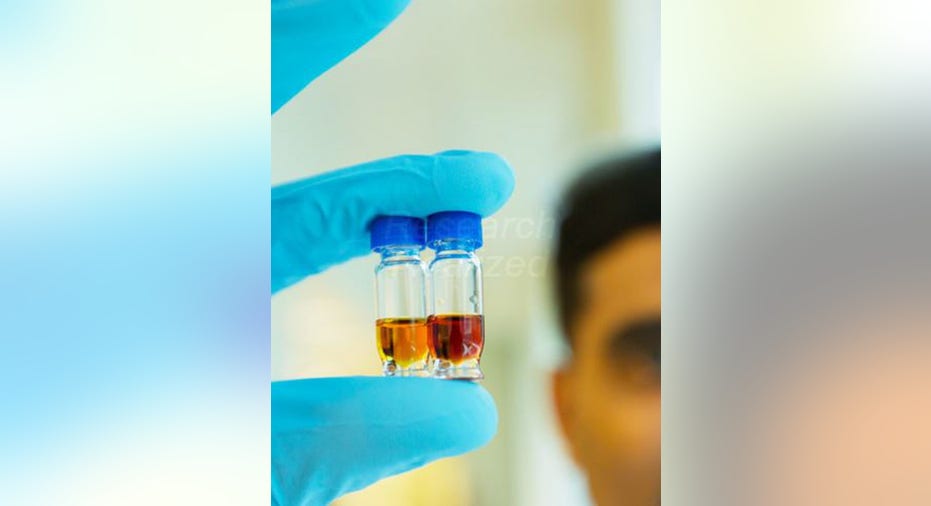 Image source: Achillion Pharmaceuticals, Inc.
What: After reporting first-quarter financials, updating investors on its clinical trial progress, and initiating a new phase 2b hepatitis C trial, Achillion Pharmaceuticals, Inc. saw its shares rally by 10% last month, according toS&P Global Market Intelligence.
So what?:Achillion Pharmaceuticals' shares were flying high in 2014 on optimism that its clinical stage hepatitis C program could attract a suitor. However, rather than being acquired, the company agreed to license its hepatitis C drugs toJohnson & Johnson last summer, and shares have fallen since then.
Last month, however, investors rediscovered the company after management said that key trial results were on deck and Johnson & Johnson initiated a new phase 2b hepatitis C trial that features Achillion's NS5A inhibitor, odalasvir.
Phase 2a trial resultsevaluating eight week or less hepatitis C regimens including odalasvir are expected in the third quarter. If those results are positive, then Johnson & Johnson could conceivably begin phase 3 confirmatory studies soon thereafter insupport of an eventual FDA filing.
Additionally, Johnson & Johnson's latest phase 2b trial including odalasvir began ahead of schedule last month and this 400 patient study of six- and eight-week regimens should wrap up by the end of July 2017.
Image source: Achillion Pharmaceuticals, Inc.
Now what?:The market for hepatitis C therapies is massive.
There are over 170 million people with hepatitis C worldwide, including 3 million in the U.S. and another 9 million in Europe. As a result, the combined sales of hepatitis C drugs exceed $20 billion annually.
Although there's no guarantee that Johnson & Johnson's studies involving Achillion's drug will pan out, successfully shortening treatment duration to as little as six weeks could be market-share friendly. Currently, most hep C patients are treated over a period of at least 12-weeks.
If Johnson & Johnson's approach does demonstrate comparable efficacy and safety to current options, and shortens treatment duration, then Achillion could receive up to $1.1 billion in milestone payments and royalties inthe mid-teens to low 20s percentage range on eventual sales.
Also, Johnson & Johnson could still acquire Achillion Pharmaceuticals outright. Johnson & Johnson already owns 18.4 million shares of Achillion (around a 13% stake), purchased at an average price of $12.25 per share.
Admittedly, competition in this indication is fierce, and current players are working on their own shorter-duration approaches, so it's far from a lock that Achillion Pharmaceuticals will profit even if its ongoing trials do succeed. Because of that risk, this company remains best suited for investors who can withstand the risk of disappointment.
The article Why Achillion Pharmaceuticals Jumped 10% in May originally appeared on Fool.com.
Todd Campbell owns shares ofAchillion Pharmaceuticals Inc. Todd owns E.B. Capital Markets, LLC. E.B. Capital's clients may have positions in the companies mentioned. Like this article? Follow him onTwitter where he goes by the handle@ebcapitalto see more articles like this.The Motley Fool owns shares of and recommends Johnson & Johnson. Try any of our Foolish newsletter services free for 30 days. We Fools may not all hold the same opinions, but we all believe that considering a diverse range of insights makes us better investors. The Motley Fool has a disclosure policy.
Copyright 1995 - 2016 The Motley Fool, LLC. All rights reserved. The Motley Fool has a disclosure policy.