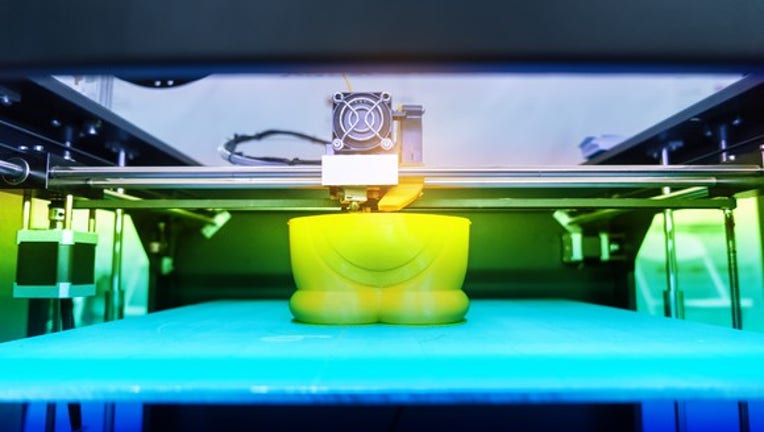 3D Systems(NYSE: DDD)stock is up a whopping 70% in 2017 through May 25, though the company remains unprofitable on the basis of generally accepted accounting principles (GAAP). Main rival Stratasysand the smaller pure-play 3D printing stocks that are listed on major U.S. stock exchanges are also partying like it was... 2013.
For those new to 3D printing stocks, 2013 was the last year that this group was hot. The group largely got killed in 2014 and 2015, while some of the stocks -- including 3D Systems -- started coming back in 2016.
Below are the likely (and somewhat interrelated) reasons behind 3D Systems stock's rise this year.
Data by YCharts.
1. Wall Street analysts' actions after Q1 earnings release
As you can see in the above chart, the bulk of 3D Systems stock's year-to-date gain has come in May. The impetus behind May's rise was the company's release of its first quarter 2017 results on May 3, which I'll explore further below. Investors were initially disappointed, which we can likely attribute to adjusted earnings per share (EPS) of $0.06 coming in lower than the $0.11 Wall Street was expecting, resulting in shares closing down more than 3% that day.
However, shares started their sustained rise the following day after thePiper Jaffray and Jefferies analysts who cover the stock madesome cautiously optimistic comments andraised their stock price targets. The price target increases were nothing to cheer about: The Piper analyst, who maintained his underweight rating on the stock, raised his share price target by $0.50 to $11. The Jefferies analyst, who maintained his hold rating, raised his target by 17% to $17.50. 3D Systems stock closed at $16.08 the day earnings were announced -- which means that Jefferies believed it was overpriced even at that time -- and is priced at $22.03 as of Friday.
Image source: Getty Images.
2. Improving financial results
In the first quarter, these key financial metrics moved in the right direction compared with the prior year's quarter:
Total revenue: Increased 2.5% to $156.4 million. Organic growth (growth in businesses owned for at least one year), however, was lower because the company acquired NextDent's dental materials brands in the quarter. Management didn't divulge exactly how much revenue this acquisitionadded to the quarter's coffers. From the guidelines provided on the earnings call, we can glean that organic revenue likely grew in the range of about 0.5% to 1.5% at best.
Adjusted EPS: Increased 20% to $0.06.
GAAP EPS: Loss narrowed from $0.16 to $0.09.
Cash generated from operations: Increased 7.2% to $19.4 million.
While there was likely meager organic revenue growth in the quarter, it's premature for investors to conclude that organic revenue is rebounding. Revenue dropped 9.5% year over year in the fourth quarter of 2016, after rising 3.2% in the third quarter. The third quarter of last year marked the first time since the second quarter of 2015 that year-over-year revenue increased.
A big positive, however, is that 3D Systems is generating more cash from operations, and is generating positive free cash flow (FCF), despite GAAP earnings being negative. FCF is arguably a better measure of how well a company is performing than "earnings," which are simply an accounting measure.
3. Improving outlook
When 3D Systems released its Q4 2016 results in February, it provided full-year 2017 guidance, which it reiterated when it released Q1 2017 results.
| Metric | 2017 Guidance | Projected Year-Over-Year Change |
| --- | --- | --- |
| Revenue | $643 million to $684 million | 2% to 8% |
| GAAP EPS | $0.02 to $0.06 | N/A (loss of $0.35 in 2016) |
| Adjusted EPS | $0.51 to $0.55 | 10% to 20% |
Data source: 3D Systems.
Additionally, management expects to continue to generate positive cash flow from operations in 2017.
While 2% to 8% projected revenue growth isn't robust, it will still be better than the 5% year-over-year revenue contraction that 3D Systems experienced in 2016.(Revenue contracted about 2% if we exclude consumer products, which the company discontinued.) Adjusted EPS is expected to continue to improve and, notably, GAAP EPS is expected to be positive for the full year, whereas it was negative in 2016.
4. Increased optimism sparked by big companies entering the space
HP Inc. and General Electricentered the 3D printing supplier space in 2016. HP launched two polymer3D printers, while GE acquired controlling stakes in two European metal 3D printer makers.Well-funded start-up Carbon alsoentered the market last year with the launch of its flagship polymer M1 printer. Carbon hasreceived funding from some powerful entities, including the venture capital arms of Alphabet'sGoogle and GE. HP and Carbon sport an impressive array of corporate partners.
Compelling competitors entering the market means that 3D Systems will be facing more competition, but it's also a validation that 3D printing is an attractive business to be in.
Final words
There is reason for cautious optimism given 3D Systems' recent performance and guidance. However, investors should remember that guidance is just that. At this point, 3D Systems is still struggling to grow organic revenue and it's still unprofitable on a GAAP basis. On the plus side, however, it's generating decent cash from operations and free cash flow. In fact, its FCF for the trailing-12-month period is the highest it's been since early 2013. The stock, however, is rather pricey given its recent run-up: Its price-to-FCF ratio is 62.7, and its forward price-to-earnings (P/E) ratio is 42.8.
10 stocks we like better than 3D SystemsWhen investing geniuses David and Tom Gardner have a stock tip, it can pay to listen. After all, the newsletter they have run for over a decade, Motley Fool Stock Advisor, has tripled the market.*
David and Tom just revealed what they believe are the 10 best stocks for investors to buy right now... and 3D Systems wasn't one of them! That's right -- they think these 10 stocks are even better buys.
Click here to learn about these picks!
*Stock Advisor returns as of May 1, 2017
Suzanne Frey, an executive at Alphabet, is a member of The Motley Fool's board of directors. Beth McKenna has no position in any stocks mentioned. The Motley Fool owns shares of and recommends GOOG and GOOGL. The Motley Fool owns shares of General Electric. The Motley Fool recommends 3D Systems and Stratasys. The Motley Fool has a disclosure policy.