Who's the Mystery Buyer Behind Boeing's 787?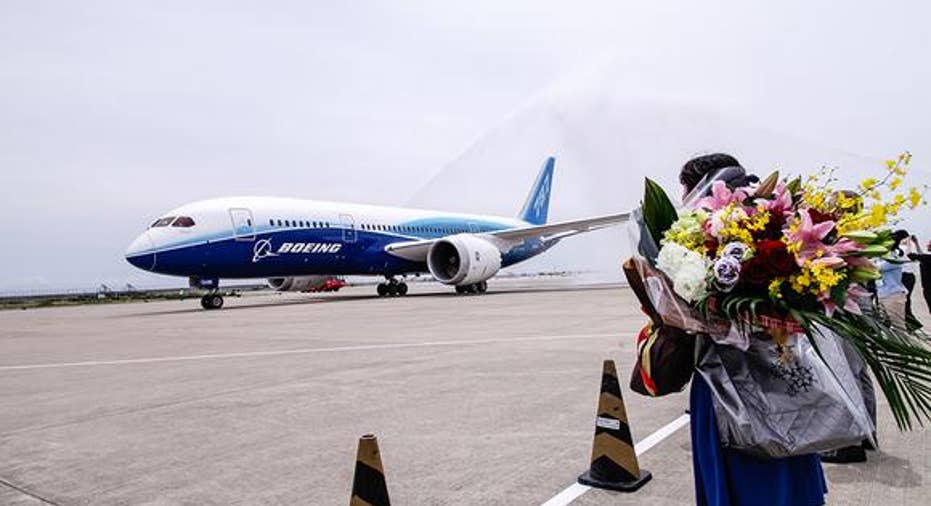 Someone loves the Boeing 787. But we can't tell who behind all the flowers. Image source: Boeing.
Well that was a nice surprise. Boeing just increased the volume of Boeing 787s sold this year...by 15 times! (Granted, it was working off a low base of just one plane, but still. A nice surprise).
Order updateOn Thursday morning, Boeing released its regularly scheduled update of plane orders booked (or canceled) so far this year. The company sold 16 planes in the past week, and of course, that's the big headline today. In a moment, we'll go over the two stories it leads to. But first, let's just run down the numbers.
As of today, Boeing's order book for the year to-date reads like this:
141 new orders for single-aisle Boeing 737s
16 orders for the new 787 Dreamliner
12 orders for widebody 777s
four 747s
one order for a Boeing 767
In total, that makes 174 gross orders booked so far this year. Cancellations are holding steady at 18. Thus, Boeing's net order total for the year now stands at 156.
The week that wasNow let's take a quick, closer look at the planes that pushed Boeing past 150 this week. One of the planes Boeing sold was a 777 transport, purchased by FedEx. Boeing makes clear this was an "original recipe" 777 -- not a 777X. That means so far this year, despite selling a dozen 777s, not one of them has been a 777X. Simply put, so far, the 777X just isn't selling.
Luckily, at long last, the 787 is selling. Boeing says it has received 15 orders for new Boeing 787 widebody "Dreamliners" last week. The company did not say who ordered them, identifying the customer only as "Unidentified Customer(s)."
On the other hand, in a press release last week, Boeing publicly stated that China Eastern Airlines had just finalized an order for 15 787-9 Dreamliners. Boeing put the value of China Eastern's purchase at "nearly $4 billion at current list prices" (but no one ever pays list price in this industry).
Given that the China Eastern Airlines order was not mentioned in last week's order update, and that since it was announced on April 28, it just missed the cutoff for reporting as a firm order in that update (which covered orders placed up through April 27), it seems safe to say I think we have found our buyer: China Eastern was the company that bought the 787s this week.
What does it mean to investors?This is good news for Boeing for two reasons. First, of course, there's the "$4 billion" in new revenues. (It's probably less than $4 billion after discounts, granted, but still a lot of money.) Second, according to data from Planespotters.net, China Eastern currently operates a mostly Airbus fleet. To date, Boeing's only contributions to China Eastern have been 11 long-haul 777s, and a large number (118, to be exact) of single-aisle 737s for regional flights.
Weighed against China Eastern's 293 Airbus aircraft of all shapes and sizes, that makes Boeing a relative bit player at the carrier -- but now its presence is growing.
For a company that places so much faith in the potential of the Chinese market, that's a good thing.
The article Who's the Mystery Buyer Behind Boeing's 787? originally appeared on Fool.com.
Fool contributorRich Smithdoes not own shares of, nor is he short, any company named above. You can find him onMotley Fool CAPS, publicly pontificating under the handleTMFDitty, where he's currently ranked No. 294 out of more than 75,000 rated members.The Motley Fool owns shares of and recommends FedEx. Try any of our Foolish newsletter services free for 30 days. We Fools may not all hold the same opinions, but we all believe that considering a diverse range of insights makes us better investors. The Motley Fool has a disclosure policy.
Copyright 1995 - 2016 The Motley Fool, LLC. All rights reserved. The Motley Fool has a disclosure policy.