Who's Going to Pay Billions for EV Charging Infrastructure? (Hint: It Might Be You)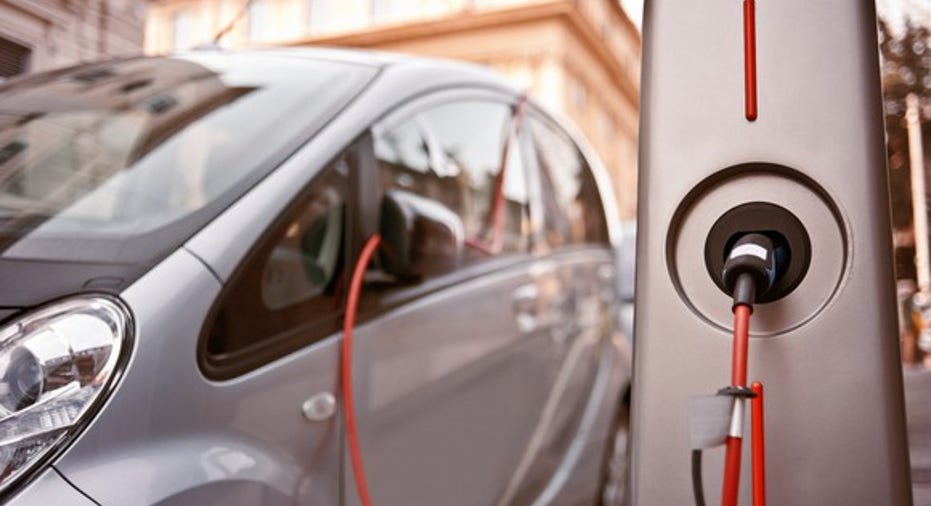 Image source: Getty Images.
As many as 15 new models of electric vehicle could be on the road by 2020, led by Tesla Motors' Model 3, General Motors' Chevy Bolt, and an updated version of the Nissan Leaf.And with volumes in the U.S. already over 100,000 per year and high hopes for growth, by 2020 there could be 1 million or more EVs hitting the road each year.
Amid all of the excitement over electric vehicle growth, however, it's important to remember that all of those new vehicles will have to be charged somewhere -- and that requires a big investment from the industry. If we ballpark that an average fast charging station is $20,000, and 100,000 stations will be needed across the country by 2020,that will be a $2 billion investment just to meet the demand for chargers. And that begs the question: Who is going to build thousands of public charging stations, and who is going to pay for them?
Independent charging stations are tough business
One challenge is that there's no set EV charging business model out there. NRG Energy has tried to build an EV charging infrastructure with subscription plans that range from per minute to per hour charging, but it hasn't attracted enough customers to make money, and the plans have their own flaws. For example, there's no incentive not to park your car in an EV spot all day, eating up a potential return for NRG Energy.
Tesla Motors is building its supercharger network, but that'll only be available for free to Model S owners, and once the Model 3 arrives it's clear the model has to change. There are already reports of backups at supercharging stations, and Tesla has had to ask consumers to only use the chargers when they need to. Maybe free isn't the way to offer charging.
Then there's the utility model. PG&E in Northern California has been given approval to spend $160 million to build 7,500 charging stations and charge the bill to electric customers. It can't increase rates by more than $2.75 per residential consumer, but the bill is going to EV owners and non-EV owners alike.
GE wants to build more EV chargers, but probably won't own them long-term. Image source: General Electric.
How do you make money on EV charging stations?
The core problem is that there's no clear way to make money selling electricity to EV owners. A charging station could charge per kWh, but what's to say a consumer won't park their car and leave for a few hours in the meantime?
Customers could be charged per hour, but with free charging stations available and charging speed variable, there's no guarantee that model would get the volume chargers would need to make money.
Another option is to spread costs among a lot of consumers, as PG&E's proposal does. But that means customers who get no benefit from EVs will be paying for them, which hardly seems fair.
Tesla Motors has shown that automakers building their own infrastructure could be beneficial, but it seems unlikely that GM, Nissan, VW, and others would want to spend billions to build out separate EV infrastructure.
As companies like Aerovironmentand General Electric work to develop the technology that makes fast charging possible and stations more available, what's missing is the business plan behind the charging business.
Could this be the gap electric vehicles have to bridge?
What makes the charging business model important is that it's something that needs to be solved if EVs are going to gain wider adoption. An EV owner making a cross country trip doesn't want to be trapped at a charging station for hours waiting for a station to open up because someone parked their car and left.
On the flip side, if there's no way for charger owners to make money, what's the benefit in building enough chargers to make them abundant enough that everyone will have them when needed?
It's a chicken and egg that has to be solved by the EV community. And with hundreds of thousands of EVs hitting the road in the coming years, it needs to be solved quickly.
The article Who's Going to Pay Billions for EV Charging Infrastructure? (Hint: It Might Be You) originally appeared on Fool.com.
Travis Hoium has no position in any stocks mentioned. The Motley Fool owns shares of and recommends Tesla Motors. The Motley Fool owns shares of NRG Energy. The Motley Fool recommends General Motors. Try any of our Foolish newsletter services free for 30 days. We Fools may not all hold the same opinions, but we all believe that considering a diverse range of insights makes us better investors. The Motley Fool has a disclosure policy.
Copyright 1995 - 2016 The Motley Fool, LLC. All rights reserved. The Motley Fool has a disclosure policy.