Whole Foods Shares Pop on Albertsons' Reported Takeover Interest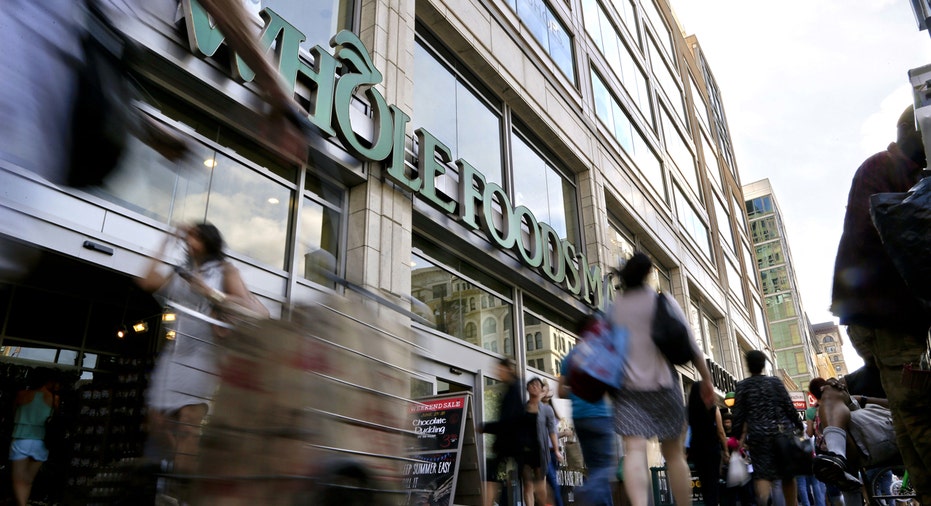 Shares of high-end grocery chain Whole Foods (NYSE:WFM) jumped as much as 3.6% to a fresh 52-week high of $37.33 on Monday after the Financial Times reported U.S. supermarket operator Albertsons – backed by private equity group Cerberus Capital – is exploring a takeover.
While no formal bids have been made, sources told the FT Cerberus Capital has held preliminary talks with bankers about a bid for Whole Foods. Should a proposal for a tie up come to fruition, it would be less than two years after Albertsons bought Safeway for $9 billion, a transaction that created the third-biggest grocery chain by revenue behind Walmart and Kroger (NYSE:KR).
The report comes two weeks after Jana Partners disclosed a nearly 9% stake in the company as it outlined a host of problems fueling what it called "chronic underperformance" for Whole Foods shareholders. Jana said it would, if necessary, consider nominating individuals for election to the grocer's board of directors, and though it said it would not try to be part of a merger or sale of the company, it could still consider pressuring Whole Foods to take those actions on its own.
As takeover speculation brews, Whole Foods shares have jumped 16% since the start of the year, adding to gains of nearly 20% over the last 52 weeks.
After elevating organic foods to mainstream status, Whole Foods has faced increasing competition from the likes of Kroger and Walmart (NYSE:WMT) – both of which have upped their game when it comes to competing in the fresh-food space as they've come under scrutiny of their own to grow their top and bottom lines as competition has put an enormous strain on the industry.
Food retail in the U.S. is an oversaturated and mature market, analysts at Credit Suisse said in a research note last week, leading them to conclude a Whole Foods sale would provide an opportunity to unlock value for the company and its shareholders.
"The outlook for the food retail industry is rapidly deteriorating. While deflation has clearly been a factor in the weak sales and increased promotions, the underlying fundamentals of the business appear to be undergoing structural change as well," they said.
Indeed, even established players in the space -- like Walmart -- are finding it harder and harder to compete with e-commerce giant  Amazon (NASDAQ:AMZN), which has renewed focus on the fresh-food space with its cashier-free convenience stores and Amazon Fresh grocery-delivery platforms.  This month, Walmart dangled more online-order discounts in front of its consumers – offering lower prices for items shoppers purchase online and pick up in store. The announcement came alongside new efforts to trim headcount as it struggles to compete.
With Walmart leading the charge to cut prices, Credit Suisse estimates between 30% and 40% of the industry is now slashing prices to lure customers through the doors – and the outlook, they said, isn't likely to improve as e-commerce becomes more meaningful in the food and consumable categories. In fact, online sales in those areas grew 20% - 30% annually, and the firm's data show Walmart and Kroger are the only retailers to have a double-digit share in the industry, with other players – like Whole Foods – in the low to mid-single digits.
That's where a possible merger or acquisition of Whole Foods comes into play.
"An asset like [Whole Foods] could be layered into an existing infrastructure, providing share and cost benefits," the analysts said, adding they would view a transaction between Kroger and Whole Foods as advantageous since the two companies serve different customer segments, which they could bring together under one umbrella.
While Kroger has been rumored as a possible buyer for Whole Foods, the company hasn't floated a formal offer.