Whole Foods Revises Its Growth Plans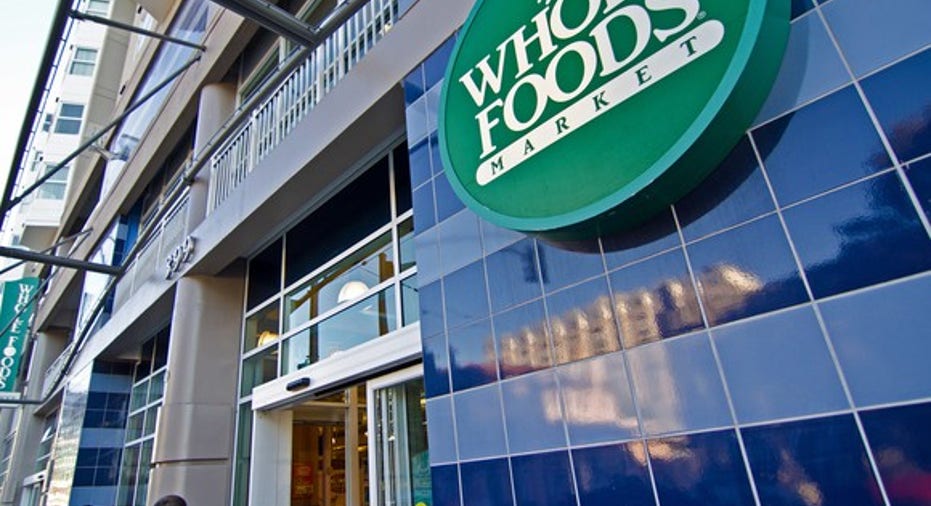 On Wednesday after the close of trading, Whole Foods Market (NASDAQ: WFM) reported a decline in comparable-store sales during its first fiscal quarter of 2017. In the face of continuing competition in the natural and organic foods sector, the company reduced its fiscal 2017 guidance and also announced that it intends to close nine underperforming stores in the current quarter. Below, we'll review the earnings results and discuss the implications of a change in the grocer's growth strategy.
Image source: Whole Foods Market.
A tepid start to the fiscal year
Whole Foods' revenue increased 1.9% to a record $4.9 billion during the quarter. However, comparable-store sales, or "comps," declined by 2.4%. An increase in average basket size at checkout of 1.5% was more than offset by a 3.9% decrease in transactions. This was similar to the last sequential quarter, in which the organization also saw larger transactions per customer reduced by fewer customer visits.
Whole Foods recorded $95 million in net income versus $157 million in the first quarter of 2016. Higher general and administrative costs, as well as higher store relocation, closure, and lease termination costs made up the bulk of the difference between the two periods. The company earned $0.30 per diluted share, versus $0.46 in the comparable prior-year quarter.
Whole Foods' fiscal 2017 outlook gets trimmed
Perhaps not surprisingly given the quarter's performance, management revised its fiscal 2017 guidance in the company's earnings filing. Projected revenue growth has been curbed from a range of 2.5%-4.5% to "1.5% or greater."
Comps, which were originally anticipated to fall between -2% and 0%, are now pegged at "-2.5% or better." Expected diluted earnings per share have been reduced from $1.42 to $1.33 for the fiscal year.
Whole Foods attributed the reduced full-year outlook to current sales trends and impending lost sales from store closures. It also pointed to higher expenses associated with an accelerated push into "category management," the optimization of meeting specific customer demand and preferences. Whole Foods announced on Wednesday that it has engaged retail analytics consulting firm dunnhumby,a subsidiary of British grocery giant Tesco plc, to assist in this initiative.
A strategy to improve category management addresses the traffic weakness seen in the first-quarter comps we discussed above. During the company's earnings conference call on Wednesday, management acknowledged that competitors were peeling away at least some visits by non-core Whole Foods customers.
Category management will essentially allow Whole Foods to mitigate decreased traffic by producing a higher yield from loyal customers. As CEO John Mackey pointed out on the call: "We're refocusing on our very best customers, and that means we're decelerating our growth. We are focused on data through category management; managing our company a lot more with data and marketing information."
Exercising store-level discipline
The announcement that the grocery chain will shutter nine underperforming stores during the current quarter was undoubtedly the most significant news in this earnings release. CEO Mackey explained during the call that the targets are generally older stores, some of which were added through acquisitions, exhibiting negative EBITDA, and in a few cases, negative EBITDAR (the R represents rent).
Retiring the underperforming stores has several implications. Most obviously, top-line growth will take a small hit as the company can no longer count these locations in its quarterly revenue numbers. But the action is a net positive on several other fronts. A store with negative adjusted earnings in many cases is a victim of declining sales, so getting rid of flailing units should benefit overall comps.
Removing these instances of economic loss from the ledger should also improve the company's operating margin and return on invested capital, or ROIC. Management is implicitly offering up a trade for investors: In exchange for temporarily slower revenue growth, the quality of earnings per share (from this and similar future closures) should increase.
A revised growth plan
In his prepared remarks on Wednesday, Mackey acknowledged that Whole Foods no longer holds the long-term goal of reaching 1,200 stores. While this may surprise some investors, it's a realistic shelving of a number that was conceived when Whole Foods was still a niche company, and mostly under the radar screen of its peers.
And even in the best of circumstances, the 1,200-unit target is somewhat theoretical -- even if Whole Foods could grow stores at a long-term compounded annual growth rate of 7%, it would take roughly 15 years to get to 1,200 from the base of 469 stores today.
More valuable than growth for growth's sake is maintenance of the chain's competitive advantages. While other grocery stores may have invaded the natural and organic foods space, Whole Foods still boasts superior metrics on several fronts. For example, its 33%-plus gross margin, and sales per square foot, which hit $915 last year, continue to serve as industry-leading benchmarks.
As Mackey pointed out to analysts, the company currently has approximately 80 stores in development, a pipeline that will take two to three years to work through. By then, Whole Foods will have completed its category management push, rolled out its digital affinity program nationwide, and developed enough "365" concept units to understand their potential long-term contribution to revenue and profitability.
In other words, Whole Foods isn't necessarily bidding goodbye to its pursuit of superior long-term growth. But management appears to recognize the need to reset near-term expansion expectations while it firms up its traditional commitments to robust profitability and handsome returns on invested capital.
10 stocks we like better than Whole Foods MarketWhen investing geniuses David and Tom Gardner have a stock tip, it can pay to listen. After all, the newsletter they have run for over a decade, Motley Fool Stock Advisor, has tripled the market.*
David and Tom just revealed what they believe are the 10 best stocks for investors to buy right now...and Whole Foods Market wasn't one of them! That's right -- they think these 10 stocks are even better buys.
Click here to learn about these picks!
*Stock Advisor returns as of February 6, 2017.
John Mackey, CEO of Whole Foods Market, is a member of The Motley Fool's board of directors. Asit Sharma has no position in any stocks mentioned. The Motley Fool owns shares of and recommends Whole Foods Market. The Motley Fool has a disclosure policy.