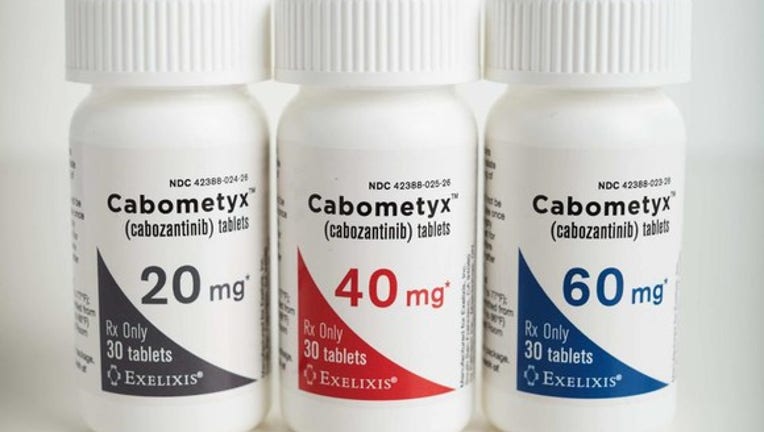 Exelixis (NASDAQ: EXEL) reported first-quarter earnings, posting something many biotechs never achieve: profitability on an operating basis.
Exelixis results: The raw numbers
Data source: Exelixis.
What happened with Exelixis this quarter?
The profitability was mostly driven by Exelixis' new kidney cancer drug Cabometyx, which generated $62.4 million in sales in the first quarter, about 40% higher than sales in the fourth quarter of last year.
The number of new prescribers through the specialty pharmacy channel increased by nearly 40% as Cabometyx is adopted by community oncologists -- as opposed to oncologists in academic settings, who tend to be earlier adopters.
The earnings profit was also helped by a decrease in costs. Research and development costs decreased since it's no longer running the kidney cancer trial that got Cabometyx approved. Selling, general, and administrative costs also decreased -- even as costs for the launch increased -- because Exelixis has to pay less for its collaboration agreement with Roche to sell Cotellic.
Paying off loans also helped boost profitability with interest expenses down sharply. There's still one more loan to go, which Exelixis expects to pay off in the July time frame.
Image source: Exelixis.
What management had to say
The uptick in new prescribers is a good sign as Exelixis' SVP of commercial Patrick Haley explained it should result in increased use for each new prescriber:
When asked by an analyst about predictions on future profitability, you could hear someone on the management team laugh at the question, after which Michael Morrissey, Exelixis' CEO and president, responded:
Sounds like investors shouldn't necessarily expect growing sales to fall to the earnings line, but Exelixis also doesn't plan on running a deficit to support growth, either.
Looking forward
Not surprisingly, management still isn't giving guidance on sales of Cabometyx. The only guidance given was to reiterate thattotal costs and operating expenses for 2017 will fall between $290 million and $310 million.
Besides growing sales in the current indication, the nearest near-term opportunity for Cabometyx comes from the CABOSUN data, where Cabometyx beat Pfizer's Sutent in the font-line setting in advance kidney cancer patients. Exelixis expects to apply for FDA approval in that setting in the third quarter, putting a decision from regulators in the early part of next year.
The second interim peek at the phase 3 CELESTIAL trial in liver cancer is expected in the second half of the year. If the data are positive, Exelixis expects to apply for approval to treat patients with liver cancer in the first quarter of next year; otherwise, investors will have to wait for the final analysis from the trial due sometime in 2018 to see if Cabometyx can treat liver cancer.
Finally, Exelixis is working on its next strategy for Cabometyx, combining it with immune checkpoint inhibitors through collaborations with Bristol-Myers Squibb (NYSE: BMY) and Roche. A phase 3 trial in kidney cancer combining Cabometyx with Bristol-Myers' Opdivo and Yervoy is expected to start in the middle of this year. And a phase 1b with Roche's Tecentriq in multiple tumor types is expected to start around the same time.
10 stocks we like better than ExelixisWhen investing geniuses David and Tom Gardner have a stock tip, it can pay to listen. After all, the newsletter they have run for over a decade, Motley Fool Stock Advisor, has tripled the market.*
David and Tom just revealed what they believe are the 10 best stocks for investors to buy right now...and Exelixis wasn't one of them! That's right -- they think these 10 stocks are even better buys.
Click here to learn about these picks!
*Stock Advisor returns as of May 1, 2017.
Brian Orelli has no position in any stocks mentioned. The Motley Fool owns shares of and recommends Exelixis. The Motley Fool has a disclosure policy.