Who Will Win the Messaging Wars: Facebook, Google, or Microsoft?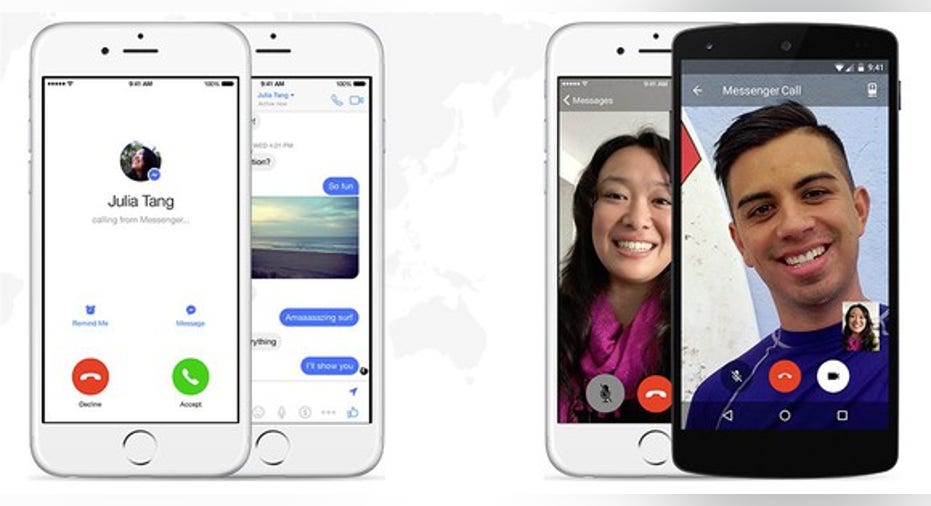 Over the past few years, mobile messaging apps have gradually replaced SMS text messages and emails. Last January, Facebook 's WhatsApp, the most widely used mobile messaging service in the world, announced that it was delivering 50% more messages than SMS. The app's total number of monthly active users (MAUs) topped 1 billion this February. Facebook's own chat app, Messenger, hit 900 million MAUs in April.
Email use has been falling by the double digits annually across all age groups, sending Alphabet's Google and Microsoft scrambling to launch or buy new messaging services.
Image source: Getty Images.
Let's take a closer look at the ways Facebook, Google, and Microsoft are expanding in the mobile messaging market and see which one could rise above the others.
Facebook: Divide, grow, and evolve
Facebook's greatest asset is its user base of 1.51 billion mobile MAUs. By forcing users to download theseparate Messenger app, shutting off messages in its mobile web app, and eliminating the need for a Facebook login, it ushers both old and new users onto a new platform that can be expanded in a monolithic manner, similar to popular Asian apps like Tencent's WeChat.
Over the past year, Facebook integrated stickers, mobile payments, apps, games, chatbots, and other features directly into Messenger. These features created a second ecosystem within Messenger that can generate revenue in additional ways to complement the display ad revenue from its core News Feed.
That strategy also streamlines its ability to challenge Google and Apple's app-based ecosystems since these in-app features perform similar tasks as stand-alone apps. As these features evolve, Messenger users could rely more on these features than iOS or Android apps. Once chatbots improve, they could connect users to businesses more naturally and efficiently than mobile apps.
Facebook Messenger. Image source: Facebook.
As for WhatsApp, Facebook nixed the app's $1 annual fee (its only source of revenue) and stated that it would eventually monetize the app by promoting it as a communication tool for businesses to reach customers. Facebook seems interested in developing WhatsApp as an alternative messaging platform to Messenger, so there aren't any plans to integrate WhatsApp with its core ecosystem for now.
Microsoft and Google: Trying desperately to catch up
Microsoft and Google have a similar problem: They both lack Facebook's social audience. Both companies tried to leverage their respective dominance of PC and mobile operating systems to promote bundled communication apps like Skype and Hangouts, but they failed to overtake Facebook's messaging solutions.
Skype, which Microsoft bought for $8.5 billion in 2011, has about 300 million users. However, many people identify Skype as a VoIP replacement for traditional phone calls instead of a mobile messaging platform. Meanwhile, various mobile messaging apps like Messenger and Line have all added free VoIP and video calls. Realizing that Skype couldn't hold its own in the mobile messaging battle, Microsoft recently bought a mobile chat app developer calledWand, whichspecializes in creating chatbots.
Skype. Image source: Microsoft.
Google often introduces new social and chat solutions, then hastily replaces them with new apps when they fail. Google's list of social networking flops and misfires already includes Orkut, Latitude, Buzz, Jaiku, Dodgeball, and Google+ -- which it recently split into Reddit-like "Communities" and Pinterest-like "Streams." The company's longest-lived messaging platform is Hangouts, which features SMS support and video calls across mobile and desktop platforms. Google hasn't disclosed how many people use Hangouts, since it's woven into its total number of Google accounts, but it's likely nowhere near as popular as Messenger or WhatsApp.
Google also launched a stand-alone Messenger app in late 2014, which was bundled with Android 5.0 and promoted as a simpler solution than Hangouts. Earlier this year, it introduced Allo, a WhatsApp-like appthat allows a Google-powered AI to monitor personal conversations and make contextual recommendations. It also unveiled Duo, a video chat app. This confusing scattergun strategy oflaunching so many similar chat apps has been widely criticized and indicates that the search giant simply doesn't know how to catch up to Facebook without a core social networking audience.
The likely winner: Facebook
Facebook clearly has an upper hand over Microsoft, Google, and other mobile messaging challengers for two simple reasons: Its social ecosystem is massive, and it wisely closed its acquisition of WhatsApp before the app nearly doubled its user base.
Unless Microsoft and Google can convince users to stop using Facebook to stay in touch with others, their messaging apps will likely remain second-tier choices. Meanwhile, Facebook will likely capitalize on its current lead and use Messenger and WhatsApp to create new walled gardens that are isolated from iOS, Android, and PC-based messaging solutions.
The article Who Will Win the Messaging Wars: Facebook, Google, or Microsoft? originally appeared on Fool.com.
Suzanne Frey, an executive at Alphabet, is a member of The Motley Fool's board of directors. Leo Sun has no position in any stocks mentioned. The Motley Fool owns shares of and recommends Alphabet (A shares), Alphabet (C shares), Apple, and Facebook. The Motley Fool owns shares of Microsoft and has the following options: long January 2018 $90 calls on Apple and short January 2018 $95 calls on Apple. Try any of our Foolish newsletter services free for 30 days. We Fools may not all hold the same opinions, but we all believe that considering a diverse range of insights makes us better investors. The Motley Fool has a disclosure policy.
Copyright 1995 - 2016 The Motley Fool, LLC. All rights reserved. The Motley Fool has a disclosure policy.