Who Is Amazon's Favorite Customer?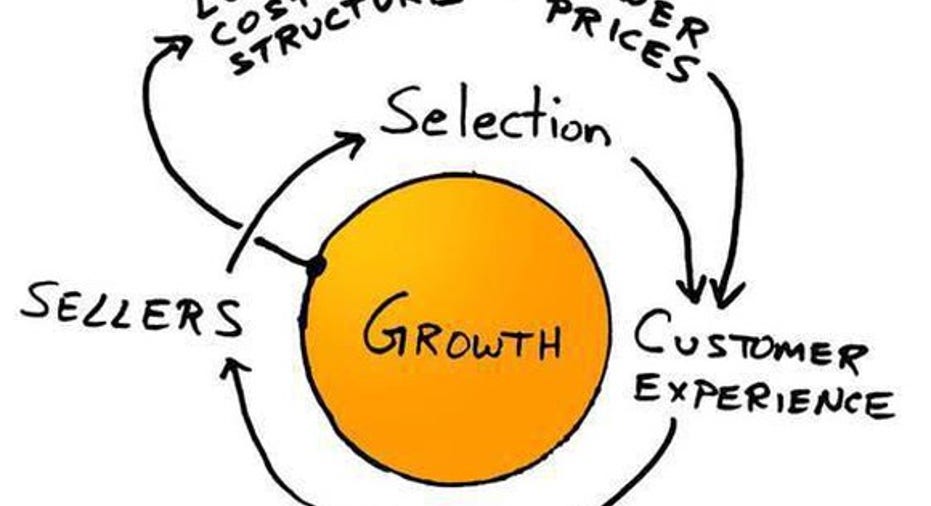 Amazon.comarguably has had a more far-reaching effect on the American business landscape during the last 20 years than any other company. The e-commerce giant has disrupted industries ranging from retail to cloud computing to book publishing.
The company's "flywheel" strategy, by which growth drives cost savings that are returned to the customer in the form of lower prices, has made Amazon one of the most-valuable companies in the world, and continues to drive sales growth above 20%.
Image Source: Amazon.com via Benedict Evans.
Founder and CEO Jeff Bezos has made customer experience one of the key pillars of the company's business, visible in its consistent effort to lower prices and speed up delivery, along with its attention to customer service.
Not surprisingly, Amazon's focus on the customer and its relentless innovation has won it more than a few loyalists. The company's Prime membership program, which offers a host of perks, including free two-day shipping for $99/year, has around 50 million members according to some estimates, and continues to grow and drive Amazon's sales.
For a company as broad and diverse as Amazon, there isn't one-single customer who is its strongest; but there are a number of customer types who the company has developed a symbiotic relationship with over the years. Let's look at a few of them.
Early adopters
It shouldn't come as a surprise that early adopters would be among Amazon's favorite customers. From its initial days as an online bookseller to the recent launch of the Amazon Echo, Amazon has been cultivating a relationship with this unique brand of tech-savvy customer. The company has depended on this group of consumers because they are most eager to try new products, tend to be less price-sensitive than the rest of the population, and serve as a de facto advocate for Amazon products through word-of-mouth advertising.
Amazon also rewards its core group of early adopters by giving them early access to new products and special benefits. In 2003, Jeff Bezos said, "We have the world's largest concentration of early adopters and can communicate with them."
The company has leveraged its army of early adopters with programs like "See a Kindle in Your City," which called on volunteers to meet with potential purchasers in places like coffee shops, where the passionate Kindle user could show the prospective buyer how to use the device and advocate for it. Amazingly, thousands signed up to offer their time and energy to Amazon for free.
Such is the power of Amazon's base of core customers. Considering the company lacks stores where potential customers can try out its gadgets and talk to employees, word-of-mouth advertising from those early adopters becomes even more important.
New parents
One of the most-aggressive moves Bezos has ever pulled as CEO of Amazon is his ruthless pursuit of Diapers.com parent Quidsi. Amazon noticed the upstart encroaching on its territory, and sent an executive to acquire its rival in 2009. Quidsi refused, so Amazon responded by lowering prices 30% on diapers, eating away at Quidsi's growth, and eventually forcing them into a sale for $545 million.
Bezos was so fixated on eliminating Quidsi as a competitor because of the nature of diapers and other baby products. Online baby products are the No. 1 gateway category for e-commerce, as new parents, who tend to be time-starved and exhausted, are often grateful to receive a regular delivery of diapers and other such items. This eliminates the need to go to a store, which becomes a much-bigger hassle with a baby to look after.
New parents are also a key demographic for retailers, as these are young adults developing shopping habits that may stay with them for life. Having a child also means an increase in spending. Amazon has targeted this customer with Amazon Family, which offers 20% off to Prime members for subscriptions to diapers and related products.
Prime, Prime, and more Prime
Beyond the niche customers above, Amazon is primarily focused on driving customers to its Prime loyalty program. It has layered on platforms like Prime Now, which offers delivery in as quick as one hour in select cities, and Prime Fresh, which offers grocery delivery, including perishables, for $299 a year, also in select cities.
Nicknamed "The Everything Store," Amazon is in a better position to be a one-stop shop than any other retailer because of a selection that can't be matched by brick-and-mortar stores, and its increasingly fast and convenient delivery.
In terms of demographics, Amazon customers tend to run the gamut in age and demographics, though the Prime Now and Prime Fresh services are focused on cities. There are more high-income consumers there, and the denser population makes it easier to serve.
Amazon continues to stuff Prime with new benefits in order to encourage more customers to join. Expect the loyalty program to continue being a major priority for the company, with more perks likely on their way.
The article Who Is Amazon's Favorite Customer? originally appeared on Fool.com.
Jeremy Bowman has no position in any stocks mentioned. The Motley Fool owns shares of and recommends Amazon.com. Try any of our Foolish newsletter services free for 30 days. We Fools may not all hold the same opinions, but we all believe that considering a diverse range of insights makes us better investors. The Motley Fool has a disclosure policy.
Copyright 1995 - 2016 The Motley Fool, LLC. All rights reserved. The Motley Fool has a disclosure policy.