WhiteWave Foods Co. Pours Another Big Glass of Growth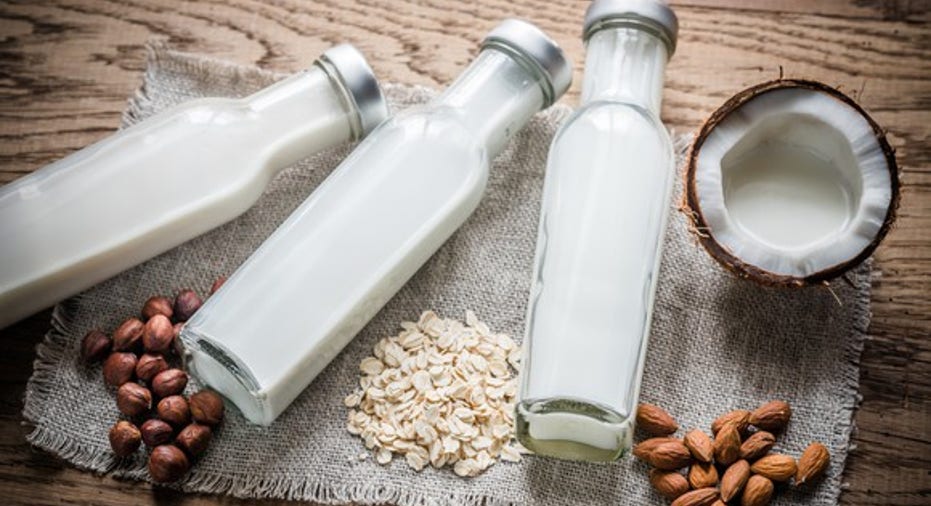 More people wanting milk from these things is helping WhiteWave grow.
WhiteWave Foods Co. reported first-quarter financial results on May 10, announcing another record quarter, and continued its double-digit growth pace. And WhiteWave didn't just buy itself into growth, or rely on overseas expansion to drive sales higher, reporting increased revenues in its existing operations as well as from acquisitions.
Here's a closer look at WhiteWave's earnings release.
The numbers
| Metric | Q1 2016 | Q1 2015 | Change |
| --- | --- | --- | --- |
| Revenue | $1,040 | $911 | 14% |
| Net income | $43 | $33 | 28% |
| Operating income | $84 | $70 | 20% |
| Earnings per share | $0.24 | $0.19 | 26% |
Revenue, net income, and operating income in millions. Source: WhiteWave Foods..
As a comparison, Dean Foods Co. , one of the largest dairy producers in the U.S., saw its revenue decline 8% to $1.88 billion, though its profits soared 90% on an adjusted basis, and its GAAP profits were strong after reporting a loss one year ago, because of a significant non-cash asset impairment.
Dean also reported that it expects its revenues to decline again in the second quarter, as milk volumes and costs are likely to fall. This is very different from what WhiteWave is seeing, as demand for the company's premium dairy and dairy alternative products continues to grow.
What happened in the quarter
Americas food and beverages segment revenue increased 15%.
Segment constant currency organic sales, i.e., sales excluding acquisitions and adjusted for foreign exchange, increased 7%.
Europe food and beverages segment revenue increased 11%.
Excluding currency impact, revenue increased 14%.
Fresh foods segment revenue was flat, as the impact of a messy SAP rollout hurt the results over much of the past few quarters.
Management said things are improving, that SAP will be a benefit for that business once it's fully rolled out, and expanded warehousing and distribution are in place.
Plant-based foods and beverages continued to drive growth, up 29% in the Americas. Management said they were key drivers in Europe as well, particularly nut-based beverages and plant-based yogurts.
Vega, a large acquisition from 2015, reported a 50% increase in sales.
Increased distribution from WhiteWave's broader scale is helping drive revenue for Vega.
Wallaby, another significant 2015 acquisition, also continues to deliver strong growth.
The coffee creamers and beverages platform grew 10% and generated more than $1 billion in revenue.
What management said
CFO Greg Christenson said the following when going over the company's raised guidance for the full fiscal year:
Here's CEO Gregg Engles on the prospects for expansion in Latin and South America, starting with Mexico:
COO Blaine McPeak commented on the company's expectations for Earthbound Farms -- the company's fresh fruits and vegetables business -- to bounce back to growth in the near term:
Looking ahead
WhiteWave continues to execute strong growth both from timely acquisitions, but also from increased demand for its core products. As Engles pointed out, the increased demand for products such as the company's coffee creamers isn't a new phenomenon, as those categories have been growing at nearly double-digit rates for the better part of 20 years.
Furthermore, while megamilk competitor Dean Foods continues to feel the impact of flat and even weakening demand for traditional dairy foods, WhiteWave is growing sales of its dairy alternatives as more consumers shift away from milk-based beverages, yogurts, and ice creams. Eventually the company's days of double-digit growth will come to an end, but it looks as if there's a lot of room to grow before that day arrives, while traditional dairy businesses such as Dean Foods could continue to see a steadily shrinking market for "real" dairy products.
The article WhiteWave Foods Co. Pours Another Big Glass of Growth originally appeared on Fool.com.
Jason Hall has no position in any stocks mentioned. The Motley Fool owns shares of and recommends WhiteWave Foods. Try any of our Foolish newsletter services free for 30 days. We Fools may not all hold the same opinions, but we all believe that considering a diverse range of insights makes us better investors. The Motley Fool has a disclosure policy.
Copyright 1995 - 2016 The Motley Fool, LLC. All rights reserved. The Motley Fool has a disclosure policy.