White House plans messaging campaign to refocus attention on Trump's agenda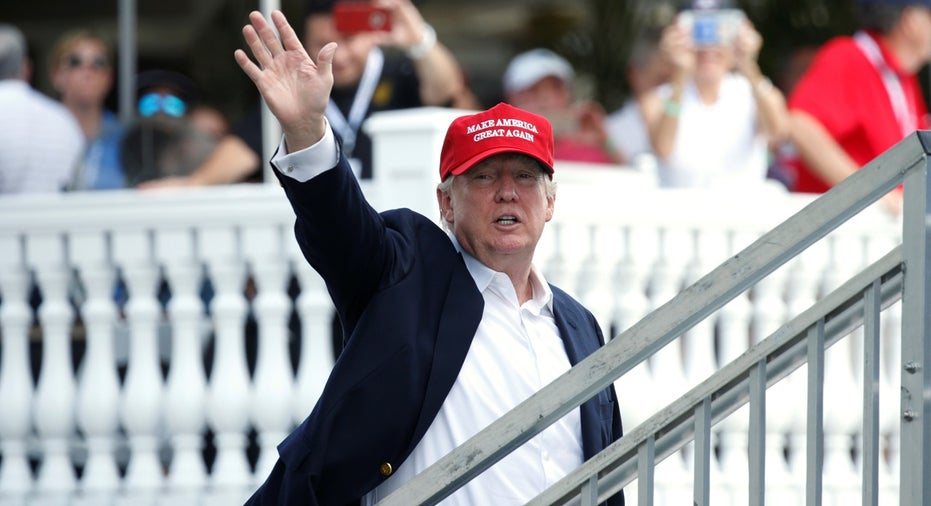 The White House on Monday will embark on a three-week messaging campaign aimed at refocusing attention on President Donald Trump's agenda and framing a debate later this summer over rewriting the U.S. tax code.
The "Made In America" campaign, which starts with the president highlighting locally made products from around the country, is the latest attempt by Mr. Trump's communications team to control a narrative that has consistently spun out of their grasp during the six months since the inauguration.
The challenge controlling the message is partly due to turmoil within the West Wing over strategy and tactics. Disagreements continue over how the communications shop should be organized and on what policies the team should concentrate, White House officials said. These conflicts have impaired the president's ability to hire experienced Republican communicators, with even some of Mr. Trump's supporters declining White House posts.
Scott Jennings, a strident defender of the president on television and an ally of Senate Majority Leader Mitch McConnell, refused White House inquiries about taking a senior-level position in the communications department, two White House officials said. Richard Grenell, a Republican communications adviser, said he wasn't interested in taking over the podium for news briefings, the White House officials said.
But the team's biggest hurdle may be inside the Oval Office. Mr. Trump, who often says he is his own best adviser on politics and communications, frequently strays from the White House's script and has fought attempts to tone down his Twitter persona, of which many top aides -- and a majority of the American public -- say they disapprove. Several senior administration officials privately complain that the White House's main problem is decision-making, not public relations.
The current health-care debate has underscored the White House's conundrum, said Newt Gingrich, who remains a political adviser to Mr. Trump. He cautioned that the White House team is "still learning" about its own power but said it was unclear what the Trump White House wanted to accomplish in the health-care debate.
"Coke believes that after 130 years, consumers still need to hear about Coke seven days a week to be reminded to buy it," Mr. Gingrich said. "Brute repetition is the only way to break through, and it's hard to know right now what [the White House is] supposed to be selling."
Mr. Spicer said the White House is pushing to expand access to health care and lower costs for U.S. workers.
"We have utilized all of the resources of the administration to advance the president's goal of repealing and replacing Obamacare with a patient-centered health-care system, he said.
The Senate plans to vote on an overhaul of health-insurance laws soon, the Republican-controlled chamber's second attempt to do so. The outcome remains uncertain, yet the White House's marketing effort this week is "Made in America," not health-care reform.
Last week, the president posted tweets urging passage of the law during his visit to France and devoted his weekly address on Friday to it. His team has lobbied senators and influential governors, including Nevada Gov. Brian Sandoval, for their support.
Although health-care reform was a central plank in Mr. Trump's campaign, the president's attention has been diverted by other priorities as well as news about investigations into Russia's meddling in the 2016 presidential election and whether anyone in the Trump campaign colluded with Moscow. Russia has denied interfering with the election, and Mr. Trump has said there was no collusion.
Before Senate Majority Leader Mitch McConnell postponed his chamber's first health-care vote on June 27, the White House had spent a month dispatching its messengers to talk about almost anything but health insurance policy.
In an effort to impose message discipline, the communications shop orchestrated a series of "theme weeks," designed to focus both the president and his senior team on one core policy issue at a time. But the themes were often overtaken by the news of the day and legislation winding its way through Congress, and the president himself often veered off message.
During the first full week of June, the White House declared it would focus on infrastructure, one of the president's campaign promises. But the West Wing remains weeks away, perhaps months, from settling on an infrastructure plan, officials said.
From Monday through Friday during "infrastructure week," Mr. Trump tweeted an average of about five times a day, including roughly once each day about infrastructure. But he also tweeted multiple times about his ban on travel for residents of several Muslim-majority countries into the U.S.
He used his social-media perch that week to repeatedly attack "fake news, " his pejorative for unflattering reports in the mainstream media, and to criticize London Mayor Sadiq Kahn for saying there was "no reason to be alarmed" about additional police in his city following a terrorist attack on London Bridge.
Infrastructure was followed by White House theme weeks on energy, workforce development and technology. Sean Spicer, the White House press secretary, said the theme weeks were better received in local press than national media.
The strategy is receiving mixed reviews internally.
Mr. Trump was largely pleased with the effort, according to one official familiar with the president's thinking. But one senior administration official said theme weeks exposed the White House as "naive."
A second senior White House official said the theme weeks were "stupid," particularly during a month in which the health-care debate should have been the priority.
A White House spokesman declined to comment on the criticisms.
The push for theme weeks came from Reince Priebus, the White House chief of staff, and Rick Dearborn, a deputy staff chief, White House officials said.
Messrs. Priebus and Dearborn put the plan in place after an attempt by Jared Kushner, Mr. Trump's son-in-law and senior White House adviser, and Steve Bannon, the president's chief strategist, to reorganize the communications office, White House officials said.
Messrs. Bannon and Kushner discussed reshaping the press shop before the president's first foreign trip in May, the officials said. Their plan would have separated the job of handling news briefings from the rest of the communications shop, among other changes, the officials said.
But Mr. Spicer maintained control of the office as he adopted a lower-key approach and held fewer on-camera news briefings, which Mr. Trump had frequently interrupted White House meetings to watch, the officials said.
Now, Mr. Spicer's team is returning to the theme weeks but with a more targeted approach. After highlighting American-made products this week, next week will be devoted to American jobs and workers, a White House official said. A third week will be dedicated to the "American dream," the person said.
On Monday, the president will tour a display of American-made products inside the White House and on the South Lawn. He will also make remarks to the media about the administration's commitment to American-made products and the workers and companies who make them.
The plan, Mr. Spicer said, is to build a foundation for the president's argument for tax reform, identifying the workers and companies that would benefit from Mr. Trump's "America first" approach.
Mr. Trump can then finally return to one of the issue that, unlike health care, truly animates him -- tax reform.
"As we get into August, we'll be talking more specifically about tax reform," Mr. Spicer said. "This definitely starts that process."
Write to Michael C. Bender at Mike.Bender@wsj.com