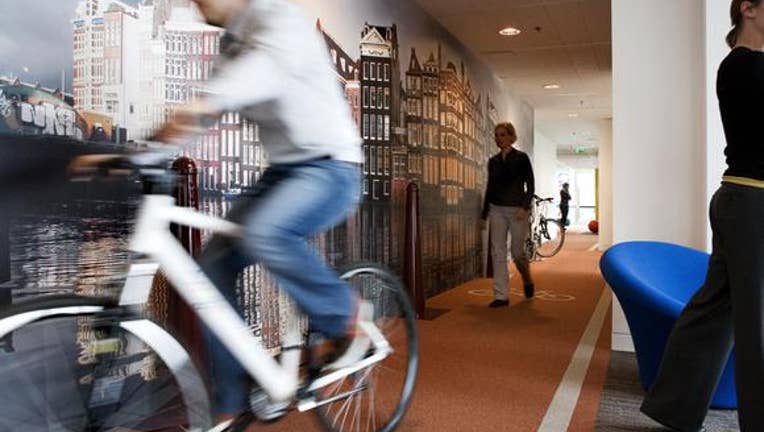 From free beverages to unlimited vacation, on-site child care, tuition reimbursement, as well as in-office massages, dry cleaning, and who knows what else top technology companies have engaged in a sort of perks arms race to hire and keep employees.
These businesses don't offer these benefits just to be nice, they do so because at some point compensation and stock options alone won't be enough to lure in workers. Because quality of life, not just paycheck, has proven to be important to tech workers, companies in the space have continued to try to find ways to make their companies better places to work.
This has become increasingly important especially in areas like programming talent where the available supply of qualified workers has struggled to meet demand. But it's not just coders who are in high demand. Companies also need to attract and retain managers, sales talents, and people in lots of other categories which can make or break their business.
Because of the high pay and bountiful perks driven by the need to attract and retain workers you would think that Fortune's 100 Best Companies to Work For list would be filled with the top names in the technology space. That however is not the case and whileAlphabet's Google tops the list, a number of other names you would expect did not make it.
Google offices offer perks like indoor bike lanes. Source: Google
How is the list compiled?Fortune partners with Great Place to Work to conduct an extensive employee survey to create the 100 Best Companies to Work for list. The following methodology is used to create the report:
So, because of how the report is weighted, the results suggest that the companies which did not make the list may have issues with employees' faith in management as well as job satisfaction. Not being a top-100 company does not necessarily mean that something is wrong, but making the list should serve as a badge of honor -- and a recruiting tool -- for the companies which earned a top-100 position.
Which companies were left out?It's not only notable that Google tops the list, but that its chief rivals did not make it. Neither Apple nor Facebook appear on the top-100 places to work. Also missing isAmazon, which is not that surprising given an extensiveNew York Times report that the company may not be the easiest place to work. Another absent from the list is Microsoft, a company which has been working to repair its relationship with workers under new CEO Satya Nadella.
Which tech companies made the list?In addition to Google taking the top spot, a number of other technology companies made Fortune's list:
#95 GoDaddy
#87 Adobe Systems
#82 Cisco Systems
#77 Activision Blizzard
#54 Autodesk
#40 VMware
#39 Riot Games (private)
#38 World Wide Technology (private)
#34 Intuit
#31 Workday
#23Salesforce
#15 Ultimate Software
#8 SAS Institute (private)
#1 Google (Alphabet)
What does it mean?Besides just offering bragging rights making this list might give these companies a tangible advantage when it comes to recruiting employees. If Google and Facebook both make comparable offers to a candidate, these results offer a reason for the worker to choose the search giant. That's not saying that Facebook is not a great place to work -- it may well be -- but it's hard to compete with literally being the best company to work for according to a credible survey.
For the rest of the companies on the list earning the honor at least gives them a fighting chance when they compete with a giant like Facebook or any of the other tech titans which did not score a top-100 spot. Most of all however being a good place to work makes it easier to hold on to as well as recruit employees. That saves money in the long run and lets these companies focus on moving forward while spending less on training and filling jobs.
The article Which Tech Companies Made Fortune's 100 Best Companies To Work For List? originally appeared on Fool.com.
Suzanne Frey, an executive at Alphabet, is a member of The Motley Fool's board of directors. Daniel Kline owns shares of Apple, Facebook, and Microsoft. He has no need for a bike path in his office, but did once have a swing. The Motley Fool owns shares of and recommends Activision Blizzard, Alphabet (A shares), Alphabet (C shares), Apple, Facebook, and Intuit. The Motley Fool recommends Adobe Systems, Cisco Systems, Salesforce.com, Ultimate Software Group, and VMware. Try any of our Foolish newsletter services free for 30 days. We Fools may not all hold the same opinions, but we all believe that considering a diverse range of insights makes us better investors. The Motley Fool has a disclosure policy.
Copyright 1995 - 2016 The Motley Fool, LLC. All rights reserved. The Motley Fool has a disclosure policy.