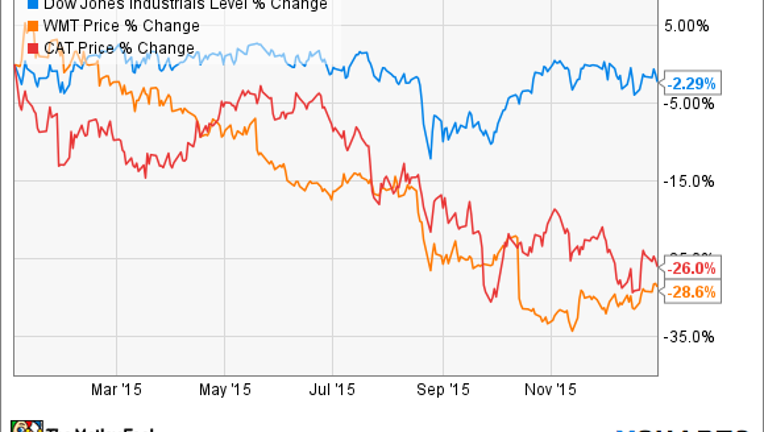 Sure, the Dow Jones Industrial Average failed to impress with a 2.29% decline in 2015, but it's a drop that investors ofWal-Mart and Caterpillar -- members of the Dow Jones Industrial Average -- would love at this point.
While Wal-Mart and Caterpillar stock prices mirrored each other during 2015's tumble, which of the two is more capable of a rebound next year?
Caterpillar's downturnThere's no question that 2015 has been a struggle for Caterpillar as demand for its heavy machinery remains bleak overseas. Weakness in mining materials, as well as the drastic plunge in crude oil prices, combined to be a strong headwind for its revenue.
Chart by author. Information source: Caterpillar's quarterly presentations.
Then it got even worse when management cut sales guidance as foreign currency began to have a larger negative impact on the company's financials. Furthermore, sales are expected to fall another 5% in 2016, which would mark the first time in company history that sales dropped for four consecutive years. Ultimately, it's possible that Caterpillar's revenue this year could end up about 30% lower than its 2012 peak of almost $66 billion.
Despite the doom and gloom for Caterpillar's top line, investors can take comfort that the balance sheet is in better shape than the last downturn amid the past recession, its cash pile remains elevated, and management just announced that its dividend is safe from being slashed.
Chart by author. Information source: Caterpillar's quarterly filings.
Caterpillar continues to focus on cutting its workforce and costs, and will eventually come out of this industry downturn a leaner company ready to take advantage of replacement demand for its heavy machinery -- similar to how pent-up demand has helped the automotive industry during recent years. Investors buying shares now will likely be well rewarded in the long term, but a rebound in 2016 seems very unlikely.
The second company on this list, however, has a catalyst that should help its chances for a rebound this year.
Rising wages, lower profits Roughly three months ago, Wal-Mart CFO Charles Holley noted at the company's annual investor day that profits would come in with a decline between 6% and 12% in fiscal 2017, which was much worse than the consensus estimate of 4%. The result was a sudden 10% decline in Wal-Mart's stock price, one of the company's worst one-day drops ever erasing about $21 billion in market value. Seventy-five percent of the decline in profits was tied to higher wages. Recently, Wal-Mart raised the wages for about half a million workers to $9 an hour.
Despite Wal-Mart's profits taking a whackfrom rising labor costs, the larger concern for investors has been the growing competition from dollar stores and Amazon.com.
To wage war on brick-and-mortar dollar store competition, Wal-Mart has developed its Neighborhood Market stores to counter the threat posed by the dollar stores as well as traditional grocery stores. On the e-commerce side of things, Wal-Mart is a long shot from being Amazon's equal, but the former has a massive store and distribution network that few retailers possess, which it can leverage to sell products at low cost both online and in stores. In other words, Wal-Mart has a fighting chance unlike many brick-and-mortar stores Amazon has crushed.
Despite tough competition from dollar stores and Amazon, Wal-Mart is taking steps in the right direction to punch back. There's also a trump card for Wal-Mart that could help it rebound in 2016.
Oil prices have plunged to below $35 for the first time since 2009, and that is leaving more spendable cash in the wallets of Wal-Mart customers. Traffic at Wal-Mart stores has increased for the past four quarters and, according to an October report from JPMorgan Chase & Co., consumers are spending 80% of their gas savings on goods and services.
Wal-Mart faces headwinds in rising costs and ongoing low-cost competition, but it's trading at a historically low forward price-to-earnings ratio of roughly 14, and has a catalyst in consumer savings at the pump for a potential rebound in 2016.
The article Which of These 2 Dow Dogs Can Bounce Back in 2016? originally appeared on Fool.com.
Daniel Miller has no position in any stocks mentioned. The Motley Fool has no position in any of the stocks mentioned. Try any of our Foolish newsletter services free for 30 days. We Fools may not all hold the same opinions, but we all believe that considering a diverse range of insights makes us better investors. The Motley Fool has a disclosure policy.
Copyright 1995 - 2016 The Motley Fool, LLC. All rights reserved. The Motley Fool has a disclosure policy.