Where Will Sunoco LP Get Growth From Here?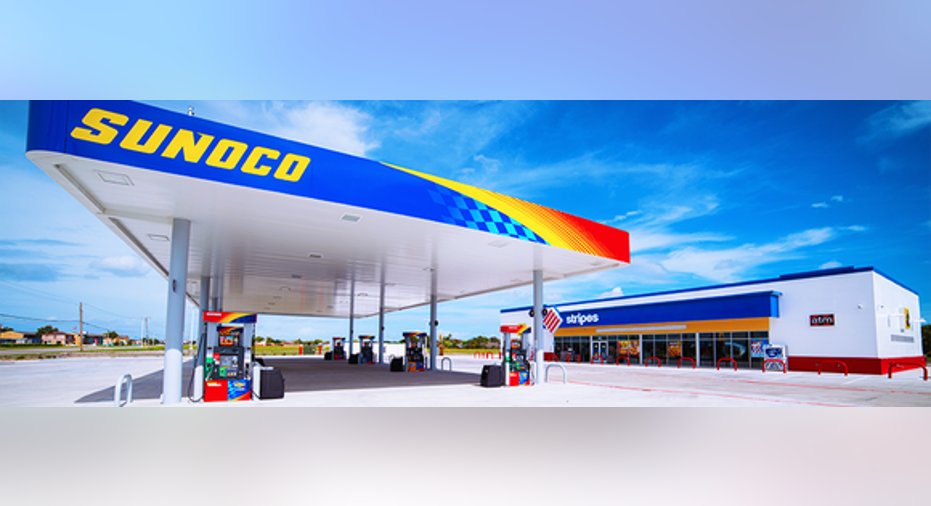 Image source: Sunoco LP.
In a little more than 18 months, Sunoco LP has gone through a massive transformation. Between August 2014 and this past quarter, the company has completed $5.7 billion worth of acquisitions and dropdowns from parent company Energy Transfer Partners . This activity has helped fuel fast growth of the company's profits and its generous distribution that yields close to 9.4% today.
As impressive as this run has been, there's now a problem the company has to deal with, and that's where the next phase of growth will come. Could Sunoco's growth start to stall now that its parent company is out of assets to swap? Let's look at the options Sunoco has available to it.
A fast turnaroundThe company that is now Sunoco isn't the same one that's been using that brand name for more than 125 years. The current company is a result of Energy Transfer Partners' moves to utilize the brand name. In August 2014, Energy Transfer acquired Susser Petroleum Partners and the retail network that came with it. Energy Transfer then quickly changed the name of the company to Sunoco -- it had acquired the brand name through a prior purchase in 2014 -- and started to drop its retail and marketing assets down to the subsidiary partnership.
Since that time, the company has acquired Energy Transfers Partners' interest in Sunoco's wholesale and retail business, a well as its interest in other various retail brands. Today, the company's retail network is close to 6,800 locations across 30 states. All told, these acquisitions have more than doubled the company's EBITDA and increased the quarterly distribution by 50%
Image source: Sunoco LP investor presentation.
The most recent acquisition, which closed at the end of March, was more than $2.2 billion of Energy Transfer Partners' assets. This acquisition will probably stretch the company's balance sheet for a while, but the company expects to wind down capital spending after this acquisition and get back to a target debt range of a rather reasonable debt-to-EBITDA ratio of 4.0 to 4.5.
Another reason Sunoco might be backing away from the acquisition front for a bit is that Energy Transfer Partners is basically out of retail and marketing assets to drop down to Sunoco, and the company will now need to pivot to a new growth strategy.
Plenty of optionsThere are two things you need to consider with the retail and marketing aspect of the oil business: It's a very mature market, and it's very fragmented. Typically when you see a gas station, you see big name brands such as Exxon, Mobil, Chevron, or Shell. In reality, tough, most of these stations aren't actually owned by the Big Oil giants. Rather, they lease their name out to mom-and-pop organizations that may own only one or two stations. In fact, more than 70% of retail stations in the U.S. are operated by companies that own no more than 50 total locations.
Image Source: Sunoco LP investor presentation
Consider, too, that we've been using gasoline as our primary transportation fuel for more than a century now, and with more than 128,000 retail stations already in place across the country, overall growth for the industry will be very modest. For Sunoco to keep growing at a strong clip, it will need to take greater market share. Fortunately for Sunoco, this fragmented industry could be consolidated rather easily.
While there's ample opportunity here, the company's growth strategy would definitely change. Rather than growing with large, single transactions, the greater opportunity will lie in picking up new stores one at a time. This is a strategy that may not garner lots of headlines, but it does give the company some financial flexibility, since raising the funds for a few stations at a time is a lot easier than trying to get $2 billion all at once, as it did with its most recent purchase. In fact, smaller acquisitions could allow the company to grow through investing any excess distributable cash flow, making it less reliant on external sources of capital.
What a Fool believesInvesting in retail gas stations doesn't sound like the fastest-growing business approach, but the past year at Sunoco has been a big one for growth, having acquired all of Energy Transfer Partners' retail stations. Without it, though, the company will need to look elsewhere to find growth. After taking on such a large debt load from its recent dropdown, it wouldn't be surprising if the company elected to forgo large acquisitions and focus on improving the company's financial standing. Once growth is back on the menu, though, don't be surprised if Sunoco looks to start consolidating a very fragmented industry.
The article Where Will Sunoco LP Get Growth From Here? originally appeared on Fool.com.
Tyler Crowe has no position in any stocks mentioned.You can follow him at Fool.comor on Twitter@TylerCroweFool. The Motley Fool has no position in any of the stocks mentioned. Try any of our Foolish newsletter services free for 30 days. We Fools may not all hold the same opinions, but we all believe that considering a diverse range of insights makes us better investors. The Motley Fool has a disclosure policy.
Copyright 1995 - 2016 The Motley Fool, LLC. All rights reserved. The Motley Fool has a disclosure policy.