Where Will Macy's, Inc. Be in 10 Years?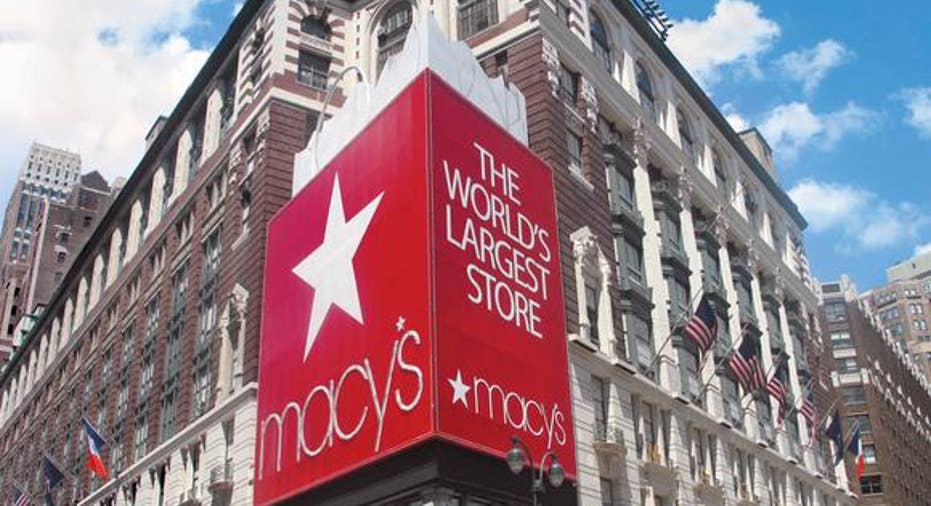 Macy's has a lot of valuable assets -- including its name and real estate. Image source: Macy's.
Macy's has had a pretty bad six months. After steadily growing sales -- and the all-important comps metric -- pretty steadily since the end of the Great Recession, the upscale retail giant has hit a bit of a slump. Sales are falling. Profits are down. And the stock is simply getting killed:
Is this the beginning of the end for Macy's, or just one chapter in the story? Three of our contributors weigh in below, sharing their thoughts on expanding beyond bricks and mortar, the opportunity to expand its business outside the domestic market, and the value of its real estate, even as the business becomes less dependent on it for sales. Here's what they had to say.
Tamara Walsh: A decade is a long time in the life of a retailer. The consumer is a fickle animal, and as it goes in the fashion world, one day you're in vogue and the next you're a forgotten memory. However, Macy's is one retailer that has proved it has staying power in this ever-changing industry.
Macy's owns and operates around 900 department stores throughout the United States today. Yet the company's omnichannel strategy is what will help the retailer dominate in the next 10 years. Investors can expect Macy's to be a much more digital and mobile-centric retailer a decade from now.
Today the retailer operates various websites outside its namesake Macys.com, including Bloomingdales.com andBluemercury.com, which is the company's high-end beautywebsite. "We intend to fully push the digital frontier, utilizing our innovative culture with more and more testing and fasterlearning," said Terry Lundgren, Macy's chief executive, on a recent earnings call.
This means getting merchandise to customers in a variety of ways, from ordering online and picking up in stores to faster and more convenient delivery options. Macy's is aggressively investing in online-specific strategies to help drive traffic. One such initiative includes making the online experience more personalized by offering online shoppers specific promotions curated to their past orders orpurchases.
Over time, these things should help Macy's grow into a more online focused shopping outlet. After all, Macy's online business is growing at a double-digit rate today, and the company is now the seventh largest Internet retailer in the United States. Investors should expect a more digital department-store experience from Macy's10 years from now.
Jason Hall: A lot of investors are looking at Macy's, trying to figure out if it's about to go all J.C. Penney. Penney has faced mighty struggles over the past three years, including a failed attempt to rebrand itself as an upscale, more modern retailer -- though whether that failure was because of former CEO Ron Johnson's execution, or a board that never gave him a real chance to pull it off, is up for debate. It's also seen a big boardroom shakeup and is still trying to return to profitability.
But there's a big difference between Penney's failures and Macy's current problems.
M Net Income (TTM) data by YCharts
Macy's remains strongly profitable and is only experiencing moderate declines in traffic, versus the double-digit drops Penney saw when it alienated its customers in its rebranding and then failed to reattract them when it changed course. Macy's management knows what kind of retailer it is and has no plans to get away from that. What the company can do, however, is stay with the times and adapt to a changing world.
Part of that process includes the steps Tamara writes about with regard to its omnichannel strategy, and Jeremy's forthcoming points about its valuable real estate. But the company can also continue to leverage its Macy's and Bloomingdale's brands and focus on leveraging its upscale bricks-and-mortar business.
And this isn't "defending the foxhole" I'm talking about, but growth. Over the next 15 years, the global middle class is expected to increase by about 1 billion people. That's a lot of new customers for Macy's in international markets and could be a huge growth driver for a well-established name in fashion over the next decade and more.
: Perhaps the most intriguing opportunity in Macy's future lies is its real estate. Unlike ailing rivals such asJ.C. Penneyor evenSears Holdings, Macy's is sitting on a bevy of prime property. According to some estimates, the value of its real estate portfolio already exceeds its current market cap of $12 billion.Macy's owns 556 of its stores, and investors have begun clamoring for the department-store chain to spin off those assets into a real estate investment trust. The value of its flagship Herald Square location in New York City alone is believed to be $3 billion to $4 billion, and that value is likely to increase as Manhattan real estate prices have been skyrocketing in recent years.
Activist investor Starboard Value took a stake in Macy's this summer and estimates the total worth of its real estate to be $21 billion. A potential option, as Sears has done withSeritage Growth Properties, is to establish a REIT that buys Macy's stores and then leases them back to the department store or rents them out to another tenant. Straight sales are also a possibility, and the company has already taken advantage of that approach, selling the top five floors of its nine-story Downtown Brooklyn location to developer Tishman Speyer for $170 million.
As Macy's converts into an omnichannel retailer, the likelihood of such a real estate transaction will grow as it becomes less dependent on bricks-and-mortar sales. Even after its weak third-quarter earnings report, Macy's is still a healthy company on pace to deliver more than $1 billion in profit this year. Such a spinoff isn't likely anytime soon, but it should act as a floor on the stock and provide an appealing option should the company's sales continue to lag.
The article Where Will Macy's, Inc. Be in 10 Years? originally appeared on Fool.com.
Jason Hall has no position in any stocks mentioned. Jeremy Bowman has no position in any stocks mentioned. Tamara Rutter has no position in any stocks mentioned. The Motley Fool has no position in any of the stocks mentioned. Try any of our Foolish newsletter services free for 30 days. We Fools may not all hold the same opinions, but we all believe that considering a diverse range of insights makes us better investors. The Motley Fool has a disclosure policy.
Copyright 1995 - 2015 The Motley Fool, LLC. All rights reserved. The Motley Fool has a disclosure policy.