When Will Driverless Cars Be in Our Driveways?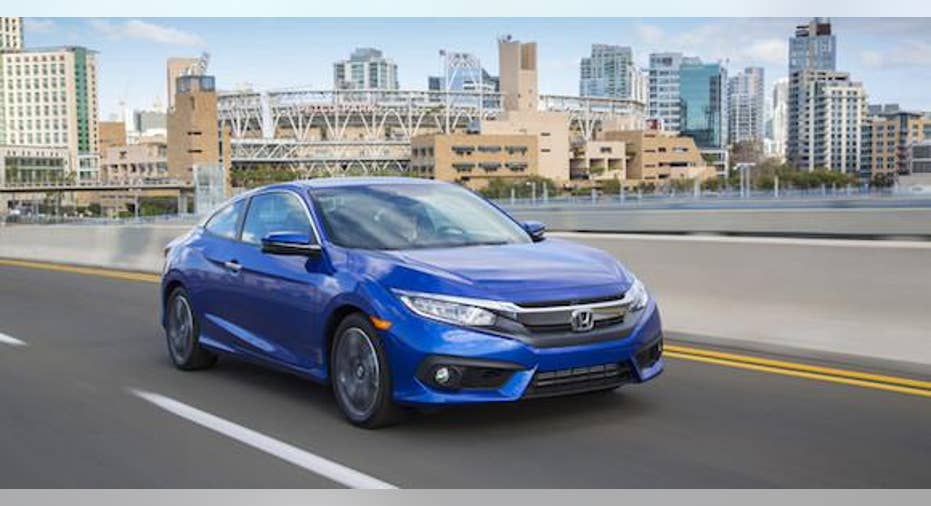 Honda's new Civic has some driverless capabilities. Image source: Honda.
Honda Motor Co. is receiving a lot of attention this week with the release of its new Civic, which sports some driverless features. The car costs $20,000 and can sometimes drive itself on the highway, making it one of the cheapest semi-autonomous vehicles on the market.
There's no question that the new Civic is a big step in the right direction, but it still falls short of a fully autonomous vehicle. So when will fully autonomous vehicles be commonplace?To find the answer, let's consider what some of automotive experts say, as well as what the tech giants and automakers are claiming...and then estimate from there.
It's closer than you thinkTesla CEO Elon Musk said just a few months ago that his company will release a vehicle within the next two years that can drive itself all the way across the country. Musk later said that his estimate "might be slightly optimistic."
But he's not the only one giving out an aggressive timeline. Alphabet's Google is one of the companies most committed to driverless cars, and Google's co-founder Sergey Brin said back in 2012 that the company was originally planning for a commercial autonomous car by 2018, though that's been pushed back to 2020 now.
Tesla and Google may not be too far off, though. Business Insider released a report recently saying that autonomous cars that can drive themselves between two very specific locations will debut in 2019.
Soon, but not that soon Ford's head of product development, Raj Nair, said earlier this year that he believes self-driving cars will be on the roads by 2020. They won't need drivers, but they won't be able to go everywhere, either.
"I think it is credible that an autonomous vehicle at SAE Level 4 will hit the market by 2020," he told Auto News. But he went on to say that it'll take longer to get to Level 5, which is basically when a car could drive itself down an unmapped dirt road and be able to handle all the obstacles that come up.
And Nair's not alone in his thinking. General Motors told Wired late last year that it's aiming have cars that are "mostly in charge" by 2020, and fully in charge by 2025.
Even the secretary of the U.S. Department of Transportation, Anthony Foxx, expects to see autonomous cars on the by 2020. And Boston Consulting Group estimates that autonomous cars will really get started in 2020, but will likely start out as taxi cabs and not individually owned vehicles.
But one of the leading automotive parts suppliers, Continental, thinks the time frame is closer to 2023 or longer.lmar Degenhart, Continental's chairman of the executive board, said a few years ago, "Driving cannot be automated overnight. It is much more a gradual process, stretching out over a period of over 10 years."
Calm down, we're not there yetBut there's not much for everyone to get really excited about quite yet, if you believe IHS Automotive. The research firm thinks that just 10% of light vehicles sold in 2035 will be autonomous, and that we won't see full autonomous ubiquity until 2050.
That may seem like a long way off, but there's still plenty for autonomous vehicles to overcome. For instance, your own apprehension to giving up controlcould stifle driverless car growth.
I tend to err on the conservative side when it comes to driverless car technology, so I think IHS' estimates may be closer to reality than the other guesses. But with the auto industry, tech companies, and the U.S. government all pushing driverless car technologies, it's clear that many of these timelines could be pushed up.
The article When Will Driverless Cars Be in Our Driveways? originally appeared on Fool.com.
Suzanne Frey, an executive at Alphabet, is a member of The Motley Fool's board of directors. Chris Neiger has no position in any stocks mentioned. The Motley Fool owns shares of and recommends Alphabet (A shares), Alphabet (C shares), Ford, and Tesla Motors. The Motley Fool recommends BMW and General Motors. Try any of our Foolish newsletter services free for 30 days. We Fools may not all hold the same opinions, but we all believe that considering a diverse range of insights makes us better investors. The Motley Fool has a disclosure policy.
Copyright 1995 - 2016 The Motley Fool, LLC. All rights reserved. The Motley Fool has a disclosure policy.