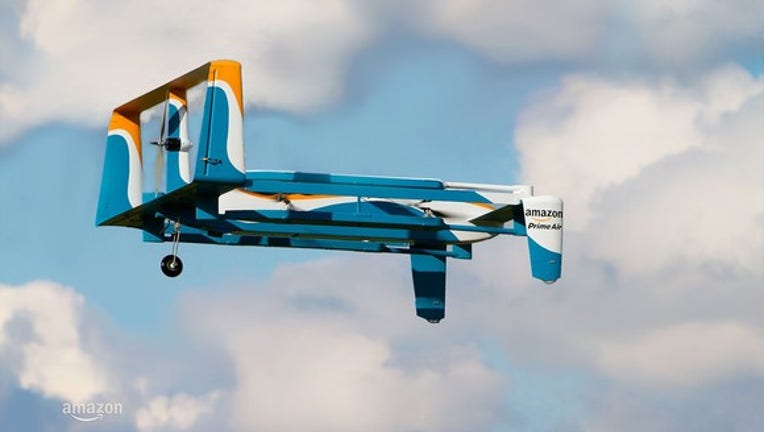 Amazon.com(NASDAQ: AMZN)turned 20 as a public company earlier this month, and the stock is being celebrated for its monstrous game-changing wealth creation. The stock is a 647-bagger since going public at a split-adjusted price of $1.50 on May 15, 1997.
Shares of the leading online retailer opened at another all-time high on Wednesday, and it's easy to wonder when the stock will split again. Amazon is closing in on $1,000, and while these transactions aren't as important as they used to be -- individual investors can buy a share at $1,000 just as easily as they can buy 100 shares of the same stock at $10 -- there are a couple of compelling reasons for the dot-com darling to consider executing what would be its fourth stock split as a public company.
Image source: Amazon.com.
Party like it's 1999
Amazon went through three stock splits during the sudsy days before the dot-com bubble popped. The company wasn't profitable. It would go on to post a massive $1.4 billion deficit in 2000. However, Amazon was growing, and it was an internet stock at a time when investors valued eyeballs over actual financial results.
6/2/98: 2-for-1 stock split
1/5/99: 3-for-1 stock split
9/2/99: 2-for-1 stock split
Amazon rolled out the three splits in a 15-month window that began a year after its 1997 IPO. It's now been nearly 18 years since its last split, and one would think that lowering its share price in a zero-sum transaction is long overdue. The first three splits were announced when the stock was in the high double-digits, or just crossing into the triple-digits. Why wouldn't it go this route now that it's approaching quadruple-digits?
More from FOXBusiness.com
The easy explanation is that Amazon doesn't have to declare a stock split. The shares have soared nearly 650-fold, so it's not as if the stock's buoyant share price has been a detriment to capital appreciation. There's also some vanity associated with a chunky share price. It's a sign of success. You can blame Warren Buffett for that, even if he's obviously not as flashy as some of the tech giants that have been racing alongside Amazon.
Splitting headache
Thankfully for folks rooting for a stock split, there are two good reasons for the country's most valuable retailer to consider a split. Let's start with accessibility. Stock commissions are cheaper than they were in the late 1990s, and it's as easy to buy a single share of a stock as it is to buy a round lot of 100 these days. However, with Amazon approaching $1,000, it's a realistic hurdle for some individual investors trying to take advantage of low commissions to initiate positions and diversify within a modest portfolio.
Perhaps the bigger reason to consider a split now -- or at least the moment the stock crosses four figures -- is index inclusion. Amazon is naturally a member of the S&P 500 and Nasdaq 100 indices, but it's not in the Dow Jones Industrial Average.
The Dow 30 is a price-weighted index, which, unlike the S&P 500 and most of the other popular market gauges, bases a stock's weighting in the index by its share price. Amazon may have topped Wal-Mart (NYSE: WMT) to command the largest market cap in the retail industry two summer ago, but it's not getting into the Dow at its current price tag. The stock's price of $975.55 at Wednesday's open makes it more than four times as valuable as the stock that is currently the Dow's highest-priced component. More to the point, Amazon's stock price is worth more than its 15 lowest-priced components combined. A percentage move by Amazon stock if it was in the Dow would be more than enough to offset a similar move going the other way for the lower-priced half of the Dow 30. Obviously there are no guarantees that Amazon will be tapped for Dow inclusion if it does execute a stock split, but it's not a coincidence that Apple wasn't added until it finally gave up the race to $1,000 and announced a 7-for-1 split in 2014.
Amazon CEO Jeff Bezos didn't get as far as he did by being conventional. He's not going to buckle to the clamoring for stock splits. However, making the share price more accessible to entry-level investors and opening up the possibility for joining Wal-Mart in the Dow are compelling reasons to consider the move. Let's see if all Amazon needed was to tap the $1,000 finish line before going this route.
10 stocks we like better than AmazonWhen investing geniuses David and Tom Gardner have a stock tip, it can pay to listen. After all, the newsletter they have run for over a decade, Motley Fool Stock Advisor, has tripled the market.*
David and Tom just revealed what they believe are the 10 best stocks for investors to buy right now...and Amazon wasn't one of them! That's right -- they think these 10 stocks are even better buys.
Click here to learn about these picks!
*Stock Advisor returns as of May 1, 2017.
Rick Munarriz owns shares of Apple. The Motley Fool owns shares of and recommends Amazon and Apple. The Motley Fool has a disclosure policy.