What's Wrong with PayPal's Stock?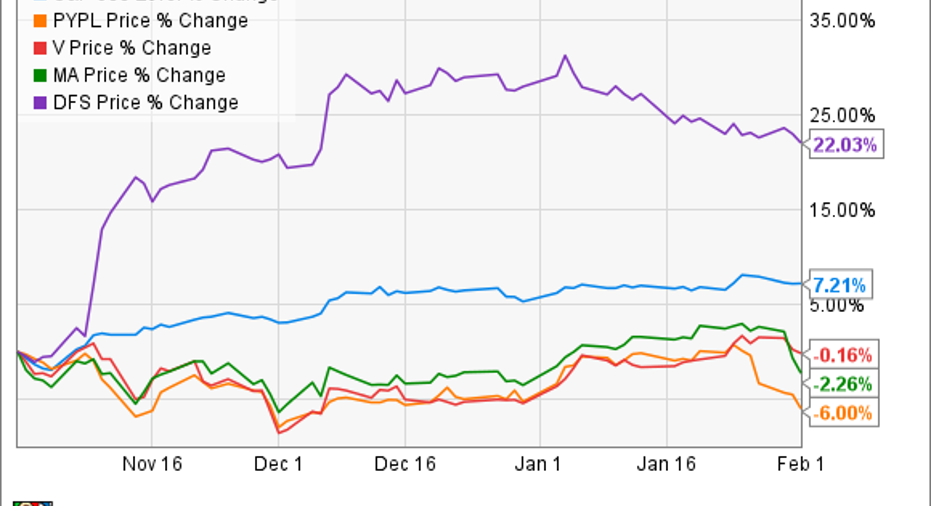 PayPal mobile app. IMAGE SOURCE: PAYPAL HOLDINGS, INC.
These days PayPal's (NASDAQ: PYPL) business wants to get out and run, but the stock wants to go home to sleep. Revenue and earnings grew 17% year over year, and management's preferred metric -- free cash flow -- increased 39% to $2.5 billion in 2016.
On top of great reported numbers, management raised their outlook for revenue growth in 2017 and said they expect operating margin to remain flat or improve.
What's not to like?
First, notice in the chart below, there seems to be a short term sell-off in three other payment-related stocks -- MasterCard, Discover Financial Services,and Visa. Although PayPal's stock has been hit harder than its peers, it's not alone. Most of the time there is no rhyme or reason for the market's day-to-day swings and tying to figure out why the market does this or that can make your head spin.
Overall, PayPal's quarter was largely within expectations and the company performed well by all key metrics. Wall Street, however, might have been looking for revenue and earnings to come in above estimates, especially given the recent partnerships and launch of new features.
One such new feature is One Touch. It is designed to simplify and speed up the online checkout process by allowing users to bypass logging in to their accounts.One Touch seems to be working. Management reported that the mobile conversion rate reached 87% in the last quarter, nearly double the industry average of 44%. Only 40 million out of PayPal's 197 million active customer accounts have opted-in to One Touch but as more users opt-in, it should continue to increase engagement.
Analysts might have been looking for features like One Touch to increase total payment volume (TPV) more during the quarter. TPV grew 22% to $99.3 billion, but Wall Street expected growth of 24%.
Also, currency fluctuations have been a headwind for PayPal, since it operates around the world with nearly half of revenue coming from outside the United States. Management expects currency translation to negatively impact revenue by 200 basis points in 2017. Nonetheless, revenue growth should still grow 15% to 17%, according to the newly updated guidance.
Since currency oscillates over time, it's best for long term investors to focus on currency neutral numbers. Excluding the effects of currency, PayPal increased TPV 25% year over year, which is in line with management's three year outlook. Currency is a headwind now, but there will be a time when currency is moving in PayPal's favor.
PayPal should deliver good returns for investors
In the end, all we can do as Foolish investors, is focus on the business and not concern ourselves with short term minutiae. What matters is that PayPal still has momentum, it's extending its brand across different markets, and posting growth numbers consistent with what we are used to seeing out of the payments provider.
PayPal currently trades for 22 times expected earnings for fiscal 2017 -- not much more than the average stock in the S&P 500 Index -- and is growing much faster than the average business. Management has guided for at least 16% revenue growth over the next three years, and earnings, at a minimum, are expected to grow in line with revenue.
PayPal has been consistently growing at above average rates for over a decade. It's got a strong brand and is a leader in a rapidly growing mobile payments market. The recent partnerships with MasterCard, Visa, and Discover open up more ways for customers to use PayPal, and that will further extend long-term growth.
When we distance our minds from the short-term gyrations of the market, and evaluate PayPal's position, this leader in mobile payments looks like a long-term winner.
Find out why PayPal Holdings is one of the 10 best stocks to buy now
Motley Fool co-founders Tom and David Gardner have spent more than a decade beating the market. (In fact, the newsletter they run, Motley Fool Stock Advisor, has tripled the market!*)
Tom and David just revealed their ten top stock picks for investors to buy right now. PayPal Holdings is on the list -- but there are nine others you may be overlooking.
Click here to get access to the full list!
*Stock Advisor returns as of January 4, 2017
John Ballard owns shares of PayPal Holdings. The Motley Fool owns shares of and recommends Mastercard, PayPal Holdings, and Visa. The Motley Fool has a disclosure policy.