What's Pfizer's Excuse for Not Buying Exelixis?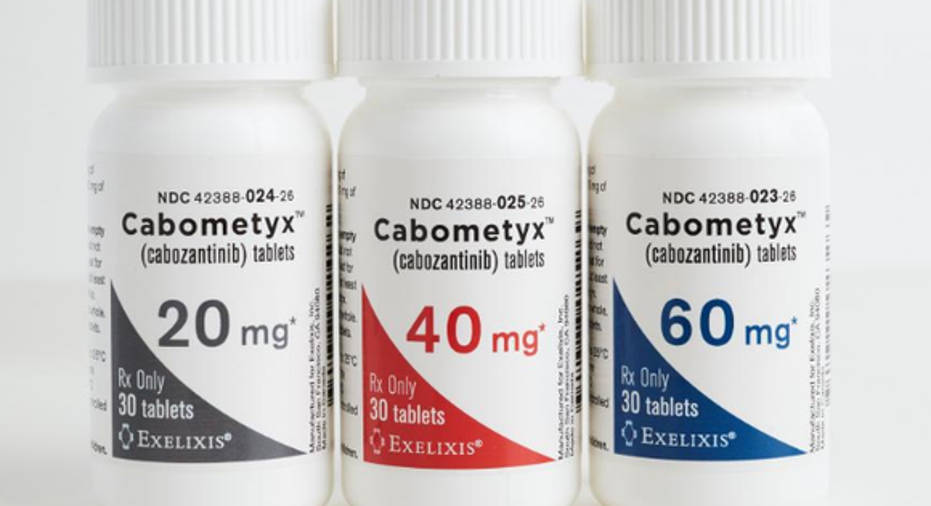 Exelixis Inc.(NASDAQ: EXEL)reported in October that its kidney cancer drug Cabometyx outperformed Pfizer Inc.'s (NYSE: PFE)top-selling Sutent in first-line advanced kidney cancer patients. Exelixis' management plans to use this data to convince regulators to expand Cabometyx's label, and if the Food and Drug Administration agrees, then it could clear the way for Cabometyx to cut significantly into Sutent's market share. Since Pfizer may soon battle Exelixis in this indication, does it make sense for Pfizer to acquire it?
Image source: Pfizer, Inc.
A big win
Last year, Exelixis announced that patients diagnosed with advanced renal cell carcinoma (RCC) who had received prior anti-angiogenic therapy and who were given Cabometyx saw median progression-free survival of 7.4 months. That handily outpaced the 3.8 months delivered by Afinitor, a top-selling second-line advanced RCC drug with sales of $1.6 billion last year.
The FDA approvedCabometyx for use in advanced RCC patients earlier this year, and since then,Cabometyx has already won away 20% market share in the second-line setting and 35% market share in the third-line setting. As a result, Cabometyx's sales are clocking in at an annualized pace north of $120 million.
Clearly, Cabometyx is off to a solid start, but sales could climb even higherif the FDA approvesCabometyx for use in first-line advanced RCC patients, a market that's currently dominated by Pfizer's Sutent.
In October, Exelixis reportedthat Cabometyx patients experienced a 31% decrease in risk of death or cancer progression versus Sutent at a median follow-up period of 20.8 months. Cabometyx progression-free survival was 8.2 months and Sutent's progression-free survival was 5.6 months. Cabometyx overall survival data was 30.3 months versus 21.8 months for Sutent, and the objective response rate was 46% for Cabometyx and 18% for Sutent.
Based on those results, there's a good chance that if Cabometyx gets approved for use in the first-line indication, then it will displace Sutent as the go-to treatment.
Defending its position
Sutent's sales totaled $823 million through the first nine months of 2016, andPfizer's strategy to defend that revenue includes expanding Sutent's use beyond advanced RCC to include all RCC patients.
In October, Pfizer reported that Sutent significantly delayed disease progression in RCC patients who took it as an adjunct therapy after undergoing surgery. Specifically, the median disease-free survival for Sutent patients was 6.8 years versus 5.6 years for patients taking a placebo. Pfizer executives plan to discuss these results with regulators, and ifSutent eventually gets a green light for use in these patients, then it could offset any market share losses to Cabometyx in the first-line advanced RCC setting.
Pfizer isn't giving up entirely on the first-line advanced RCC indication, either. Pfizer's studying the use of another one of its kidney cancer drugs -- Inlyta -- alongside checkpoint inhibitors in first-line advanced RCC patients.
One of these trials combines Inlyta withMerck & Co.'s (NYSE: MRK) Keytruda, and another trial combines Inlyta with Pfizer and Merck KGaA'savelumab. If either of those studies succeed, then Pfizer could wind up winning back any sales that Sutent ends up losing to Cabometyx.
Image source: Exelixis.
What about a deal?
A lot of Pfizer's recent growth has come from cancer drugs, including the breast cancer drug Ibrance, and Pfizer's already shown a big commitment to expanding its oncology footprint, both in terms of its research and development pipeline and its recent acquisition of Medivation.
This week, the FDA accepted Pfizer's application to approveavelumab for use in metastatic Merkel cell carcinoma, a rare skin cancer,and earlier this year, Pfizer spent $14 billion buying Medivation to get its hands on the prostate cancer drug Xtandi and a late-stage PARP-inhibitor in breast cancer studies.
Given Pfizer's racking up over a billion dollars in sales per year from Sutent and its doubling down on its exposure to oncology via both R&D and mergers and acquisitions, it's not be a stretch to wonder if management would consider acquiring Exelixis rather than battling it.
If Pfizer were to buyExelixis, it would eliminate the short-term risk Cabometyx poses to Sutent in the first-line advanced RCC setting. It would also insulate Pfizer against the risk of its Inlyta's trials falling short. Furthermore, it would strengthen Pfizer's position in the second- and third-line advanced RCC setting, and it would give Pfizer the opportunity to benefit from ongoing studies of Cabometyx inliver cancer.
Buying Exelixis would also give Pfizer a stake inCotellic, a drug that Exelixis co-developed with Roche for use in melanoma patients with a specific genetic makeup. Exelixis' Cotellic revenue is a rounding error right now, but Roche's study of Cotellic inpreviously untreated BRAF V600 mutation-positive advanced melanoma, colorectal cancer, and breast cancer could change that someday.
Those are all intriguing reasons why Pfizer might want to own Exelixis, however, there's a good chance that Pfizer will decide that Exelixis is simply too pricey to buy. When Pfizer bought Medivation, it paid 11 times forward sales, and if we apply that multiple to Exelixis 2018 sales estimates, it works out to roughly $4.9 billion, which is about what Exelixis is already worth.Since Pfizer still has some R&D programs underway that could allow it to compete against Cabometyx in the first-line advanced RCC indication down the road and Exelixis won't come cheap, investors might not want to bet that an acquisitionis in the cards.
10 stocks we like better than Exelixis When investing geniuses David and Tom Gardner have a stock tip, it can pay to listen. After all, the newsletter they have run for over a decade, Motley Fool Stock Advisor, has tripled the market.*
David and Tom just revealed what they believe are the 10 best stocks for investors to buy right now... and Exelixis wasn't one of them! That's right -- they think these 10 stocks are even better buys.
Click here to learn about these picks!
*Stock Advisor returns as of November 7, 2016
Todd Campbell has no position in any stocks mentioned.Todd owns E.B. Capital Markets, LLC. E.B. Capital's clients may have positions in the companies mentioned.Like this article? Follow him onTwitter where he goes by the handle@ebcapitalto see more articles like this.
The Motley Fool owns shares of and recommends Exelixis. Try any of our Foolish newsletter services free for 30 days. We Fools may not all hold the same opinions, but we all believe that considering a diverse range of insights makes us better investors. The Motley Fool has a disclosure policy.