What's Next for Time Warner's Video Game Business?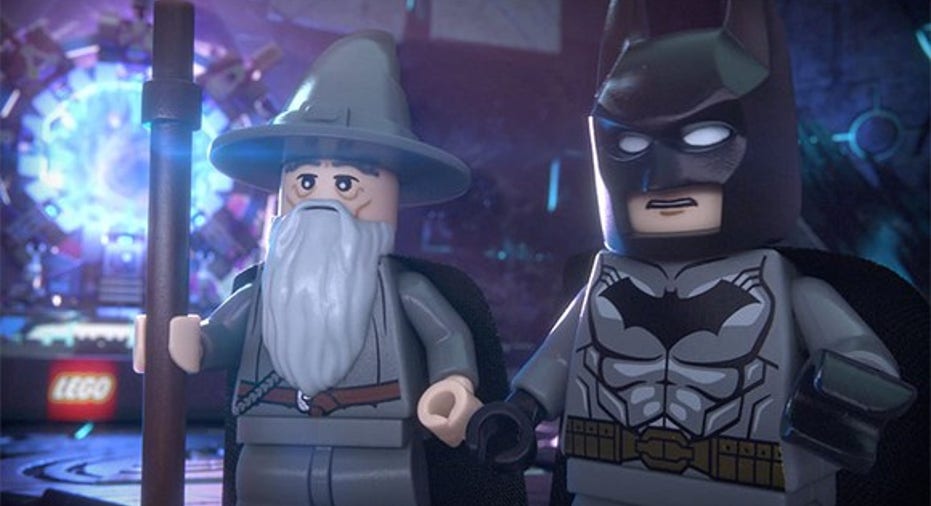 Lego Dimensions. Image source: Time Warner
Time Warner's video game business has gained ground in recent years, and the company looks to have an ongoing growth opportunity in interactive entertainment after posting its best game sales ever in 2015.
The company's gaming release calendar for 2016 looks to be lighter on some of the big franchise releases that pushed the company's gaming business to new heights last year, making it unlikely that this year's sales will top 2015's, but investors can probably count on Warner's gaming division to continue gaining ground going forward.
What to expect from Warner's 2016 gaming lineup
June 28 saw the release ofLego Star Wars: The Force Awakenson a wide range of console and handheld platforms, and the game is likely to be a strong performer for Warner. With a wide platform launch, two strong licenses, and the proven game play formula of theLego series, the game could go on to do somewhere between $8 million and $10 million in lifetime sales.
As for the rest of the year, an expansion pack forLego Dimensions will probably beWarner's most significant gaming release in the remainder of 2016. The firstDimensionsproved to be a sales success, butWalt Disney's decision to exit games publishing and end itsInfinitytoys-to-lifegame series combined with reports of a sales decline in Western Europe have prompted concern about the future of the genre that involves toys with the games. While it's possible that toys-to-life could lose their appeal in short order, the established strength of Lego seemingly puts Warner in good position to continue bridging toys and video games.
Turning to the world of capes and cowls, Warner is slated to releaseBatman: Arkham VRinOctober exclusively for Sony's PlayStation VR, but whether the game will be a full-priced title with a retail release or a free or paid downloadable title has not been announced. Early feedback forArkham VRhas been positive, and there could be value for Warner in getting in at the ground floor of virtual reality with one of its biggest properties, but the high price of VR headsets and small user bases mean that the game, and other VR titles, will probably not be a big financial contributor for Warner in the near future.
There are also hints that Warner will announce a new content pack for its 2015 fighting game,Mortal Kombat X, next month and have the update released before the year is out. Another downloadable expansion for the game seems to be a likely proposition, and the success the company has had selling DLC for the game points to a likely model for sustaining and continuing to generate revenue from big franchise releases.
2017 and beyond
In addition to an array of Lego game series, Warner's game business looks to revolve around big franchise releases from itsMortal Kombatand DC Comics properties.
On the DC characters front, Injustice 2, the sequel to 2013'sInjustice: Gods Among Us,is being developed by NetherRealm Studios, the unit behind the company'sMortal Kombatfranchise, and is making use of the same development engine used forthe company's highly successfulMortal Kombat X. The originalInjusticeappears to have been a solid sales performer, and it's reasonable to expect that the sequel will put up strong numbers, though probably not at the level of a mainlineMortal Kombatrelease. A 2017 release forInjustice 2suggests that 2018 will probably be the earliest that a newMortal Kombatwould see release.
Engine sharing between Warner's two fighting-game series should cut down on development costs and could also pave the way for an easy transition for some manner of DLC or full-game character crossover.Injustice 2is on track for a 2017 release date, suggesting tie-in potential with Warner'sWonder WomanandJustice Leaguefilms.
Warner has found success with games built around Batman and has an opportunity to build a bigger gaming presence for other DC characters. If the company aims to build games around other Justice League members, it has a basic template to follow from the successfulArkhamseries and might be able to split development costs between distinct franchises, as it has done with theMortal KombatandInjusticeseries.
Opportunities in mobile and cross-promotion
Warner has a big opportunity for growth in mobile, where much of the broader gaming industry momentum resides. Using its licenses for Harry Potter, DC Comics, Lord of the Rings, Looney Tunes, Lego, and other properties gives the publisher a strong starting point from which to build standout mobile experiences. Whether these titles ultimately come together as quality products that create significant revenue is another matter, but having proven franchises to utilize gives the company a chance to stand out in the crowded mobile marketplace.
Warner's current strength in console games development didn't happen overnight, and its mobile ventures will probably take some time to ramp up, but the company looks to be devoting more resources to developing and promoting games for smartphones and tablets. Suggesting progress on that front, Warner is currently working on a game based off its popular HBO seriesGame of Thrones that'ssaid to be the company's most expensive mobile title yet. The upcoming Game of Thrones: Conquestrepresents one of the first instances of Warner transitioning an HBO property to a video game that it publishes and points to the expanding cross-promotional potential enabled by a strengthening gaming business.
Evidence of progress in mobile and console game development and the positive effects of broader industry momentum pave the way for continued growth that extends beyond software sales.Warner has a great stable of characters and entertainment franchises to work with, and success for a property in one segment can create synergistic opportunities in others.
The article What's Next for Time Warner's Video Game Business? originally appeared on Fool.com.
Keith Noonan has no position in any stocks mentioned. The Motley Fool owns shares of and recommends Time Warner and Walt Disney. Try any of our Foolish newsletter services free for 30 days. We Fools may not all hold the same opinions, but we all believe that considering a diverse range of insights makes us better investors. The Motley Fool has a disclosure policy.
Copyright 1995 - 2016 The Motley Fool, LLC. All rights reserved. The Motley Fool has a disclosure policy.