What's Next for Staples and Office Depot?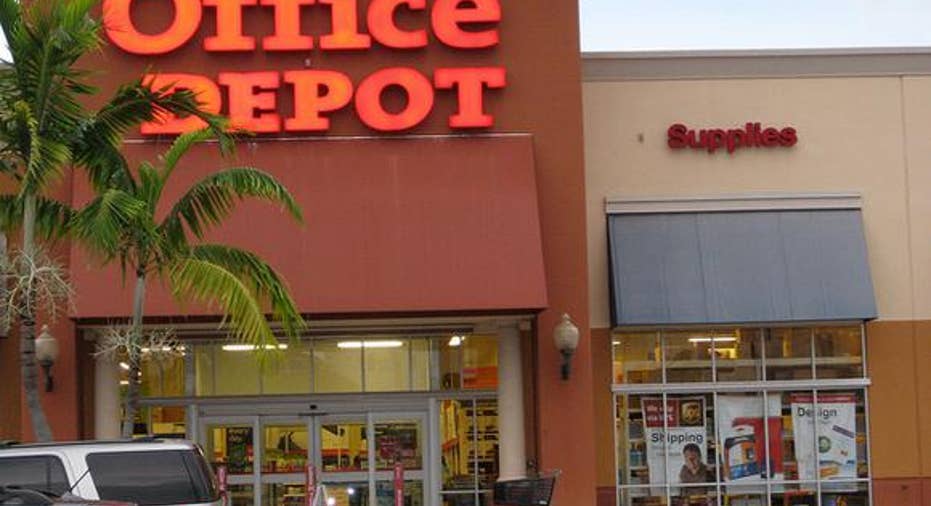 On Monday, the Federal Trade Commission sued to block Staples' proposed acquisition of top rival Office Depot . Predictably, shares of both office supply retailers sank following the news. In fact, both stocks have fallen below where they stood before merger speculation ramped up in late 2014.
Staples and Office Depot stock performance, data by YCharts.
Staples and Office Depot have promised to contest the FTC's lawsuit in court. Still, they will be fighting an uphill battle, made worse by the ongoing business disruption caused by uncertainty over whether the merger will be completed.
On the other hand, both stocks are now quite cheap, particularly when looking at Staples' and Office Depot's cash flow potential. If Staples and Office Depot win in court, investors putting money in today will reap huge rewards -- but even if the merger is called off, both stocks could recover in the coming years.
Different rationale, same resultThis new lawsuit is an interesting case of deja vu, as the FTC successfully blocked a proposed Staples-Office Depot merger way back in 1997. A lot's changed since then. Two decades ago, regulators' main concern was that if Staples and Office Depot merged, consumers would have few alternatives for buying paper, ink, pencils, and other school and office essentials.
That's clearly not an issue anymore. The FTC itself recognized that big-box discount stores and online retailers have injected stiff competition into this market when it allowed Office Depot to merge with OfficeMax two years ago.
Regulators aren't too worried about competition in the retail office supply market.
However, Staples and Office Depot also operate multibillion-dollar businesses selling office supplies to corporate customers on bulk contracts. Staples and Office Depot are the only two national companies competing for these contracts. As a result, the FTC believes that the merged company would have too much market power on this side of the business.
Office Depot could still be attractiveIf Staples and Office Depot are able to defeat the FTC challenge in court, Office Depot shareholders will reap a big reward. They would receive $7.25 in cash -- 28% ahead of Office Depot's stock price at the end of trading on Tuesday -- plus some Staples stock that would likely be worth at least $3-$4 per Office Depot share following a successful merger.
But even if the merger falls through, it's not the end of the world for Office Depot. First, the company would get a $250 million breakup fee from Staples. That's equal to about 8% of Office Depot's current market cap.
Office Depot will also start churning out a lot of cash as it completes the OfficeMax integration in the next year or so. While Office Depot has been running around the breakeven mark year to date, it has incurred nearly $300 million in integration and restructuring costs. It is also spending about $80 million this year (and again in 2016) on merger-related capex.
By 2017, these expenses will disappear. The company could potentially produce $400 million-$500 million in annual free cash flow thereafter. Office Depot will continue shrinking, but it should be able to at least offset the lost revenue with cost cuts through the end of the decade or longer.
Office Depot has successfully slashed costs since merging with OfficeMax.
Considering that Office Depot already has more cash than debt, would get the $250 million breakup fee in a stand-alone scenario, and has a market cap of just $3.1 billion today, this isn't a terrible outcome for investors.
Staples could bounce back, tooOn the flip side, Staples would be on the hook for the $250 million breakup fee if the FTC succeeds in blocking the merger. It can easily afford that expense, though, with $782 million in cash on the books at the end of last quarter.
Meanwhile, Staples is on pace to produce more than $600 million in free cash flow this year despite incurring more than $100 million in restructuring and merger expenses year to date. Like Office Depot, Staples is implementing broad cost cuts that should at least offset the negative impact of top-line pressure for the next several years.
If the merger falls through, Staples is likely to turn its focus to maximizing free cash flow and returning cash to shareholders. The stock swoon has reduced Staples' market cap to about $6.5 billion, which is only 10-11 times projected 2015 free cash flow.
As it reaps the benefit of its cost cuts and reduces restructuring spending, Staples will be able to reward investors by further growing its already lofty 4.8% dividend and by buying back stock on the cheap.
A merger would be the best outcome for Staples and Office Depot by far, as it would allow them to eliminate duplicative costs. But investors may be too pessimistic about their stand-alone prospects. Even with no merger, both stocks could rebound in the coming years.
The article What's Next for Staples and Office Depot? originally appeared on Fool.com.
Adam Levine-Weinberg has no position in any stocks mentioned. The Motley Fool has no position in any of the stocks mentioned. Try any of our Foolish newsletter services free for 30 days. We Fools may not all hold the same opinions, but we all believe that considering a diverse range of insights makes us better investors. The Motley Fool has a disclosure policy.
Copyright 1995 - 2015 The Motley Fool, LLC. All rights reserved. The Motley Fool has a disclosure policy.