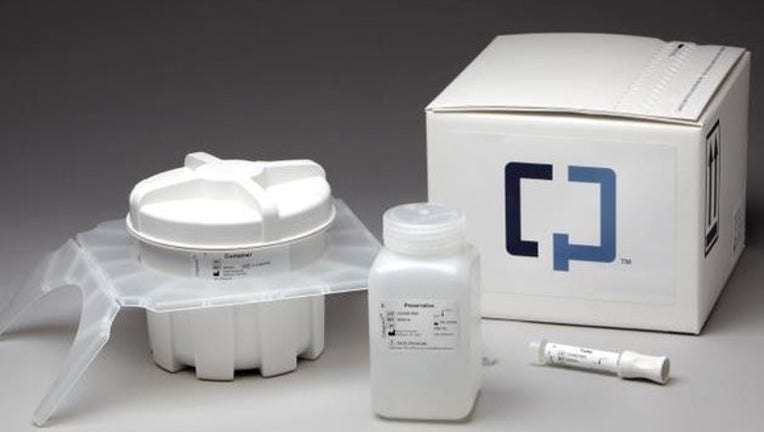 What happened
Exact Sciences' (NASDAQ: EXAS) shares skyrocketed 27.1% in April following impressive first-quarter financial results, according to S&P Global Market Intelligence.
So what
Since its launch, Exact Sciences' Cologuard has helped 450,000 patients better understand their risk of colon cancer, without the high cost and invasiveness of a colonoscopy.
Cologuard is a test that can be taken at home, and then mailed to a laboratory for results. Image source: Exact Sciences.
A significant proportion of those tests were done in the past year -- including 100,000 tests completed in the first quarter, up 150% from a year ago -- due to wider access to insurance reimbursement.
Growing test volume allowed the company to report sales of $48.4 million in the first quarter, up 227% year over year. Leveraging sales growth against fixed costs reduced the company's net loss by 26.5% year over year, to $34.9 million. Sales and earnings were both ahead of industry watchers' forecasts.
Now what
The company's rapid growth may still be early innings. Colon cancer screening guidelines suggest an addressable patient population of 80 million people, and if these patients are tested every three years, that translates into a $14 billion market. Over time, management hopes to capture 30% market share, translating into $4 billion in potential sales.
Getting to this lofty target, however, won't be easy. Many people still avoid colon cancer screening. But that may be changing thanks to Cologuard's advantages: its price and lower patient burden. According to the company, 45% of the tests it has completed so far have been for patients who have never been previously screened.
Insurers now cover Cologuard for about 78% of the test's target market, and expanding brand awareness has Exact Sciences modeling for 150,000 completed tests in Q2, and 470,000 completed tests this year.
Overall, Exact Sciences is guiding for 2017 sales of between $195million and $205 million. For perspective, operating expenses totaled $223 million, and in Q1, operating expenses were $67 million. Thus, thisforecast may not produce enough revenue to allow Exact Sciences to turn a profit this year, but if this growth continues, it's increasingly possible that the company could get into the black as soon as 2018.
10 stocks we like better than Exact SciencesWhen investing geniuses David and Tom Gardner have a stock tip, it can pay to listen. After all, the newsletter they have run for over a decade, Motley Fool Stock Advisor, has tripled the market.*
David and Tom just revealed what they believe are the 10 best stocks for investors to buy right now...and Exact Sciences wasn't one of them! That's right -- they think these 10 stocks are even better buys.
Click here to learn about these picks!
*Stock Advisor returns as of April 3, 2017.
Todd Campbell has no position in any stocks mentioned.His clients may have positions in the companies mentioned.The Motley Fool has no position in any of the stocks mentioned. The Motley Fool has a disclosure policy.