What United Parcel Service Results Indicate for FedEx Investors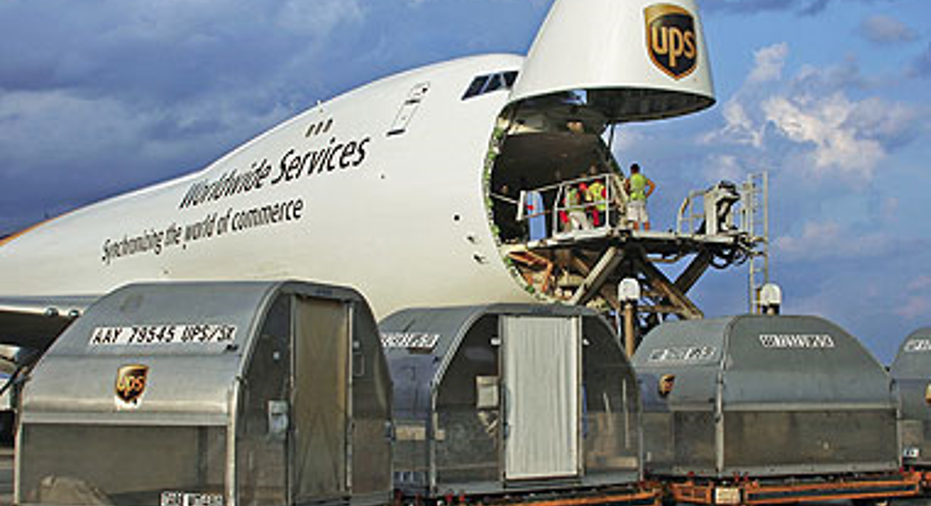 With rival (NYSE: UPS) having given results recently, it's time to look ahead to what FedEx Corporation (NYSE: FDX) might report in its upcoming fourth quarter. UPS' commentary on market conditions has direct relevance to FedEx, so let's take a look at five key impacts on FedEx drawn from UPS' earnings report.
UPS and FedEx earnings are traditionally tied to the economy. Image source: United Parcel Service.
E-commerce growth continues to surprise FedEx and UPS have long been known as stocks with prospects closely tied to economic growth, and the downgrading of growth expectations in 2016 is obviously a negative. For example, in second-quarter results (delivered at the end of 2015), FedEx management predicted U.S. real GDP growth of 2.6% for 2016 with industrial production forecast to grow 1.9%. Fast-forward to current expectations, and FedEx has lowered its 2016 U.S. GDP growth forecast to 2.1%, with industrial production forecast to be just 0.3%.
That said, just how did UPS manage to maintain its full-year guidance?
Part of the reason lies in increasingly strong growth in business-to-consumer (B2C) e-commerce-based deliveries -- a very convenient trend helping to offset weakness fromdeclining growth in industrial production. It's something that should help bolster FedEx's results, too.
Ground margin growth could be challenged In its third quarter, FedEx Ground's operating margin declined to 12.6% from 16.5% in the same period last year. Part of the reason for the margin decrease was the extra cost of servicing e-commerce growth. As we have already seen with UPS' results, e-commerce demand continues to grow strongly, so FedEx CFO Alan Graf's expectation for "Ground to return to mid-teens margins in the fourth quarter" could be challenged.
Moreover, relatively higher B2C growth (compared to B2B, business-to-business) could also pressure margins at FedEx Ground -- something to look out for.
UPS' international growth bodes well for FedEx FedEx's rival has managed to grow its operating profit in double digits for the last five quarters. UPS achieved this largely through investing in network efficiency increases, while benefiting from moderate economic growth. All of this augurs well for FedEx's planned takeover of European-based TNT Express.
The TNT deal is not one without execution risk, but UPS' success in its international segment suggests FedEx could achieve its planned productivity savings from the TNT deal.
Fuel surcharge impacts UPS and FedEx have been making pricing initiatives in order to maximize profitability and influence customer behavior: for example, dimensional weight pricing (packages priced on a combination of size and weight) and handling surcharges for oversize packages. Thus UPS increased its base rate by 2% for e-commerce deliveries, and the U.S. domestic segment saw a revenue increase of 3.1%.
However, lower fuel surcharges are reducing reported growth rates. For example, excluding the impact of fuel surcharges, U.S. domestic segment revenue would have grown 4.3%. At some point the drag from fuel surcharges will diminish (oil prices can't fall forever), but for now it's still reducing headline growth figures, although the long-term impact is arguably negligible.
Premium services growth should be good news UPS' results unveiled a developing trend in customer behavior that should be favorable to FedEx in particular. Ever since the last recession there has been a tendency for customers to favor slower and less expensive deliveries. However, a chart of daily package volume growth for UPS reveals that Next Day Air (UPS' premium service, which currently generates $19.44 revenue per piece) has had four consecutive quarters of growth, and grew volume more than Deferred ($11.95 per piece), and at a rate comparable to Ground ($8.10 per piece).
DATA SOURCE: UNITED PARCEL SERVICE PRESENTATIONS.
If this indicates an increased willingness for customers to pay for premium services, then it's surely good news for FedEx -- Express remains its most important segment.
Looking ahead Indications from UPS' recent quarter are broadly positive for FedEx. B2C growth and a possible shift to premium services look likely to offset any weakness from the economy, although Ground margin growth could come under pressure. On balance, the positives outweigh the negatives, and suggest FedEx can continue to navigate difficult end markets in 2016.
The article What United Parcel Service Results Indicate for FedEx Investors originally appeared on Fool.com.
Lee Samaha has no position in any stocks mentioned. The Motley Fool owns shares of and recommends FedEx. The Motley Fool recommends United Parcel Service. Try any of our Foolish newsletter services free for 30 days. We Fools may not all hold the same opinions, but we all believe that considering a diverse range of insights makes us better investors. The Motley Fool has a disclosure policy.
Copyright 1995 - 2016 The Motley Fool, LLC. All rights reserved. The Motley Fool has a disclosure policy.